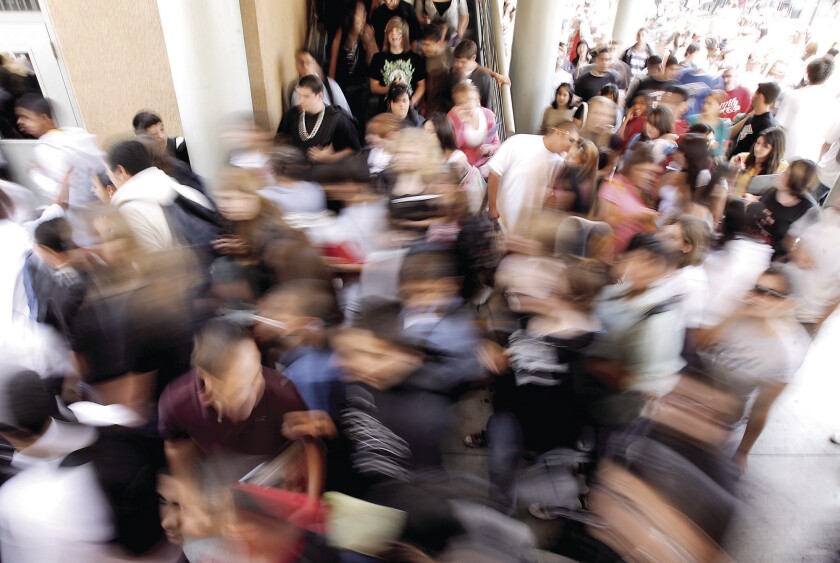 In response to President Trump's executive order on immigration, Burbank school officials plan to introduce a resolution on Thursday in order for the Burbank school board to declare campuses as "safe zones," where district officials "shall not inquire about a student's immigration status," according to a statement issued by Burbank Unified School District Supt. Matt Hill.
A similar resolution is expected to go before members of the Glendale school board Tuesday.
On Monday, Hill alerted families about the resolution that's headed before Burbank school officials.
"We have strong and unwavering values regarding the humanity and dignity of every person," Hill said in his email to parents on Monday. "The district is also committed to protecting all rights afforded to students under federal and state law and regulations."
Join the conversation on Facebook >>
The resolution, titled "Reaffirming a Safe and Nondiscriminatory School Environment," states that Burbank Unified employees shall not ask about the immigration status of students or their family members.
Trump's executive order bans all refugees from entering the United States for 120 days and indefinitely bars Syrian refugees. His order also blocks citizens from seven Muslim-majority countries from entering the United States for the next 90 days. The countries are Iran, Iraq, Yemen, Syria, Sudan, Libya and Somalia.
Any request by federal immigration officials for students' information or access to a school site will be "immediately forwarded to the superintendent for review," according to Hill's email, which ensures that Burbank Unified will comply with the U.S. Supreme Court decision in Plyler v. Doe, which ruled in 1982 that states can't deny enrolling children in a public school based on their immigration status.
"The Burbank Unified School District will continue to cultivate an environment of acceptance, support and kindness for all," Hill added.
In Glendale, state Assemblywoman Laura Friedman (D-Glendale) sent a letter to Glendale Unified Supt. Winfred Roberson Jr. on Jan. 24, a few days before Trump issued the order. In the letter, Friedman expressed her appreciation for Roberson considering to introduce a resolution declaring Glendale schools as safe zones.
"Passing this resolution will send a clear message to our community that all families are valued and will be supported, that all of our schools have a role to play in fostering the dreams, the imagination and the success of every student, and that regardless of the changes in Washington, D.C., our steadfast commitment to our students and families will remain the same," Friedman wrote in the letter, which was posted online.
In a statement that California State Supt. Tom Torlakson issued Monday afternoon, he encouraged school districts across the state "to continue safe-haven efforts."
"As a teacher, coach, father, citizen and leader of California's public school system, I strongly disagree with President Trump's recent immigration order and want to make sure that our students and families who are refugees and Muslims feel safe and protected in our schools," he said. "Diversity is California's strength. We do not just welcome diversity. We celebrate it. An ill-conceived presidential executive order is not going to change that."
--
Kelly Corrigan, kelly.corrigan@latimes.com
Twitter: @kellymcorrigan
---