On the Town: Flappers flips for the New Year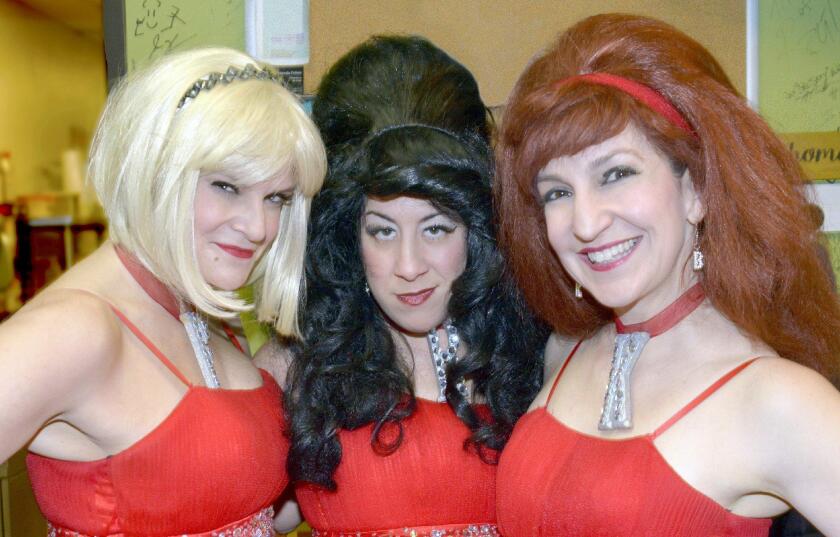 In their dressing room prior to hosting Flappers New Year's Eve show are The Boobé Sisters – Heather Stewart, from left, Leah Finkelstein and Karen Volpe.
(Photo by David Laurell)
Comedians Josh Snyder, left and Michael Rayner, were joined by Flappers' owner Barbara Holiday in making it a side-splitting New Year's Eve to remember.
(Photo by David Laurell)
Actor La'Vel Stacy, left, chats with Adam Chandler, center, and Sean Durrie who perform as Adam and Sean, a comedic music duo who were among those who made sure the New Year came in with a laugh.
(Photo by David Laurell)
The Boobé Sisters brought New Year's Eve revelers into 2017 with risqué song parodies and big laughs at Flapper Comedy Club.
(Photo by David Laurell)
Gathering in Flappers' green room for some pre-show laughs on New Year's Eve are comedians Nick Cobb, from left, Don Friesen and Jen Kober
(Photo by David Laurell)
Flappers' bartenders Matt McHale, left, and Wayne Frazier, kept the celebratory cocktails flowing as 2016 transitioned into 2017.
(Photo by David Laurell)
"Hey there!" comedian Don Friesen greeted the New Year's Eve audience as he bounded onto the main stage at Flappers Comedy Club last Saturday evening. "Is everybody enjoying your last month of democracy?"
Rapidly pelting the crowd with his comedic take on a wide swath of topics from marriage, kids and the renewing of wedding vows to living in a world where we have to diagnose our own diseases online and scan our own groceries at markets, Friesen also offered up helpful advice for happiness in 2017.
"Everyone wants to look and feel younger, right?" Friesen asked to unanimous applause. "Hey, it's easy," he said. "Just go on an Alaskan cruise."
Wrapping up his set, Friesen reminded the audience that no matter what the new year may bring, laughter is the best medicine.
"Which is especially important to remember right now as we're all about to lose our health insurance," he quipped.
Friesen was joined by a handful of talented comedians that included Nick Cobb, Jen Kober, Adam Chambers, Sean Durrie, Josh Snyder, Michael Rayner and Darren Carter, who helped people say goodbye to 2016 and welcome in 2017 with dinner, champagne toasts and a lot of laughter at the downtown Burbank comedy club.
Presenting both an early show to ring in the East Coast new year, as well as a second show to celebrate 2017 hitting Burbank, the festive evening was hosted by the Boobé Sisters — Leah Finkelstein, Heather Stewart and Karen Volpe — who blend 1960s doo-wop and their take on dating, relationships, sex and current affairs into hilariously risque song parodies.
With bartenders Matt McHale and Wayne Frazier churning out libations, the club's owner, Barbara Holiday, greeting New Year's revelers and working the room as well as the kitchen and wait staff making sure all attendees had a great "last supper" in 2016, the Flappers' team made the venue the perfect place to ring in 2017.
Always providing Burbankers, as well as those from the greater Los Angeles area who have made Flappers a destination for good food, drinks and laughs, the club already has an impressive slate of comedians scheduled for the remainder of January and beyond including tonight's appearance by Harland Williams, best known for his film work in the feature films "Dumb and Dumber," and "There's Something About Mary."
This coming weekend will also feature Kober from the FOX/Hulu romantic comedy series "The Mindy Project," and Snyder, who were both hits with the audiences on New Year's Eve.
For more information of Flappers and upcoming shows, visit flapperscomedy.com.
--
DAVID LAURELL may be reached by email at dlaurell@aol.com or (818) 563-1007.
---