Burbank pedals toward a more complete bicycle infrastructure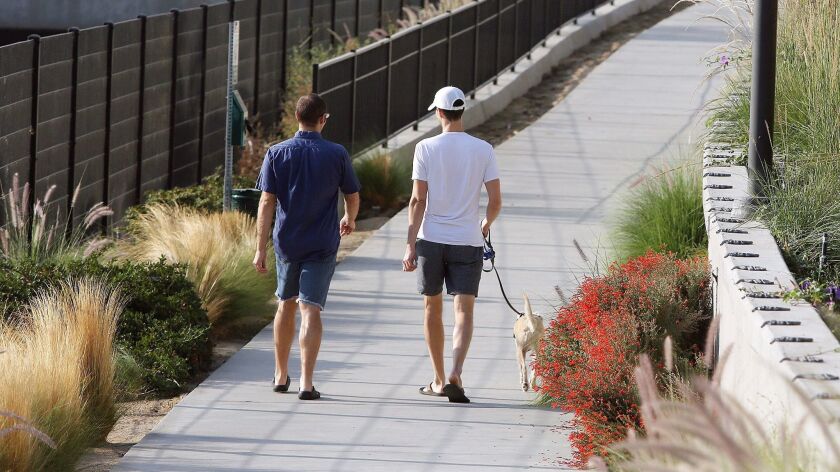 Burbank is getting closer to having a robust bikeway infrastructure that could connect to other bike paths in L.A. County.
Officials and bicycling enthusiasts broke ground Wednesday afternoon in the 200 block of West Elmwood Avenue near the Burbank-Western Flood Control Channel, where a three-quarter-mile bike path will be constructed between Olive and Alameda Avenues as the second phase of the Burbank Channel Bikeway Project.
The bike path, once completed sometime in July 2020, will connect with the first phase of the project, a 1-mile stretch of bikeway from Alameda Avenue to the Burbank/Glendale border at Victory Boulevard.
The first phase of the bikeway project was completed in 2011.
When the second phase is finished, bicyclists will have protected bike lanes that connect to the downtown Burbank Metrolink station.
"We're adding a significant link to this eventual bike path," Burbank Mayor Emily Gabel-Luddy said during the groundbreaking ceremony.
The second phase was delayed for more than five years mainly due to concerns expressed by residents who live near the channel.
In 2016, city planners were expecting the segment to be completed in 2018, but the project was pushed back to gather more input from residents.
Then, in 2017, officials were given the green light to start construction, but the project was delayed again because of design challenges and an increase in the project's cost.
David Kriske, Burbank's assistant community development director of transportation, said Los Angeles County had stricter guidelines for the second phase compared to the first.
He said the bikeway could not be designed in a way that puts pressure on the channel wall, so an additional structure needed to be built.
When the bike path's design was completed, city officials needed to identify additional funding sources to pay for the project, Kriske said.
Initial estimates for the second phase came in at about $4.4 million but eventually grew to about $8 million. Kriske said it is mainly funded through Measure M funds and other grant monies from county and state agencies.
Measure M is a sales tax initiative approved by voters in November 2016 to help fund transportation projects in Los Angeles County.
About 20% of the project will be paid for by the city when it matches grants, but Kriske said none of those dollars will come from Burbank's General Fund.
"In isolation, it's very expensive and the utility is lower, but when you start connecting this piece to phase one and connect this piece to our other project on [the] Chandler [Bikeway] and to Glendale's project to the L.A. River, you really see that there's a great value," he said.
"We're all trying to build out this system and the more segments you build, the better and more useful it becomes," he added.
With funding for the second phase out of the way, Kriske said the city can focus on finding funding for its extension of the Chandler Bikeway, which is planned to connect to the downtown Burbank Metrolink station.
The other major bike path Burbank officials are hoping to complete is the San Fernando Bikeway, planned along San Fernando Boulevard and Victory Place from the Burbank/Sun Valley border to about Victory Boulevard.
Mike Hollis, a Burbank resident and chairman of a bicycling-advocacy nonprofit called Walk Bike Burbank, said he has been waiting for many years to see the Burbank Channel Bikeway project completed.
Like Kriske, Hollis said this segment of the city's bike infrastructure is critical to connect all of the county's other major bike paths.
"It's not the end, it's just a part that needs to be completed," Hollis said after the groundbreaking ceremony. "This is great today and we'll be here next summer when it's open, but we want to see our bikeways as connected as possible."
---