Burroughs High School deals with second false threat in three days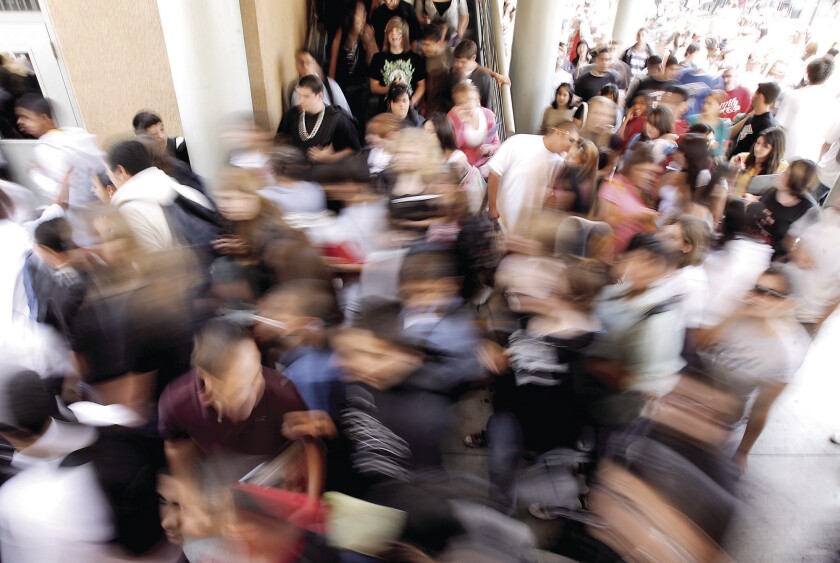 A perceived but unsubstantiated threat propagated through social media led to an increased police presence at Burroughs High School on Wednesday morning but no class cancellations.
While Burbank Police and Burbank Unified school officials said there was no actual danger, some parents chose to avoid bringing their children to school.
Wednesday's incident follows a false threat of violence issued on a fake Burbank Unified Instagram account on Monday that also caused consternation but no class cancellations.
"Unfortunately, the rumor mill on social media took over and sensationalized this, and it led to kids not attending school," said Sgt. Derek Green, a Burbank Police spokesman.
"We have verified that there is no credibility, nor is there any threat," he added.
Social media posts Tuesday evening and Wednesday morning showed bathroom graffiti at Burroughs High with messages such as "pray to her" and a face with Xs for eyes.
Green said he heard of graffiti at Burroughs High that included verbiage that read "pray for him" and "pray for her" and included Wednesday's date.
Multiple people posted photos of the graffiti or rumors on social media. One rumor, which Green said was false, claimed a student was arrested following Monday's threat, but the person was part of a larger "group effort."
"Someone went online and tied it to Monday," Green said. "Nobody 'got caught' doing anything Monday."
Another rumor was that a student brought a weapon to class, which Green also dispelled.
"There was no weapon, not even a weapon seen, never even a threat of a weapon," he said. "This just circulated on social media and spun out of control in light of the recent events at Saugus [High]."
Last Thursday, a Saugus High School student shot and killed two classmates and wounded three others in an attack on campus, which is less than 30 miles from Burroughs.
Police and district officials issued a joint statement Wednesday afternoon stating they had "identified a person responsible" and that their investigation "has shown the threat was not credible."
No arrests will likely be made, however, in regards to Wednesday's graffiti because, according to Green, a crime wasn't committed.
"Somebody writing 'pray for her' on the wall and parents and students interpreting that as a threat to the school is one thing, but for criminal law, it needs to be a specific, unconditional threat, which 'pray for her' isn't," Green said.
There also have been no arrests made in regards to Monday's online hoax, but police are still investigating.
Burbank Unified Supt. Matt Hill indicated he'd press for legislation in this "new reality."
"I want to start talking to our elected officials about how do we strengthen the laws around this so if people are making false threats and false rumors, what can we do?" he asked. "It's unfortunate, and it's a challenge."
Hill said Burroughs High would offer increased counseling on campus for students.
While he was unable to present a tally, Hill said a "significant" number of students were absent Wednesday due to the perceived threat.
Hill also said the district wanted to continue to support parents and students to speak up if they see anything unusual.
"We take every single piece of information seriously and work closely with [the Burbank Police Department]," he said.
---