Burbank officials take part in groundbreaking for new IKEA store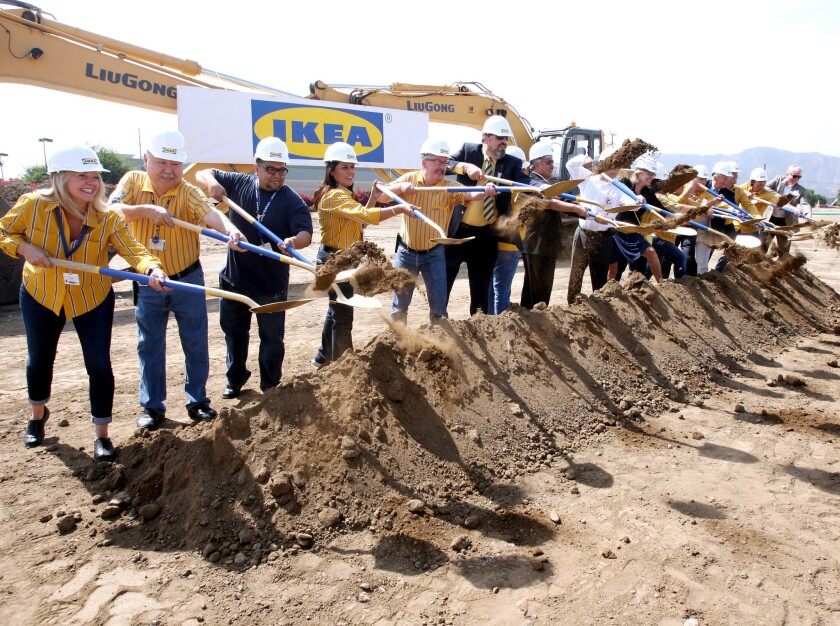 On a wide, flat swath of brown, exposed earth, local officials in business suits and IKEA employees in utilitarian blue-and-yellow garb gathered under a pair of white tents, surrounded by mounds of dirt and abutting concrete walls at 805 S. San Fernando Blvd. in Burbank on Tuesday.
At the back of one tent, a table was piled with brown boxes, several with their former contents perched atop them: miniature golden shovels resting in polished, black stones that were inscribed with the date and occasion — the groundbreaking of a new IKEA store, set to open in spring 2017.
Nearby, regular-sized blue-and-yellow-handled shovels with gold-colored blades were plunged single file in a long furrow of dirt. Behind the formation, stood two yellow excavators, their arms crossed and draped with an IKEA banner.
"This is what I call a fantastic site," said Bob Grimsley, real estate manager with IKEA, listing among its benefits its 22-acre area and visibility from and access to the Golden State (5) Freeway. "Most importantly, it's located in Burbank — it doesn't get much better than that."
When completed, the 456,000-square-foot store will be the Swedish retailer's largest in the United States, said Joseph Roth, a company spokesman. It's a few blocks away from an existing store, which he said is high-performing, busy and paid for.
The existing 242,000-square-foot store at Burbank Town Center, 600 N. San Fernando Blvd., which was the first IKEA in California when it opened in 1990, will remain open until the new one is completed. However, that store lacks the size and visibility advantages the new one will have, as well as other benefits.
Company officials had started hunting for a larger location in 2011, after facing operational challenges from outgrowing their current building, such as lack of on-site parking, which led to an inconvenient process for customers loading furniture into their cars.
IKEA is focused on improving the customer experience, Roth said, "even if the best solution is to start from scratch."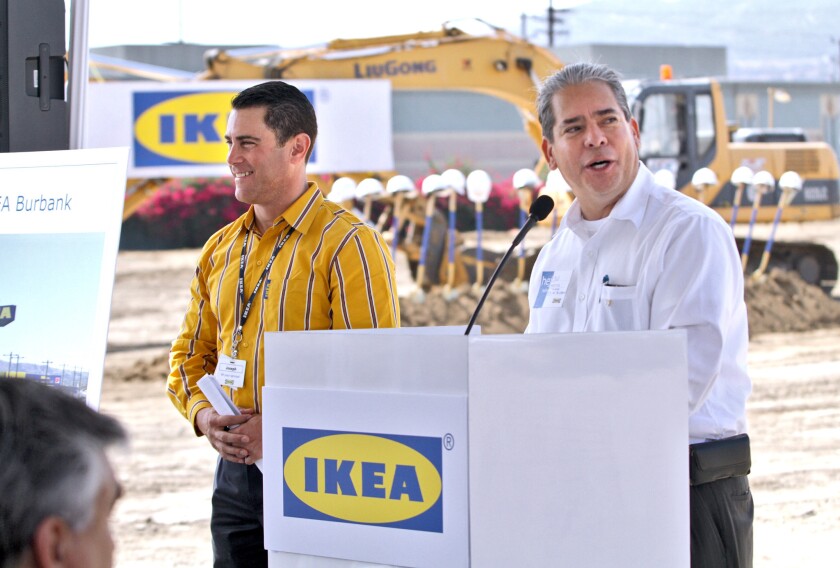 The new store will boast an underground parking level, a ground level for retail and warehouse areas, as well as a supervised children's play area, and an upper level consisting of showrooms, offices and a restaurant. It will have 1,726 parking spots and 86 bicycle parking spaces.
Mayor Bob Frutos touted the new store's impact, which he said will be "a great boost to our local economy." There will be more sales tax revenue for the city, a workforce that, at around 450 workers, will be 23% larger than the staff at the current store and 500 construction jobs in the meantime.
Grimsley noted the construction contractor's "great progress" on the site, where a few months ago there had been warehouses used by Western Studio Services for prop storage, including a saw-toothed building that was, long ago, home to Menasco Aerospace.
Nineteen buildings have been demolished to make way for the new store.
"Much still needs to be done," Grimsley said, such as building out the parking structure, then the store, then hiring workers, installing fixtures and stocking the shelves.
Not far away, wearing hard hats and reflective vests, a few construction workers leaned on a yellow tractor. Others milled about. After the gathered dignitaries and IKEA employees had tossed the first ceremonial shovel-fulls of dirt, three or four times for good measure, the heavy machinery roared to life.
---