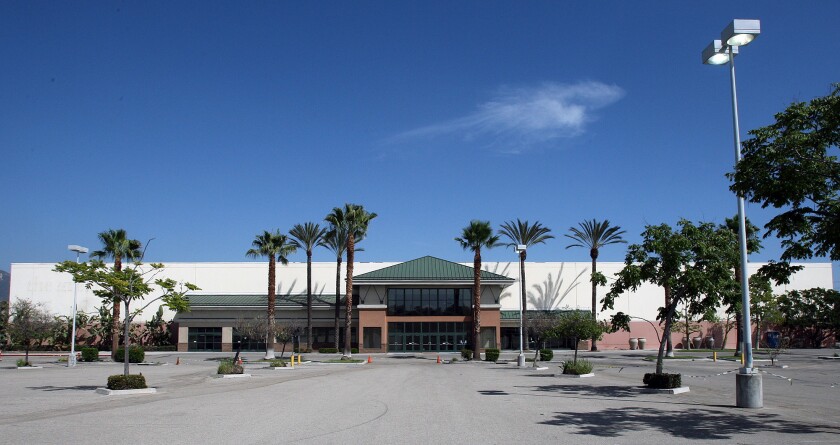 Structural steel studs, bent and piled high in a blue dumpster at the back of the former Great Indoors store at the Empire Center in Burbank glinted in the morning sun. A skid-loading tractor dumped dusty materials into a second long receptical. Out front, a crew of demolotion workers in reflective vests donned white hard hats after a mid-morning break.
The sunbleached parking lot in front is still cordoned off with yellow caution tape and, in some spots, overturned shopping carts, but in about a year, it could be filled with cars. That's after the building's inside is gutted and its outside freshly painted, and becomes a 143,000-square foot Walmart store.
"The store will be considered a Walmart Supercenter, meaning that customers will find a full line of groceries, including fresh produce, as well as a broad assortment of merchandise, including electronics, apparel, outdoor/garden and home décor," Delia Garcia, a Walmart spokeswoman, wrote in an email Tuesday.
About 250 workers will be employed at the store, which will provide Burbank residents the convenience of one-stop shopping, Garcia said. Construction inside the building's shell is expected to start later this year and a grand opening is slated for late summer next year, she said.
It's the latest development in a saga that stretches back to 2011, when the store's opening was expected sometime in 2013. In early 2012, Burbank City Council initially approved permits for the project, despite a crowd of protestors bolstered by support from labor unions.
Residents back then had raised concerns about increased traffic and crime, the company's treatment of its employees — who are overwhelmingly not unionized — as well as the low-price retailer's potential impacts on local competitors.
A Facebook page and a Twitter account were started to oppose the discount giant's plans back then, which between the two garnered a few hundred "likes" and followers. Neither appears to have been active since late 2013, however, around the time that a Los Angeles County Superior Court ruling rescinded Walmart's building permits.
The ruling came about after Burbank residents Shanna Ingalsbee, Katherine Olson and Yvette Ziraldo filed suit, seeking to block the store until street improvements had been completed as outlined in an ordinance enacted by the Burbank City Council 14 years ago when the Empire Center was first approved and another environmental impact review was conducted.
The court sided with the residents and found in September 2013 that the city had failed its duty to implement traffic mitigation measures required by the ordinance.
A few months later, Walmart appealed and earlier this year an appeals court sided with the discount retailer in partially overturning the lower court's ruling. In an opinion published in April, Justice Tricia Bigelow of the Second District Court of Appeal said city officials should not be barred from issuing building permits.
The appeals court directed the lower court to order the city to implement the mitigations, which include adding more turn lanes at key intersections on Buena Vista Street at Victory Boulevard and Empire Avenue, or to conduct a new environmental review to modify the measures.
The court was not convinced that allowing the retailer to "repurpose" the existing building would prevent the city from making the required street improvements.
--
Chad Garland, chad.garland@latimes.com
Twitter: @chadgarland
---