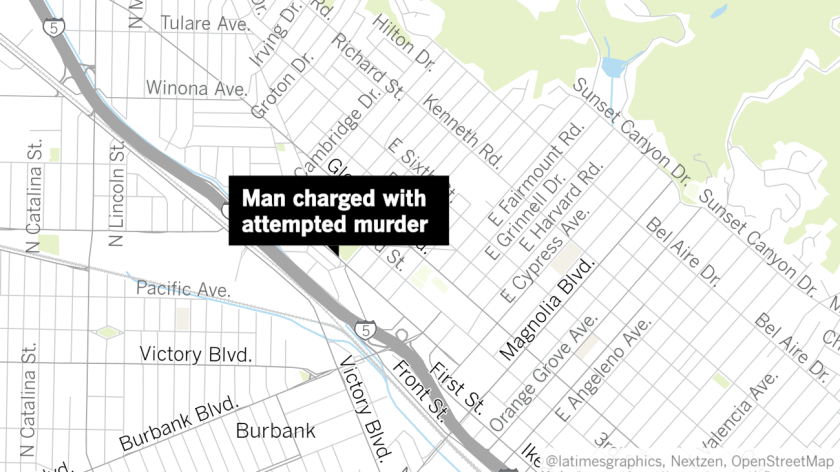 A San Bernardino man was formally charged with attempted murder on Wednesday on suspicion of attacking a 63-year-old woman in Burbank earlier this week and leaving her in critical condition.
Hector Manuel Ulloa, 51, is also being accused by the Los Angeles County district attorney's office of using a glass bottle in the attack and causing great bodily injury. He faces 43 years to life in prison, if convicted.
The woman remains hospitalized, according to Sgt. Derek Green, a spokesman with the Burbank Police Department, and has reportedly been placed into a coma by doctors.
"They're hopeful and have seen some improvement, but she's still in pretty bad shape," he said. "She's got a multitude of injuries, everything from abrasions to head trauma, so it's going to be some time."
Sometime around 1:50 p.m. on Monday, Ulloa allegedly attacked the woman in an alleyway next to an office building near the 1400 block of North San Fernando Boulevard.
Witnesses told officers the woman was out for a walk during a work break when she came up to some bushes that Ulloa was hiding behind, according to Green. He said security footage recovered from the scene captured the brutal attack.
The footage shows a man believed to be Ulloa lunging at the woman as she approached the bushes. At one point, the man grabs a bottle, breaks it and tries to stab the woman with the shards.
The attack lasts for about 20 to 30 seconds.
"It's pretty sickening to watch," Green said.
The woman was able to scream for help while the attacker fled the scene before police arrived.
Bystanders were able to point officers in the direction of the suspect, and they eventually located him nearby and took him into custody. He was later identified as Ulloa.
Detectives are looking into a possible motive for the incident, and there is no known link between the two. Green said it appears to have been a random attack.
He added that Ulloa was out on parole at the time of attack for a previous assault conviction, and his last known address was in San Bernardino. Investigators believe he's a transient and it's unknown when, why or how he arrived in the Burbank area.
Ulloa is being held on $1.165-million bail.
---