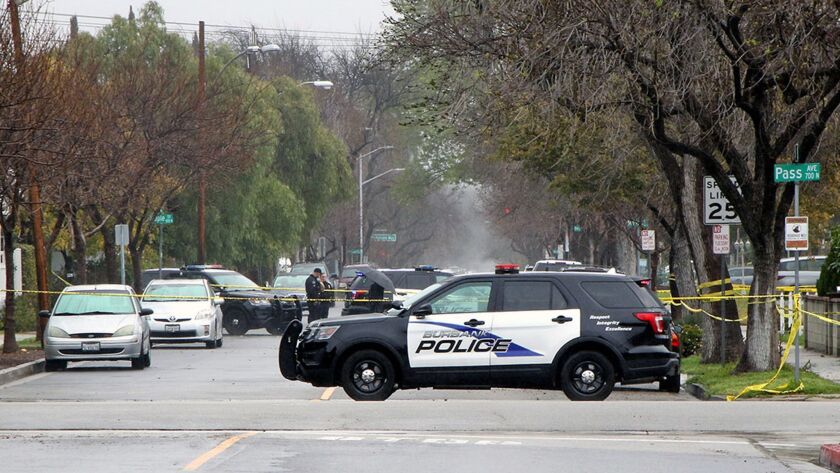 Murder charges were filed on Monday against two men for their suspected roles in the shooting death of a 21-year-old man at a Burbank birthday party.
Robert Stout, a 19-year-old from Van Nuys, and Jose Valdivieso, a 19-year-old from Northridge, were each charged with one count of murder by the Los Angeles County district attorney's office in the death of Christian Guevara. Stout faces 40 years to life in prison if convicted, while Valdivieso faces 16 years to life in prison.
The criminal complaint against the two men includes allegations that Stout "used a firearm and caused great bodily injury and death," according to the district attorney's office.
Both men have pleaded not guilty to the charges.
Sgt. Derek Green, a spokesman for the Burbank Police Department, previously said Stout and Guevara were at the same birthday party being held at a home in the 4000 block of West Clark Avenue on March 2. It's unknown how or if the men knew each other.
Sometime during the night, the two allegedly became involved in a fight that spilled out into home's frontyard. The confrontation took a deadly turn when Guevara suffered a single gunshot wound to his abdomen.
Party-goers at the home took Guevara to Providence St. Joseph Medical Center for treatment, but he died from his wounds while he was being transferred to a local trauma center.
Green said that when Stout was interviewed by detectives, he allegedly admitted to shooting Guevara. He was taken into custody and a handgun was recovered by police.
It's unknown what part Valdivieso played in the shooting, but Green said there was enough evidence to consider him an accessory to the murder.
Stout is currently being held on $3 million bail, while Valdivieso is being held on more than $2 million.
Twitter: @Andy_Truc
---