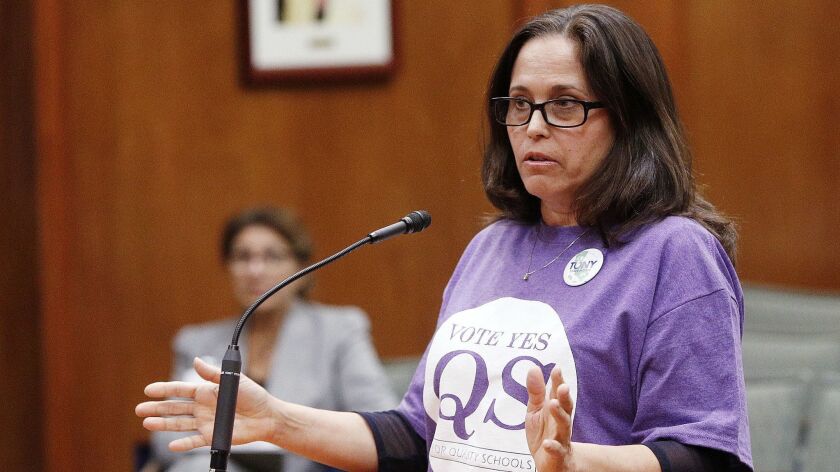 An attempt by the Burbank Unified School District to raise a little over $9 million a year via a parcel tax was officially defeated last week.
Los Angeles County Registrar-Recorder Dean Logan certified the Nov. 6 election results on Friday, and the district's Measure QS just missed passing, despite a late run.
The parcel tax, per Proposition 13 stipulations, needed a two-thirds vote of support to pass, but finished with 25,413 "yes" votes, or 64.33%, versus 14,093 "no" votes, or 35.67%. The measure came up short of reaching 66.7% by 938 votes.
"My takeaway is that there is a lot of support for schools in Burbank, and there are a lot of people willing to stand behind it monetarily," said Anita Schackmann, a member of the Yes on QS campaign. "What Measure QS supporters saw was that two-thirds is a big threshold, and we just missed it."
Measure QS made some gains after receiving 16,354 yes votes, or 61.68%, in initial results on election night, which was a point of pride for some supporters.
"That's the positive for me," said David Dobson, treasurer of the Yes on QS Committee. "We had the majority, a clear majority, just not a super majority. We did better than Measure P, and didn't spend nearly as much money."
Measure QS also received more votes than the city's Measure P, a three-quarter-cent sales tax hike, which passed with 24,567, or 61.79%, of the votes.
In total, 42,549 Burbank residents, or 65.03%, voted in the most recent election out of a total of 65,428 registered voters.
The parcel tax was a 10-cents-per-square-foot annual fee that was estimated to cost the average Burbank homeowner roughly $170 a year.
Money from the proposed tax would have been spent in several ways, including keeping class sizes from kindergarten through third grade at a 24-to-1 student-teacher ratio, along with providing money for musical-instrument repairs and new band uniforms as well as filling some positions, such as counselors and a custodian.
One of the rallying points against the measure was that it lacked an expiration date.
"If I could change one thing, it would be that there was no sunset," Dobson said. "I heard that from a few people who didn't vote for it. I don't know if that's what lost it, but that's what I would have changed."
The group who may be hardest hit by the proposed tax's failure is Burbank Unified employees, who lost a one-time, 3% raise that was dependent on the measure's passage.
While Burbank voters have passed tax measures and bonds over the past decade, parcel taxes haven't fared well.
The defeat of Measure QS marked the second time in five years local voters have rejected a proposed parcel tax. A sewer-and-refuse relief bill designated for seniors and low-income residents, known as Measure S, was defeated 56.4% to 43.5% in 2013.
Without the added revenue, the district will likely need to make cuts, according to school officials.
Burbank Unified is operating with a $1.1-million structural deficit that is expected to hit $3.14 million by the 2020-21 school year.
"People are aware of the great education their children receive at Burbank schools," Schackmann said. "Now, the community will have to come together to find solutions."
---