Production of Sondheim musical 'Merrily We Roll Along' playing at Colony Theatre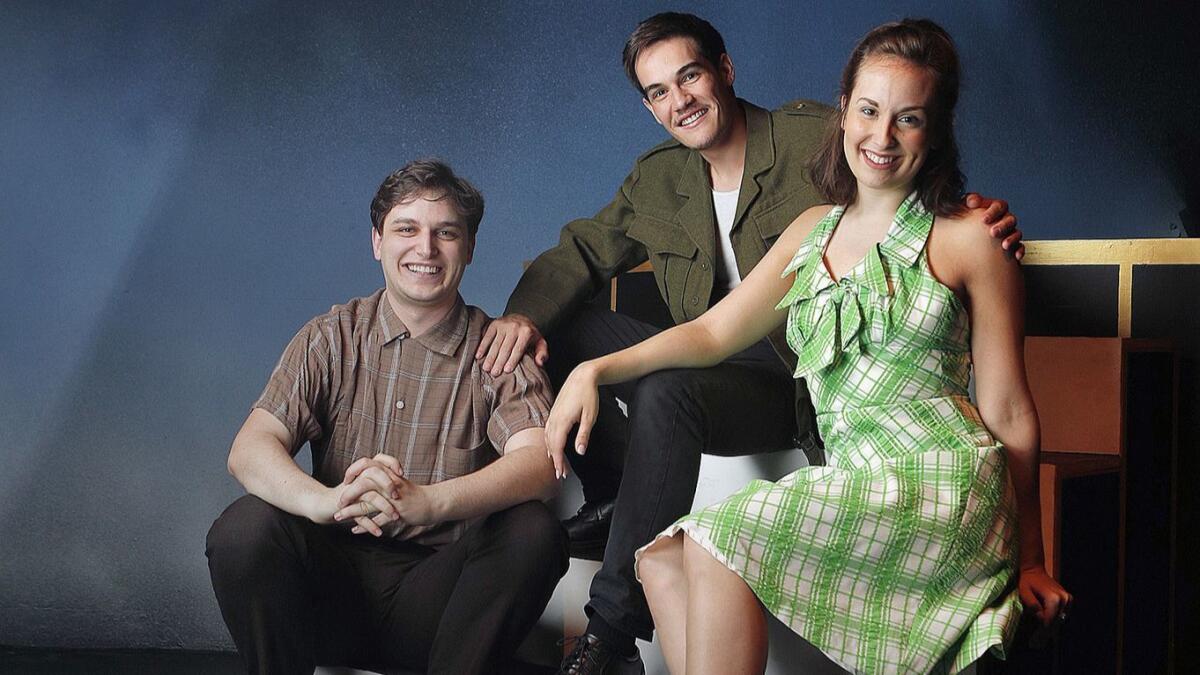 In some theater circles, Stephen Sondheim's musical "Merrily We Roll Along" is considered a cult classic. It may have closed after only two weeks on Broadway in 1981 on the heels of the composer's wildly successful "Sweeney Todd," but it features what some might say are Sondheim's most compelling songs.
A production of "Merrily" will open Thursday for a two-week run at the Colony Theatre, produced by L.A.-based 4Leaf Music Productions, featuring a young cast in a musical that moves backward in time.

For the record:
7:45 a.m. Aug. 15, 2018An earlier version of this story had the wrong name of the production company producing "Merrily We Roll Along."
Based on a play by George S. Kaufman and Moss Hart, the musical's nonlinear structure may have contributed to the original production's speedy demise, but Rick Berger, producer of the local production, said he thinks today's audiences will be more accustomed to the reverse format because there have been movies and TV shows that have incorporated it.
Berger is also not leaving anything to possible confusion.
"We're not going to leave that chance," he said, referring to how the years will be tracked in the production.
Berger's son, Trevor James, will tackle the role of Frank, a composer who makes choices in life that his two best friends don't always agree with or understand.
Jeremy Ethan Harris will portray his friend and musical-writing partner, Charlie, who becomes disengaged from the others but finds success on his own.
Tori Gresham will play their friend, Mary, who battles her own demons and becomes bitter about Frank's choices that don't always adhere to her ideas of success.
All three of the actors know each other in real life, which they said will enhance their performances. Also, the two male actors have ties to high schools — El Camino Real and Chaminade — in the San Fernando Valley.
Financial and personal issues come between the trio in the show as the audience sees them go from being around 40 years old in the opening scene to the days when they first meet in their 20s.
"Where we see them at the end of the show is where we are right now," Gresham said.
The three actors are themselves in their early 20s, but said they feel confident they have the experience — each of them is pursuing a professional acting career — to play older versions of their characters facing complex issues and sometimes heartache.
"You've got to kind of just imagine what these paths take you down, and, alternatively, if we were those ages, coming back, it's almost harder to get back to a youthful, non-jaded energy," the younger Berger said. "I like approaching it from a non-jaded perspective."
"I've always said this show is about young people," Harris said. "There's a life that's brought to it, specifically when it's done by young people."
The impetus to stage this production started about 12 years ago, when Trevor Berger was in a "Merrily" production with L.A.-based Musical Theatre Guild, playing Frank's son, Frank Jr.
"I fell in love with the show," Trevor Berger said.
His father decided to mount a production, which will have a full orchestra, as the younger Berger gets ready to move to New York City.
"It's a big send-off party for him," Rick Berger said.
"Merrily We Roll Along" will be presented at 7 p.m. the next two Thursdays, 8 p.m. the next two Fridays and Saturdays and 3:30 p.m. the next two Sundays. The Colony Theatre is located at 555 N. Third St., Burbank.
For more information and tickets, visit https://bit.ly/2vKVzzR.
Twitter: @LAMarkKellam