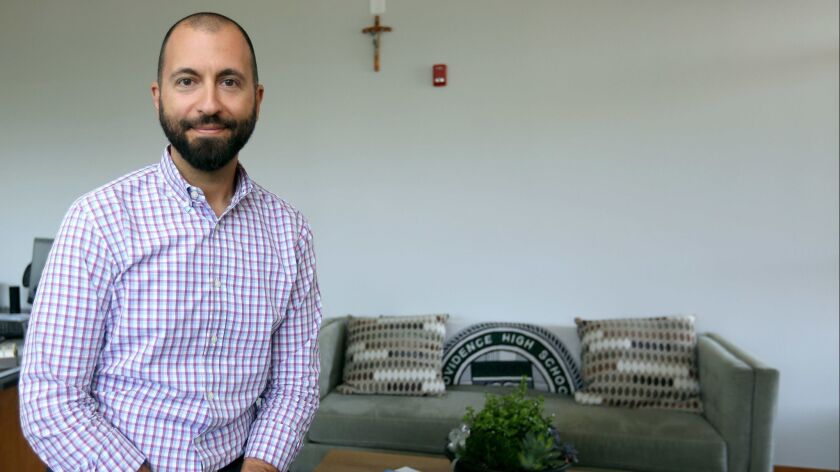 After a 23-year hiatus, Los Angeles County native Scott McLarty returned home by accepting Providence High School's vacant position as head of school this March.
The Santa Monica-born, Valley-raised McLarty enrolled at Woodlands Hills Saint Mel Parish School before attending Los Angeles Loyola High School. That experience served as apt preparation for his collegiate years at Loyola University Chicago, where McLarty earned his bachelor's and master's degrees.
McLarty has held various positions, from his beginnings as a Loyola High teacher to serving as director of the Office for Peace and Justice for the Archdiocese of Chicago to working as an adjunct professor at DePaul University.
McLarty served as head of school at San Francisco Mercy High, from 2016 to 2018, and was working as an independent educational consultant for Lake Arrowhead-based Lifelong Learning & Associates.
He officially took over July 1 for popular former head of school Joe Sciuto, who took a similar post at Pasadena Mayfield Junior School.
As McLarty began his tenure, he sat down with me for an interview. Here are excerpts from that discussion.
Andrew J. Campa: You have a resume that has taken you across the country, from Los Angeles to Chicago to the Bay Area. You've worked at the collegiate level and as an important administrator within a large archdiocese. So, what led you back to high school education?
Scott McLarty: When I left education to work as the director at the Office for Peace and Justice for the archdiocese of Chicago, I found myself loving the work. I really got to focus on all these amazing social-justice-related issues from poverty and street violence to food and security, food deserts and political engagement. It was an exciting time right around [President Barack] Obama's first election.
But I found myself the whole time relating everything I was doing, all the decisions I was making, back to schools and my experience in education. So, when I moved back to California, I knew I wanted to get back into schools.
One of things that most drew me to Providence is the fundamental commitment to promoting the common good, especially the well-being of the poor and vulnerable.
AJC: I know this isn't your first job in California, but is it your first full-time job in Southern California?
SM: No, it's my first job in Southern California in 22, no 23 years. My first full-time teaching job was at Loyola High. Yeah. It's awesome to come home. I mean this really does feel like a homecoming for me. It's been a long time since I've lived and worked in L.A. and it's really exciting to be back.
AJC: What is the Scott McLarty stamp? What is it you've accomplished at other schools that you'd like to incorporate at Providence?
SM: The first thing is I want to understand the mission of the school and the people who make that mission happen every day. The more I can get at those two things and get to the core then we can start innovating.
I think the condition for sustainable innovation is understanding the fundamental core mission of a place and who the people are. Once you have that clear, you can do so much creative work. That's really what I've started doing my first week and a half on the job.
AJC: You have a social justice background. Catholic schools have been in the news, whether you're talking about the Covington Catholic High School incident in January or a Catholic school teacher being fired for making a pro-abortion statement. How does Providence discuss and deal with these issues?
SM: Our culture today has a very difficult time listening to each other. I think because we don't cultivate habits of listening. We have an even harder time cultivating civil and critical, in terms of critical thinking, dialogue.
If we want to dialogue better — and I think we do — then it needs to be open and charitable and honest. We need to learn how to become better listeners. We can't be good listeners if, the moment someone opens their mouth, we're already anticipating how we're going to respond or how we're going to challenge that idea.
We need to practice the charity that we talk about in Catholic schools first and foremost by listening to those around us and that includes those at the dinner table, in the classroom and in our conference rooms. We'll all benefit from that at every level of society.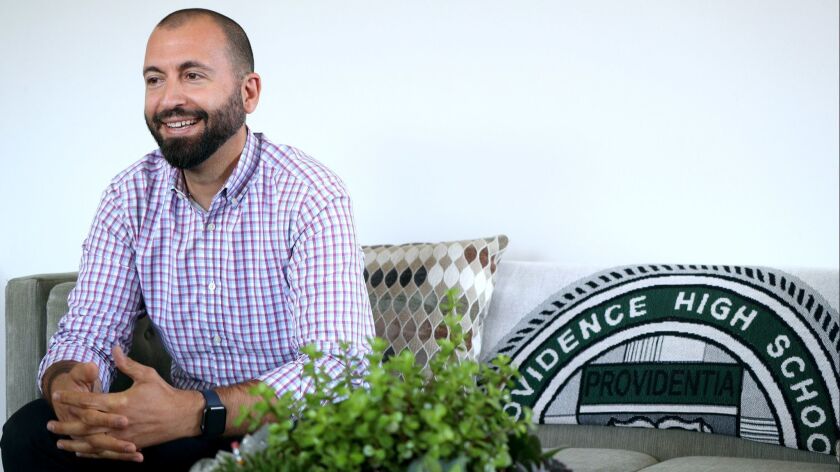 AJC: There's something like 20 Catholic schools within a 10-mile radius of Providence High School. How do you get students to attend this school? How does this school live up to its slogan (You Belong Here!)?
SM: There are a lot of things you can do. For me, my first starting point is to say that we're not competing against Loyola or Notre Dame or Harvard-Westlake. We're competing against ourselves. We need to be the best version of what Providence High School can be and worrying about what other schools are doing would be a distraction and a disservice to time and energy that could be put toward deepening the impact and the influence of our unique mission here that comes from the sisters of Providence.
AJC: We just passed the 30-year mark when Providence High School was scheduled to close at the end of the 1988-89 school year because of low enrollment (200 students). The school is around 430 students now. Are you comfortable with that number? Should the school expand?
SM: We're very strong in enrollment largely because of the great work that has been done by [Joe Sciuto] and his team over the last eight years. [The] admissions [department] has done a great job with recruitment. We have one of our largest classes in a very long time coming in.
Last I checked, we have 135 incoming freshmen and 10 transfer students coming in, so we're clearly doing a great job attracting students from the area. Our current student body comes from 99 zip codes, so we really pull from the entire L.A. region.
AJC: I receive at least one email a year from a Providence alumnus with this special question, which I present to you: Do you foresee any time in the future Providence High School fielding a football team?
SM: (laughs) No comment.
---