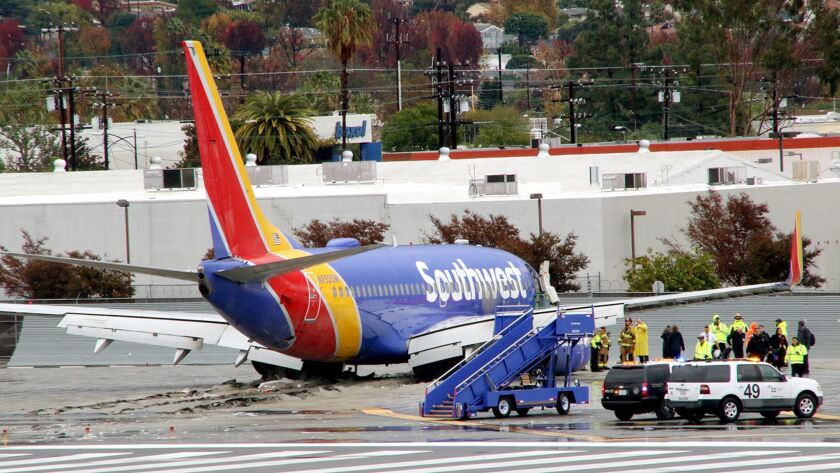 Passengers on a Southwest Airlines flight from Oakland got a jolt Thursday morning after their plane skidded off a runway as it landed at Hollywood Burbank Airport.
Just after 9 a.m., Flight 278 from Oakland slid on runway 26, which runs perpendicular to Hollywood Way, according to airport spokeswoman Lucy Burghdorf.

The aircraft continued to slide until it was stopped by an engineered materials arrestor system, or EMAS, near the end of the runway, located about 30 to 40 yards away from the street.
The system involves a bed of materials a plane sinks into if it slides off a runway, thereby slowing it down, according to the Federal Aviation Administration.
"The EMAS did exactly what it was supposed and designed to do — it stopped the plane from going through the blast fence," Burghdorf said. "It didn't hit anything else. The airport angel was with us this morning."
A statement issued by the airline said no injuries were reported among the 112 passengers and five crew members aboard the flight.
Hollywood Burbank Airport safety officials are investigating why the aircraft lost control.
Although the airport remained open after the incident, several flights were canceled or delayed, according to Burghdorf. Passengers coming into or leaving the airfield were advised to check with their airline to see if their flight was affected.
Burghdorf said the National Transportation Safety Board is investigating the incident. A spokesman for the federal agency said "it will take a while" before an official cause is determined.
During the flight's rough landing the Southland was battered by heavy rainfall since early Thursday morning.
Moe Storch, a passenger on the plane, said on Twitter the aircraft reportedly hydroplaned after landing on the wet runway.
Wet runway... plane hydroplaned after landed... pilot regained control and hit brakes hit, reverse thrust, just in time

— Moe Storch (@MoeStorch) December 6, 2018
Los Angeles County was expected to see between .50 to 1.5 inches of rainfall through early Friday, according to the National Weather Service. The storm was ultimately stronger than expected and parts of L.A. saw around 2 inches of rain while the foothill areas saw nearly 4 inches.
Twitter: @Andy_Truc
---
UPDATES:
Dec. 7, 3:25 p.m.: This article was updated with the current status of the incident's investigation.
Dec. 6, 11:25 a.m.: This article was updated with information on how the plane was stopped and the airport's current status.
This article was originally published on Dec. 6 at 10:15 a.m.
---