Southland storm was much stronger than forecasters predicted, catching officials off guard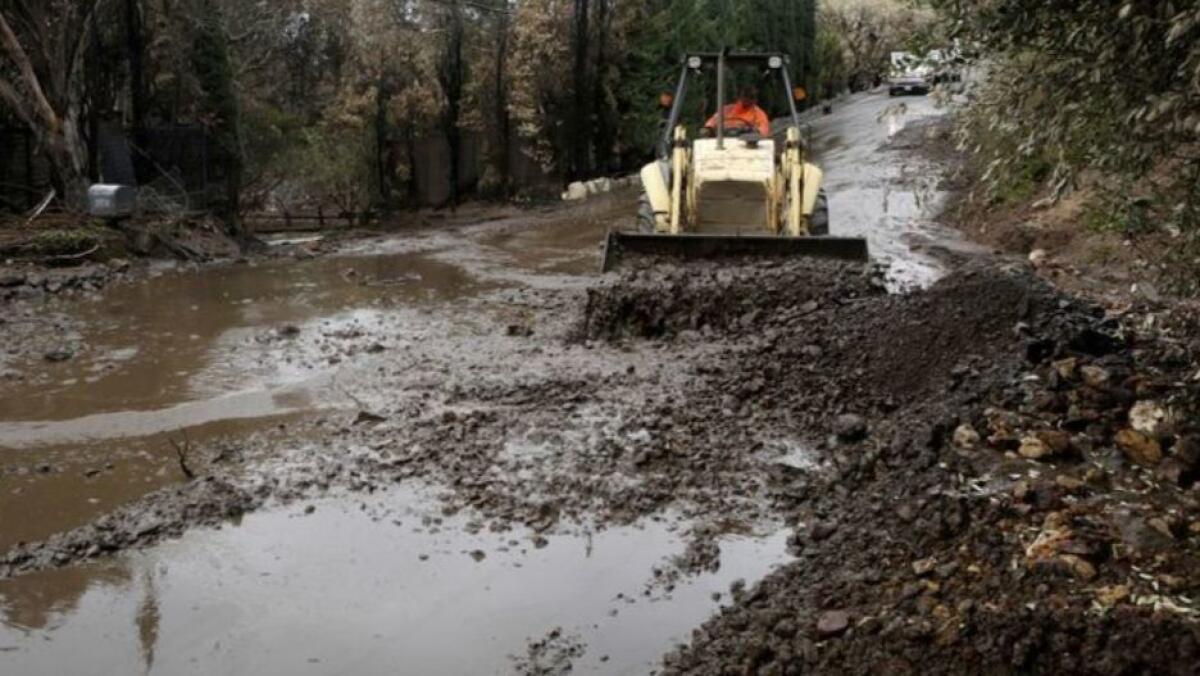 The storm Thursday that caused mudslides, closed highways and triggered evacuations in burn zones was more intense than expected.
On Wednesday morning, the National Weather Service office in Oxnard tweeted that the rain event was expected to produce light to moderate rains, and the threat of mudslides and debris flow was expected to be "minimal to none," with only 0.2 to 0.5 inches of rain expected in most areas and up to 1 inch of rain in the mountains and foothills.
But the storm system meteorologists were trying to forecast is a notoriously difficult one to pin down, the weather service said. It's known as a "cutoff low," in which part of the jet stream — the powerful river of air in the upper atmosphere upon which storms ride west to east — is cut off from the main flow of air, producing a counterclockwise movement of winds and low pressure that's home to the storm.
Forecasters had thought that the storm-producing area of low pressure would stay farther off the coast, producing lighter rainfall in Southern California. Instead, the "cutoff low" moved directly over the region, producing more intense rain in the area, including lightning in Orange County, and two to three inches of snow on the Grapevine section of Interstate 5 over the Tejon Pass, forcing a closure of that route.
"It can be hard to pin down the track of those storm systems," said meteorologist Carol Smith of the weather service's Oxnard office.
Clues that the storm system would be more intense than expected began Wednesday night, when rainfall rates of up to 0.44 inches of rain per hour were observed at Agoura, with the weather service saying mudslides and rockslides were possible, especially along Pacific Coast Highway and canyon roads. By afternoon, Malibu Canyon Road was closed at Pacific Coast Highway and Piuma Road due to sliding boulders.
By Thursday morning, Caltrans had to close Pacific Coast Highway along a wide stretch of Malibu and sections through Los Angeles and Ventura counties due to mudslides. A spotter reported four inches of snow at Frazier Park just west of the Grapevine.
The recent rains may feel wetter for some in Southern California because it has been a while since the region has had a wet winter.
The last water year — Oct. 1, 2017, to Sept. 30, 2018 — was the third driest in downtown L.A. since records began in 1877, dropping just 4.72 inches — about 32% of the average rainfall of 14.93 inches. (The only water years with even less rain was during 2001-02, when only 4.42 inches fell, and 2006-07, when just 3.73 inches fell). Of the past seven water years, six have been below average. Since the 2001-02 water year, 12 water years have been below average.
Water years with significantly more rain than the average have been rare. In the past two decades, there have only been two water years where downtown L.A. received more than 20 inches of rain — 2004-05, when more than 37.54 inches of rain fell, and 2010-11, when 20.2 inches of rain fell.
In Ventura County, which was hit by the devastating Thomas fire a year ago, the only months that have seen significant amounts of rain were last January, when about an inch of rain fell, and March, where 4.68 inches of rain fell. The January storm produced such fast rates of rainfall, there's only a 1 in 200 chance of it appearing it any given year. The storm dropped half an inch of rain in five minutes, producing a debris flow that killed at least 21 people and destroyed more than 100 homes in Montecito.
Sign up for Essential California for news, features and recommendations from the L.A. Times and beyond in your inbox six days a week.
You may occasionally receive promotional content from the Los Angeles Times.