'Golden State' plan will guide development near Burbank airport and proposed high-speed rail station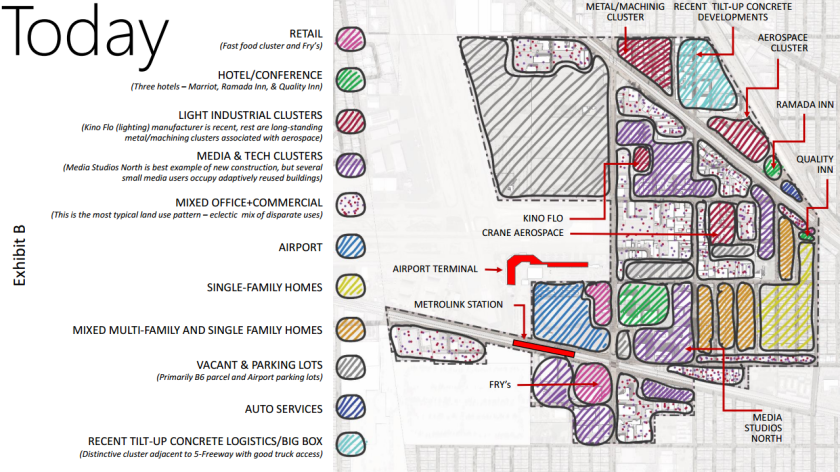 The area east and south of Hollywood Burbank Airport used to be home to Lockheed Martin's aerospace manufacturing from the 1940s until the company's departure in the 1990s.
Since then, the heavy manufacturing footprint in that region has transformed into an eclectic mix of commercial, light industrial, media and office uses with some single-family and multifamily homes peppered in.
Recognizing the steady economic growth in the area, Burbank planning officials have started working on what they call the Golden State Specific Plan, which, once completed, will serve as the city's guide to development in that 600-acre Golden State area.
Join the conversation on Facebook »
Burbank received $800,000 from the California High-Speed Rail Authority and $389,000 from the Los Angeles Metropolitan Transportation Authority, better known as Metro, to draft the specific plan, a High-Speed Rail Station Area Plan and an environmental impact report for the area, deputy city planner Scott Plambaeck said during a Planning Board meeting on Monday.
The state agency is interested in the site because it is proposing to build a station for its high-speed train on Hollywood Way near San Fernando Boulevard. Metro has also shown interest because of its proposed Metrolink station in that same area.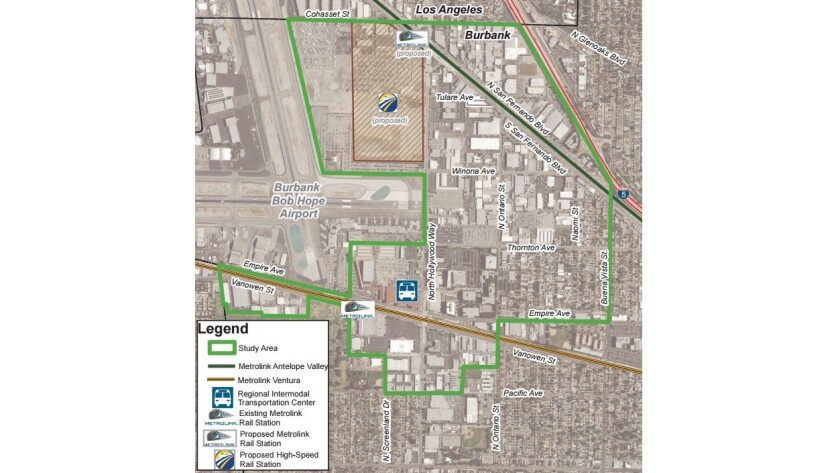 Plambaeck said there are about 10,000 jobs in that area, of which about 26% are in the information and media sector and about 23% are classified as manufacturing.
The Avion project, a proposed business park on 61.5 acres of land northeast of the airport, known as the B6 parcel, is expected to create more jobs in the Golden State area of the city. Developers are looking to build six two-story buildings for industrial use, nine two-story structures for office use and two one-story buildings for retail or restaurant use. Additionally, a 150-room hotel is planned.
The first community workshop regarding the Golden State Specific Plan was held in February, when city staff listened to concerns and suggestions from nearby residents. Another workshop is expected to be held sometime this summer before the plan is brought before the Planning Board for consideration, Plambaeck said.
Residents can visit www.goldenstatedistrict.com to learn more about the specific plan and sign up for updates on future meetings.
anthonyclark.carpio@latimes.com
Twitter: @acocarpio
MORE CIVIC NEWS & POLITICS
Burbank and its neighbors are teaming up to potentially get their hands on $1 billion in transportation funding
Burbank skate park looks to ramp things up for 2017
---