Suspect in fatal stabbing said he touched victim with 'God's healing hands,' detective testifies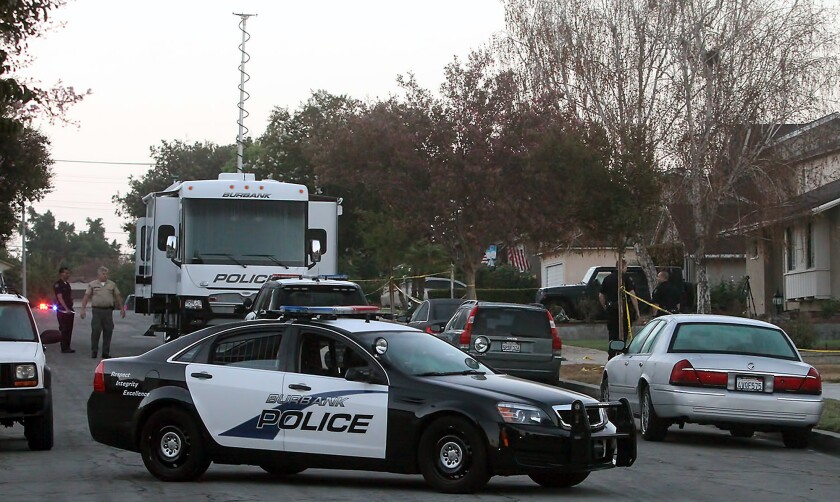 It was allegedly God's will that a 35-year-old woman was stabbed to death in a Burbank home more than a year ago, according to court testimony.
Thirty-year-old Timothy Aguilar Andrade of Hesperia was in court Monday for a preliminary hearing. He's charged with the Aug. 23, 2015, murder of Brandi Carrasco, who was found with several cuts to her body and a stab wound to the neck in a home in the 1900 block of Richard Street, police said.
Andrade has pleaded not guilty to the murder.
Authorities said the two were in a relationship and had been staying at the home.
Join the conversation on Facebook >>
Testimony from Burbank police detective Jamal Childs said the two had been in an argument that day regarding a cellphone. He testified that Andrade initially denied the argument or even being in a relationship with Carrasco.
Childs said the Hesperia man told authorities that he didn't even know who she was before eventually recanting.
Andrade claimed he didn't recognize Carrasco's name because she used multiple Facebook accounts, according to the detective.
When asked by police if he knew what happened to the woman, Childs testified Andrade had told them she "went home."
"He kept making references to sending her home, touching her with the love of God, touching her with God's healing hands," Childs said.
According to Child's testimony, Andrade claimed God had told him to make Carrasco right with God because she was impure from drug use. The 30-year-old told authorities he didn't mean for her to get hurt.
Despite telling this to police, Childs testified that Andrade had not explicitly said he stabbed or murdered Carrasco — that he referenced God whenever he was confronted with the crime.
Police initially looked at the Burbank homeowner, Brian Thomas Lowe, as a suspect. Although Lowe testified Monday he called the police when he found the body, authorities said he was initially uncooperative and gave conflicting statements.
Several domestic violence calls were made to Lowe's residence, and he had even pleaded no contest to an assault charge, according to testimony.
The Burbank man said the calls were a result of lies told to police by his ex-girlfriend.
Lowe also admitted to having been in a sexual relationship with Andrade, meeting him about a month prior to the murder through a Craigslist ad soliciting sex. The homeowner said they had sex only twice.
However, Lowe said the reason he gave differing statements to police was that he felt threatened. According to him, Andrade had confronted him on the day of the murder to be quiet or his family "gets it."
Lowe testified Andrade had held a knife when making the threat.
"I was afraid for my family … that harm could come to them," he said.
But it was mentioned in court that this was the first time Lowe mentioned Andrade holding a knife.
But the Burbank man made no mention of a weapon initially, according to a statement he gave to police. However, according to Childs, Lowe told police he thought Andrade had a gun.
When confronted by the change in his story, Lowe said he believed Andrade was holding a knife and that it was the image he had in his head.
He testified that his memory of the day "is not clear anymore." Lowe also mentioned that he, his ex-girlfriend, Carrasco and Andrade had been smoking methamphetamine the day of the murder.
After hearing testimony from Lowe and Childs, Los Angeles County Superior Court Judge Dorothy Shubin said Tuesday there was enough evidence and testimony for the case to move forward.
Andrade faces life in prison if convicted and has been held in lieu of $1-million bail. He is scheduled to appear in court on Jan. 25 for arraignment.
--
Andy Nguyen, andy.nguyen@latimes.com
Twitter: @Andy_Truc
---