Equestrians say wording of municipal codes makes it clear: 'no bicycles'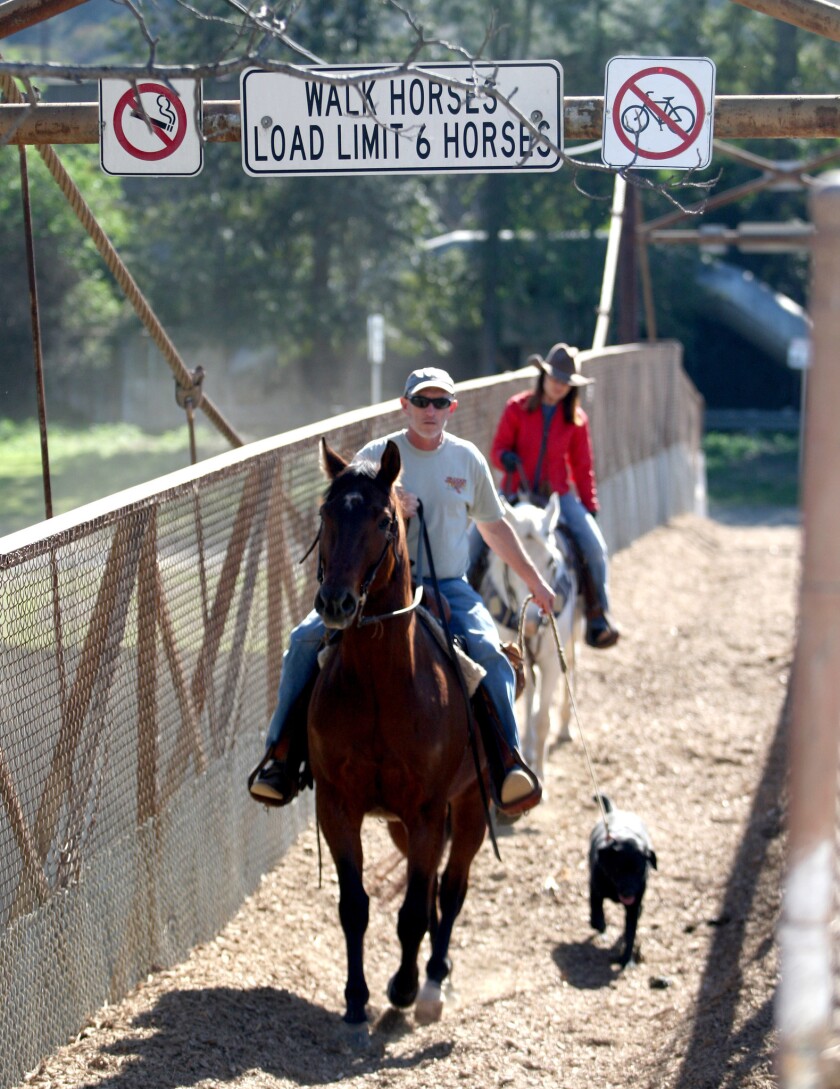 Throughout the debate about restricting bicycle use on the Mariposa Street Bridge, equestrians have claimed that, for cyclists, the span is a "bridge to nowhere." Bicycles, they have said, are banned altogether on the Los Angeles side of the bridge.
"The municipal code in the city of Los Angeles does not say 'no bicycle riding,' it does not say 'no bicycle walking' ... 'no bicycle carrying' ... 'no bicycle levitating" — it says 'no bicycles,' " said Alyce Heath, an equestrian, during a City Council meeting Tuesday. "If you go across the bridge and step off into Griffith Park … you cannot have your bicycle with you."
NEWSLETTER: Stay up to date with what's going on in the 818 >>
Here's a look at the Los Angeles Municipal Code sections related to the trails near the bridge and cited on signage there.
• Los Angeles Municipal Code section 63.44 B16: "No person shall drive or ride any cycle or vehicle, whether powered by a motor or human power, except on paths, roads or drives designed and provided for such purposes."
• Los Angeles Municipal Code section 86.04: "No person shall drive a vehicle or bicycle on any path designated or posted as a "trail" by the Board of Recreation and Park Commissioners."
In an interview last week, Senior Park Ranger Patrick Joyce said people walking or carrying bikes are considered pedestrians and are allowed on Griffith Park trails and bridle paths.
Cyclists have said an earlier version of the Burbank ordinance that would have banned bicycle riding on the bridge, but would have allowed walking or carrying bikes across, would have been consistent with the rules on the Los Angeles side. One cyclist this week told the council he would like to walk his bike on the trail to Travel Town Museum or to access miles of paved roads in the park.
However, while they allow equestrian and pedestrian use, the "special rules" the Burbank City Council introduced this week concerning the bridge say, "no person shall ride, walk or carry a bicycle on the Bridge."
--
Chad Garland, chad.garland@latimes.com
Twitter: @chadgarland
---