Residents make plea for stop signs, saying traffic isn't safe along Edison Boulevard
Charlie Costantino heard the crash near his home on Evergreen Street in Burbank two years ago this month, but his wife Sandy felt it.
She was crossing Edison Boulevard when she was struck by a motorist traveling 65 mph — the skid marks were 110 feet long — and has endured five surgeries since then, including one last week, running up a medical bill of more than $700,000 to repair her broken neck and damaged vocal cords.
NEWSLETTER: Stay up to date with what's going on in the 818 >>
However, Charlie Costantino said it could have been worse.
"I could have heard my wife die," Costantino said in December, after a Burbank City Council meeting the couple attended.
At the same meeting, the Costantinos' neighbor Bill Sebastian pleaded with the council to take action to put stop signs on all corners of the intersection and at all five corners a few blocks away where Edison crosses Valley and Oxnard streets near Valley Park.
Last week, the Burbank Traffic Commission endorsed a proposal intended to calm traffic in the area. The Costantinos couldn't be at the meeting because they were at the hospital where Sandy Constantino was undergoing another surgery.
Both Sebastian and the Costantinos have been asking the city for traffic controls in the area for more than a year. Sebastian said they have a Facebook group of more than 40 people who support the effort, and before attending the council meeting in December, he had met with and walked the intersections with Mayor Bob Frutos.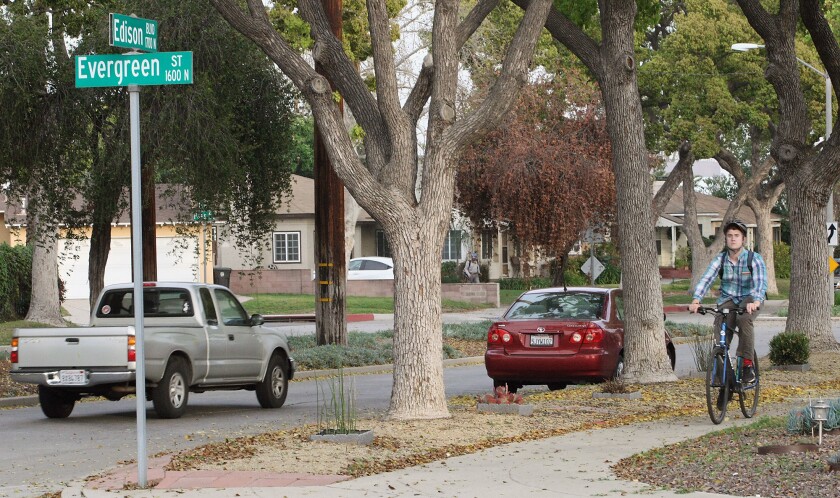 The issue, Sebastian said this week, is poor visibility due to the roughly 60-degree angle at which Edison intersects side streets, parked cars and parkway trees, and the need for drivers to look far over their shoulders to see potential cross-traffic.
Near Valley Park, Sebastian said, the number of streets that come together and the higher volume of pedestrians, who are often overlooked — he's nearly been hit while crossing there himself — add confusion for drivers that he feels could be eliminated if all ways had stop signs.
The commission in December rejected Sebastian's eight-page formal request for stop signs at Edison and Evergreen because it did not meet the state-recommended criteria for adding them, based on crash history, traffic volumes or a combination of the two.
City staff had rejected a similar request in 2014 for similar reasons. However, in December, the commission directed Ken Johnson, the city's traffic engineer, to come up with a proposal that would improve safety but stop short of installing stop signs.
The new proposal calls for creating bike lanes on Edison Boulevard, which the city hopes will provide an added buffer to push drivers traveling down Edison toward the center of the lane and allow for drivers on the cross streets more space to roll forward from a stop to see cross-traffic.
Johnson said the city still needs to determine the costs of the striping and whether it will need to be contracted out. If so, it will be included in the city's budget for fiscal year 2016-17. The commission asked for a follow-up report a few months after the bike lanes are installed to see if they have improved safety.
"I am skeptical [that they will improve safety]," Sebastian said of the plan. "But I can't wait to see if it does."
In the meantime, Sebastian is putting his campaign for stop signs on hold until he can determine if they're still worth fighting for, he said, though he doesn't understand why the commission opposes stop signs. He also said he wants to adhere to every step of the city's process, so officials aren't "blind-sided."
Costantino said as the two-year "anniversary" of his wife's accident approaches, it's still painful and he fears that someone else could suffer something similar, or worse.
"Just put the darn stop signs in," he said.
--
Chad Garland, chad.garland@latimes.com
Twitter: @chadgarland
---