Operation Firefly shines a light on night-time bicycle safety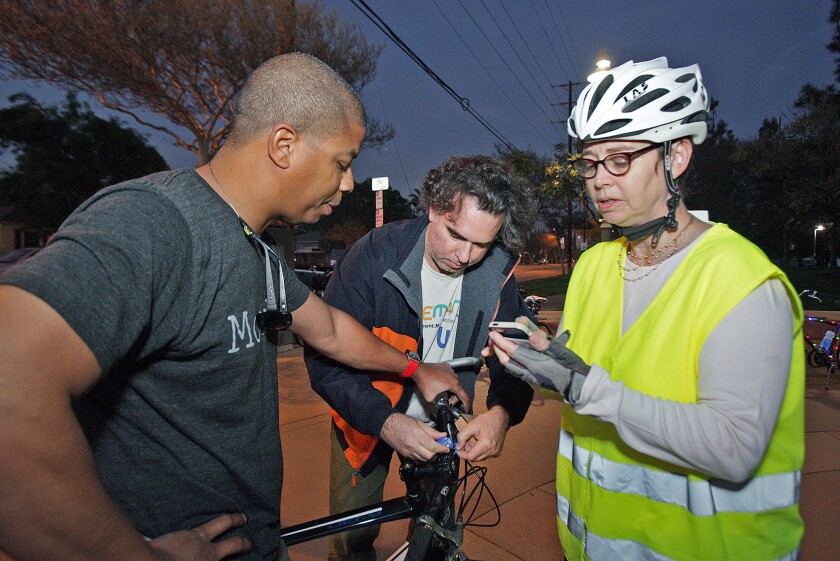 Rebecca Damodaran was riding her bicycle on her commute home from work at Providence High School Tuesday night. Christopher Black was riding his bike for exercise and to enjoy the nice weather.
As the sun set and the sky was streaked pink and blue, car lights shined on Verdugo Avenue and Buena Vista Street, but neither Damodaran nor Black had headlights of their own when they stopped at the entrance to Lincoln Park, near the bust of the 16th president.
Damodaran had a light, but it was dead. Black said he's never had a light on his bike since he reached adulthood, and while he thought the law might require him to wear a helmet — it doesn't for adults — he had no idea it requires cyclists to have lights and reflectors.
NEWSLETTER: Stay up to date with what's going on in the 818 >>
"It makes sense, though," Black said. "I just never thought to get any."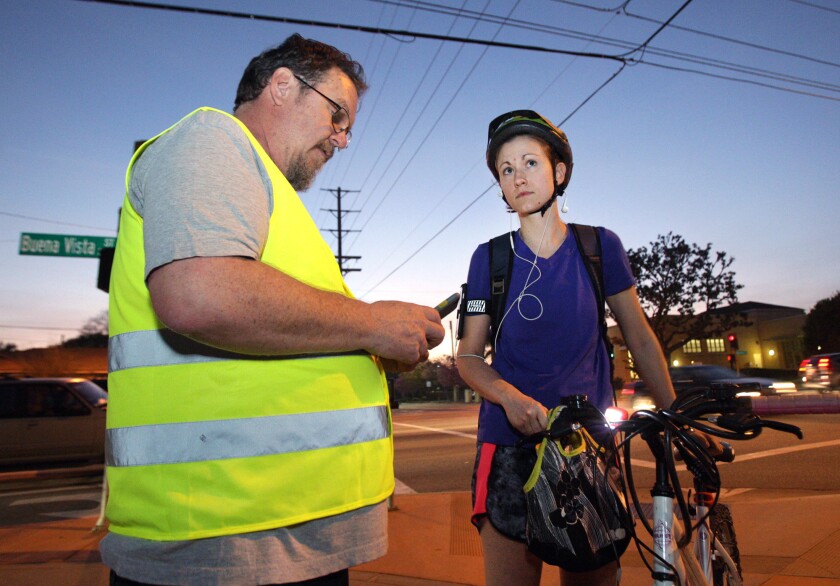 Both Damodaran and Black were in luck, though, as they happened across volunteers with Walk Bike Burbank, a local chapter of the Los Angeles County Bicycle Coalition, who were stationed near Honest Abe, handing out bike lights and packets with information about state laws and safety tips for night-time riding.
The unannounced pop-up event is part of an education and bike-light-distribution program called Operation Firefly that runs November through March each year, said Mike Hollis, chairman of Walk Bike Burbank. The program is sponsored by the Laemmle Charitable Foundation, he said, and the lights are donated by Burbank-based Pure Fix Cycles.
The goal is to promote bike safety. The roughly two-hour operation was Walk Bike Burbank's second Firefly event this year, Hollis said — the group handed out about 30 sets of front and rear lights in January — and it's the last one until the next "season" begins in November, Hollis said.
Volunteers distributed the sets of white and red (front and rear) bike lights, plus stickers and information cards with tips on how to change a flat tire and how to be safer riding at night, such as wearing white or light-colored clothing and extra reflectors on helmets or shoes.
The safety tip card also warns that riders can be cited at night for riding without a white front light and reflectors on the bike's rear, side and pedals. Red rear lights are optional, but recommended.
Join the conversation on Facebook >>
Evening bicycle rides in urban areas tend to be more dangerous for riders, but a front light helps prevent the most common type of collision, according to the safety card, those with oncoming or cross traffic.
Data from the National Highway Traffic Safety Administration states that in 2013, 68% of the roughly 740 cyclists killed in traffic accidents in the United States that year were in urban areas and more than half, 56%, happened between the hours of 3 p.m. and midnight. The numbers for 2012 were similar.
California had the highest number of cyclist fatalities in traffic crashes in 2013 — 141, accounting for 4.7% of all traffic deaths in the state. California's rate of 3.68 cyclist deaths per million residents was higher than the national average of 2.35 per million.
Black said he's never been in an accident while riding at night, though, he said, "I feel lucky."
Damodaran said she hasn't, either — "almost, but no."
As he left, Black said he was going to bring his wife's bike back for free lights, too.
--
Chad Garland, chad.garland@latimes.com
Twitter: @chadgarland
--
ALSO:
Burbank students are Music Center contest semifinalists
Metro tries out express route from North Hollywood to Pasadena
---