MenEssentials to open second physical U.S. store at Bob Hope Airport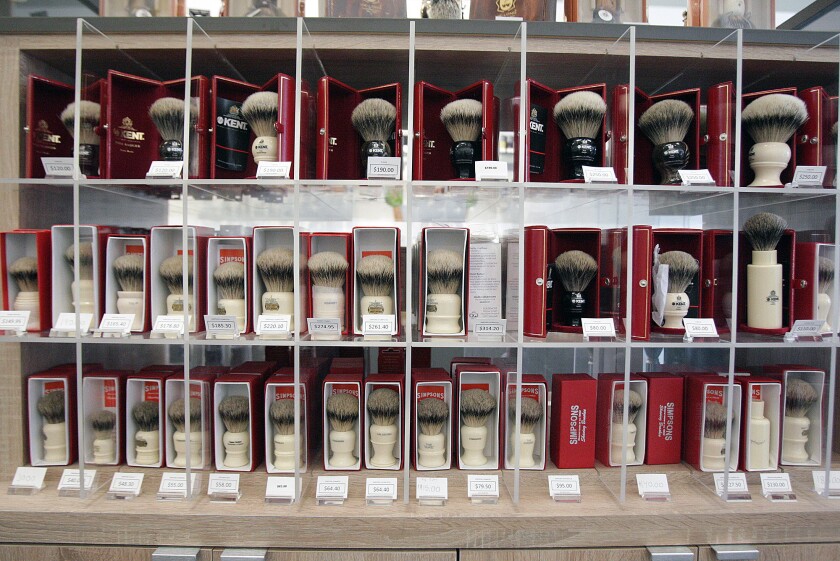 Coming soon to Bob Hope Airport in Burbank, just in time for Movember — the annual season for beard and mustache growth to raise awareness about prostate cancer and other men's health issues — will be a retail store built around the good, old-fashioned shave that shuns disposable razors and cartridges in favor of the more traditional straight or safety razor.
Set to open before Thanksgiving, if everything goes as planned, the retail location will be the second physical location in the United States for the online men's grooming store MenEssentials. It's first opened in Glendale in June at 234 1/2 N. Brand Blvd., where customers are greeted with a yellow barber's chair and a wall case displaying straight razors and sharpening strops.
Greg Aghamanoukian, chief executive for the company's U.S. operations, said it's like a Sephora for men, offering an experience meant to "hit all the senses except for taste," with more than 1,200 products for shaving, face care and beard maintenance, many imported from Europe and a few made in Southern California.
The Burbank-Glendale-Pasadena Airport Authority board approved a one-year lease with the firm this week for a 176 square-foot space near the terminal's Gate A4. Rent and a share of gross sales paid to the airport for the space is expected to be a minimum of $10,100 for the remainder of the 2015-16 fiscal year and will be more than $15,000 the following fiscal year.
Laura Friedman, one of Glendale's three commissioners on the board and the only woman, made the motion to approve the lease, which Pasadena commissioner Steve Madison said seemed appropriate.
"I like my men well-groomed," Friedman said.
Aghamanoukian said the location is a good fit for his company for several reasons, not only because people "always forget something" when packing or they might need a gift for a man in their life, but because travelers spend a lot of time waiting around for their flight. They might want to spend that rare alone time getting a close shave or learning about the process.
Plus, he said, the location will expose a wide variety of people to the MenEssentials concept and brand, which was founded in Canada in 2000 and launched its U.S. online store in 2014.
Part of the model for the MenEssentials brick-and-mortar stores, part of the sensory experience, is an education in the art of old-fashioned shaving, including a shave, if necessary. The airport location will have a barber's chair and offer shaving services by barber Brandy Munoz, as well as much of the same selection of products it offers in Glendale and online.
Due to safety concerns at the airport, straight razors will not be sold at the new location and razor blades will not be stocked, though they can be purchased and shipped to any address a customer chooses.
Shaving-related products accounted for $2.9 billion of the $6.3 billion men's grooming market last year, according to a 2015 report by the independent market research firm Euromarket International. Procter & Gamble Co., which owns the Gillette, Braun and the Art of Shaving brands, led the market with a 40% share, stemming largely from its razors and blades business.
However, a growing nonshaving segment, which accounts for 54% of the market, up from 46% in 2004, "indicates that the proportion of men that care about their grooming rituals beyond the traditional shaving experience is increasing," according to the Euromarket report. The entire men's grooming market is expected to grow at 1% per year, it states.
For men who prefer not to shave, San Bernardino-based Fisticuffs LLC makes Grave Before Shave beard oils and balms, which MenEssentials sells. Chief executive Wayne Bailey, who started the company with a mustache-wax product that quickly became a No. 1 seller on Amazon, said he will soon add men's shampoo and pomade products to his line.
"Men, they want to take care of themselves, also," said Bailey, who added that barber shops, "hangouts" and men's grooming stores like MenEssentials seem to be gaining popularity.
"They want to look good," Bailey said.
Justin Charles, who lives near Culver City, came to the Glendale store for the first time Wednesday to get a powder that was sold out on Amazon and was cheaper at MenEssentials. He was back Friday for cologne that was $8 cheaper than Amazon was selling it. He said many stores don't really cater to the needs of men and don't offer the specialty products they want.
"I always wanted a place to go — they have a lot of places for women," Charles said. "I wanted a place like that for men."
---