New vendor mixes up the fare at Bob Hope Airport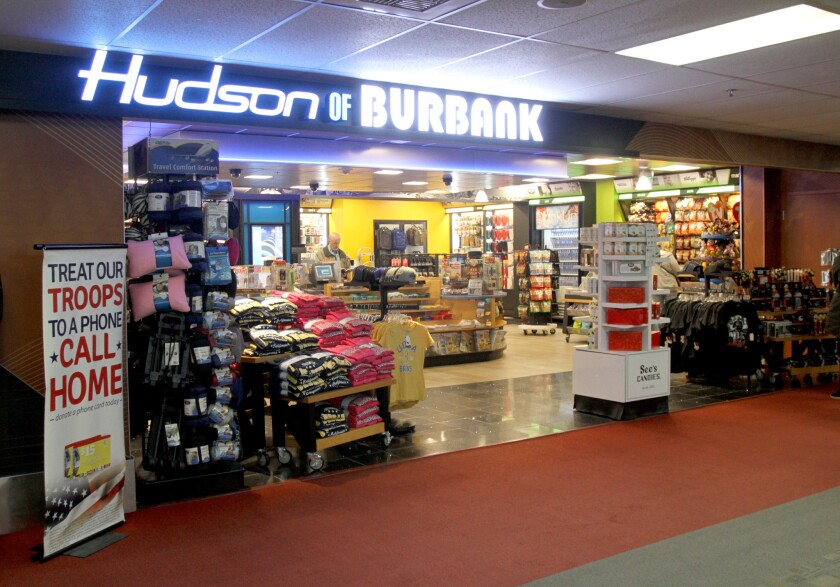 A makeover of four retail news, gift and specialty shops in Bob Hope Airport's terminal building — three in Terminal A and one in Terminal B — is nearly complete after a new vendor was awarded the concession contract at the airfield last spring and began converting them to Hudson News locations.
The Burbank terminal's shops, which had been operated by Paradies Shops Inc. from early 1994 until last May, have been remodeled to give them a local feel and a different mix of gifts, books and other products.
For example, the Hudson of Hollywood shop near the entrance to the terminal building is decorated with wall graphics of an Oscar statuette, Johnny Depp's star on the Hollywood Walk of Fame and the marquee of the Pantages Theatre.
Hudson of Burbank, located near Gate A3, features images of Amelia Earhart as well as Mickey and Minnie Mouse. It's stocked with Burbank T-shirts, UCLA and USC sweatshirts and Hollywood ball caps, as well as an expanded book area and an electronics section that includes gift items such as remote-controlled quadcopter drones.
"There's so much more product," said Lucy Burghdorf, an airport spokeswoman, during a tour of the stores on Wednesday.
Pasadena Marketplace in Terminal B features Rose Bowl-related merchandise, said Rachael Warecki, another airport spokeswoman.
A crew was putting the finishing touches on Glendale Crossings, the Hudson shop at the far end of Terminal A, which features images of the Alex Theatre and the Americana at Brand's golden statue.
The Glendale-themed shop was the last of the stores to be renovated, said Tom Janowicz, manager of landside operations for the airfield.
Paradies' revenues at Bob Hope Airport had lagged in recent years, airport staff said in late 2014, and officials began seeking proposals for a new concession operator that would bring an infusion of "new concepts and refreshed product mixes" that officials hoped might yield positive financial results for Bob Hope's concessions.
In April, the Burbank-Glendale-Pasadena Airport Authority approved a 10-year concession-and-lease agreement with HG Burbank JV, a joint venture between Los Angeles-based Stewart Manhattan Investments Inc. and Hudson Group Retail LLC, which operates more than 700 shops in 70 airports and major transportation centers across North America.
The firm is owned by the Swiss travel retailer Dufry AG, which operates nearly 2,200 shops in airports, cruise ships, seaports, railway stations and downtown tourist areas around the world. Stewart Manhattan Investments, which does business as Palazzo Concessions, has partnered with Hudson before on a joint venture at LAX.
The HG Burbank partnership ultimately earned the contract to operate the shops with an offer that included an annual guarantee of $925,000 to the airport, plus more than $52,000 in rental fees and a proposed capital investment of more than $1.55 million to improve the stores.
Airport staff who evaluated the proposal also noted that Hudson Group generated more than $1 billion in sales in 2014.
Burghdorf has in the past noted that airports now offer travelers more shopping and dining options, becoming more like shopping centers. In addition to the Hudson retail shops and eight — soon to be nine — food and beverage concessions, the Burbank airport has an automated Benefit Cosmetic makeup kiosk.
MenEssentials, a men's grooming retailer with a store in Glendale, also recently opened shop — its second U.S. location — in Terminal A, complete with a barber chair.
Walking through the terminal building Wednesday, where at least 11 departures were delayed due to weather throughout the day, Burghdorf noted the shops were active.
"Pretty busy with the delayed flights," she said. "That means people spend more."
--
Chad Garland, chad.garland@latimes.com
Twitter: @chadgarland
---