Yahoo's Burbank office to shut down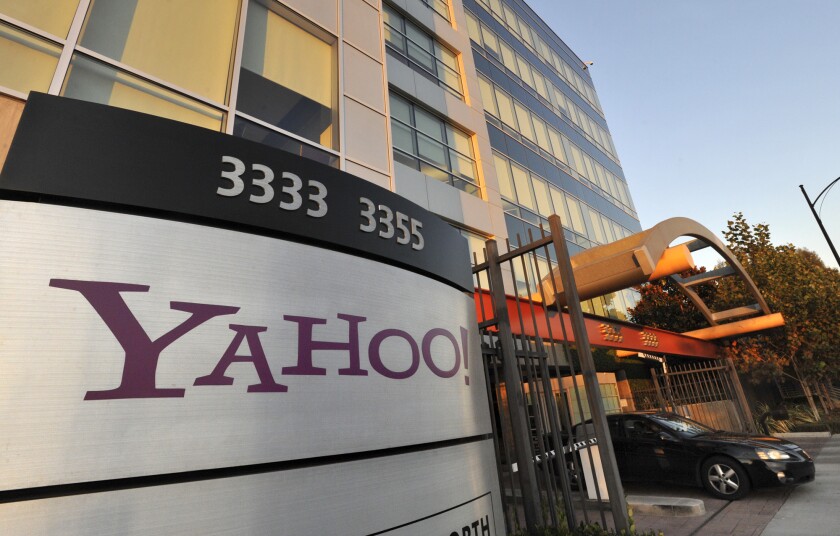 During an earnings call earlier this month when Yahoo Inc. posted a massive quarterly-earnings loss, Marissa Mayer, the company's chief executive, outlined plans to reverse the company's declining revenues in its legacy businesses as it seeks to build new, fast-growing product lines — a strategy she likened to a "tectonic shift."
On Wednesday, the seismic impacts began to register in Burbank, where the company said it will permanently close its office. Employees at the campus near Bob Hope Airport were told a number of jobs are being eliminated and others will be consolidated to the company's Playa Vista office, according Carolyn Clark, a company spokeswoman.
NEWSLETTER: Stay up to date with what's going on in the 818 >>
Yahoo's plans called for "very difficult decisions and changes to our business," Clark said. The company is expected to cut nearly 15% of its 11,000 employees and also announced the phasing out of seven of its digital magazines, including those dedicated to food, travel, health and parenting topics.
Clark declined to provide specific numbers of affected employees in Burbank, but a notice filed Wednesday with the state's Employment Development Department lists 90 positions being eliminated effective April 18.
It also states that 60 employees will be impacted by cuts in Los Angeles, and 46 in San Francisco, all with the same effective date.
A separate notice was filed with the state last week indicating 107 employees at the firm's Sunnyvale headquarters will be let go as of April 11. The latest notice filed this week states an additional 128 Sunnyvale employees will be laid off on April 18.
Yahoo Search Marketing employed roughly 1,200 people when it completed a move from Pasadena to Burbank's Media Studios North on Empire Avenue in 2006. It had up to 1,800 workers and was the city's sixth largest employer in February 2008, when a round of layoffs slashed more than 100 jobs locally.
According to a January 2013 article posted on the company's recruitment website, more than 400 people worked at the Burbank facility at that time, in areas related to online search, sales, operations and marketing.
In the earnings call earlier this month, Mayer said that since she joined the company more than three years ago, the company had closed 22 offices and ended more than 120 products and features as it shifted toward "growth-oriented" businesses. She described Yahoo as a stronger business as a result of those moves, despite a $4.43-billion earnings loss in the fourth quarter.
Legacy businesses including banner ads and "to some extent" online search face "head winds" causing a roughly $500-million drag on revenues per quarter, Mayer said, but new lines referred to by the term "mavens" — mobile, video, native advertising and social — are showing strong growth, she said.
Mary Hamzoian, Burbank's economic development manager, said she had had not yet heard of the closing as of Wednesday afternoon. While the departure of Yahoo is undesirable, "this is a situation that is out of our control," she said.
Burbank Mayor Bob Frutos said he received notice of the layoffs via email. He said they are the result of an "ever-changing economy" and underscore the need for the City Council to focus on efforts to make the media capital of the world attractive to good employers.
"I'm just really saddened at the loss of jobs," he said, expressing sympathy for any of the city's residents who will be impacted by the cuts. "The question is, what other company is coming in?"
--
Chad Garland, chad.garland@latimes.com
Twitter: @chadgarland
---