Irvine approves flying the pride flag, Mayor Christina Shea only dissenting vote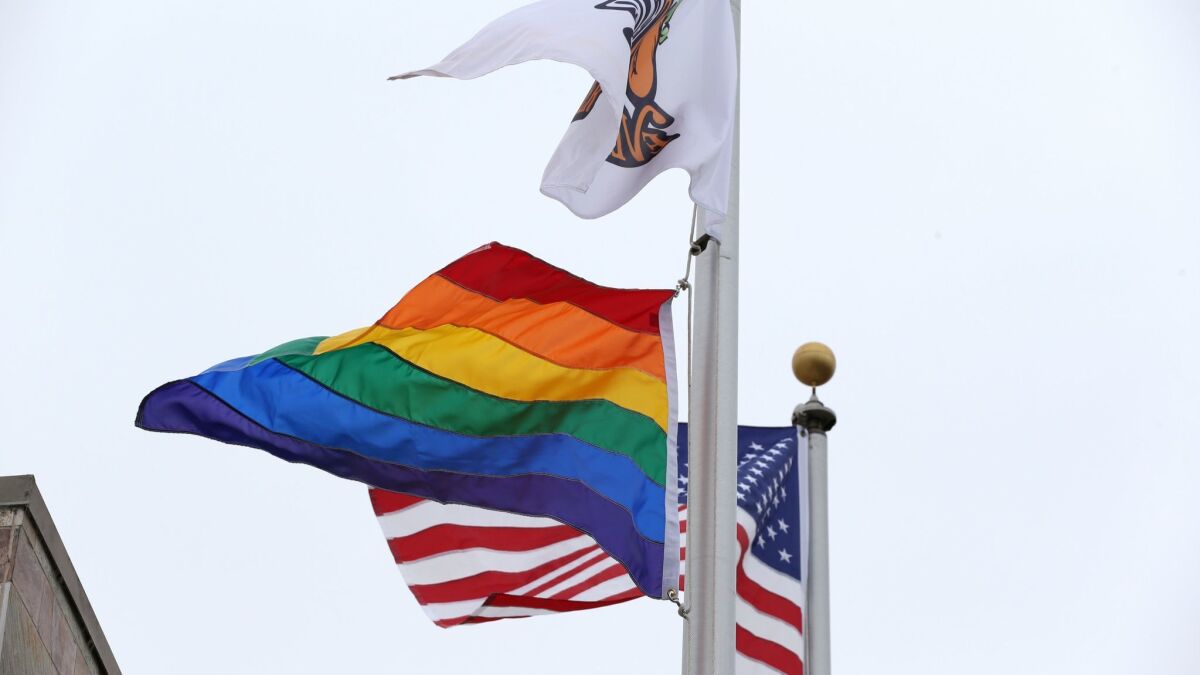 The Irvine City Council voted Tuesday night to fly the LGBTQ pride flag at City Hall every June, with Mayor Christina Shea being the only dissenting vote.
The decision comes weeks after the council unanimously chose for the first time to proclaim June as LGBTQ Pride Month. The flag will be flown from Harvey Milk Day on May 22 through the end of June.
Both actions are in stark contrast to last year, when the council voted down Councilwoman Melissa Fox's proposal to fly the pride flag at City Hall.
"The LGBTQ+ community has fought for many years for equal rights under the law," said Fox, who introduced Tuesday's item with Councilwoman Farrah Khan. "In many places in other communities, they're still facing hatred, violence and discrimination. But in our community in Irvine, this is a safe place, a place of acceptance and a place of equality. And I believe that we should be proclaiming that."
Members of the LGBTQ community were pleased with the council's decision, though this year's pride month only has about a week left. With the decision, Irvine joins several Orange County cities in flying the pride flag, including Anaheim, Santa Ana, Costa Mesa and Aliso Viejo.
"Irvine is a huge section of the county, and a lot of our supporters and board members live and work in Irvine, so it's a city we are very connected to," said Peg Corley, executive director of the LGBTQ Center of Orange County. "This showing of support to the LGBTQ community and celebrating diversity is definitely a step that we are happy to see."
Shea voted the same way as last year.
"I believe we have three flags that we fly," Shea said. "We have 150 languages here in the city of Irvine. To have every individual group flying their flag during the year is going to be very problematic. We all signed the proclamation and our names are on that proclamation, but I will not be supportive of flying the pride flag."
Shea has faced criticism in recent weeks for negative comments she made about Black Lives Matter protesters, as well as for deleting comments and blocking supporters of the movement on Facebook. Several peaceful Black Lives Matter protests have been held outside Irvine City Hall since the death of George Floyd late last month while in the custody of Minneapolis police officers.
Corley took issue with Shea's vote.
"With all the uncertainty right now with the country being divided in many different ways around social injustices, I think when we look to our leaders, we need people to lead," Corley said of Shea. "And someone who is the only nay vote for the governing body they lead … I think it's unhealthy, and it's a sign you are not leading, you are simply voting the way of your own personal bias. That is not leadership."
The council received more than 50 public comments from residents on the issue.
"Our LGBTQ community in Irvine continues to be the object of discrimination and harassment, and we need our city leadership to take a public stand of support and affirmation of all residents of Irvine, regardless of their race, creed, orientation or gender identity," resident Felicity Figueora said.
"I support the resolution to fly the pride flag in support of Irvine's LGBTQ+ community," resident Jennifer Mirmak said. "Exclusion of one excludes us all."
While Corley saw the approval of the flag as a step forward for the city, she said Irvine still needs to repeal a city initiative that denies lesbians and gays anti-discrimination protection based on their sexual orientation.
That initiative, Measure N, was approved in 1989 when voters decided to remove lesbians and gays from Irvine's Human Rights Ordinance. Shea supported and campaigned for the measure but has said today that she would not support such an initiative.
Khan said Thursday that her and Fox will bring the repeal of the ordinance before the council at the next meeting.
"Repealing that outdated and discriminatory ordinance would be a perfect next step for Irvine," Corley said. "As a forward-thinking city, we are looking for them to fix that."
All the latest on Orange County from Orange County.
Get our free TimesOC newsletter.
You may occasionally receive promotional content from the Daily Pilot.