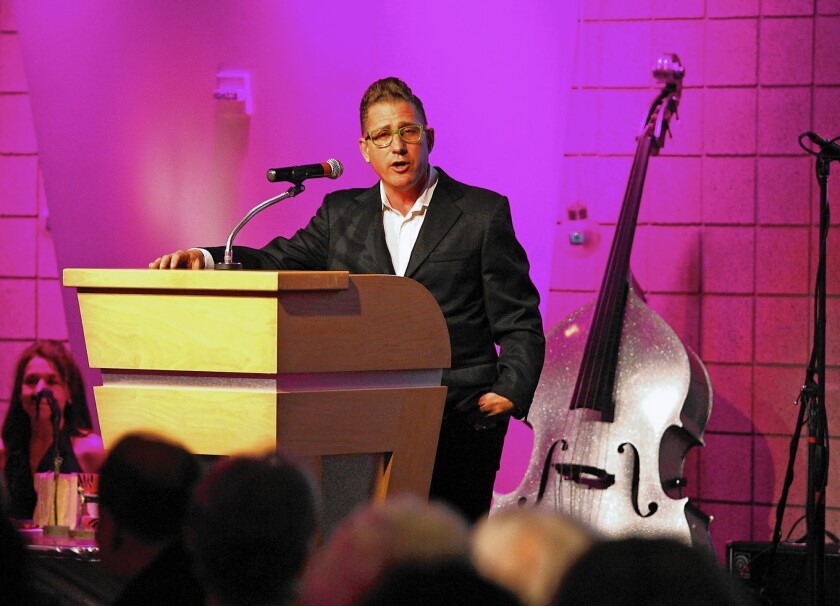 It didn't take any convincing to get Lee Rocker, one of the founding members of the Stray Cats, to say yes to an invitation to perform with the Laguna Concert Band last year.
After all, he said, he's always looking to try different things. One non-musical quest is looking for unique eyeglasses to add to his growing collection.
But back to the music. The rockabilly, upright-bass player said he enjoyed his time performing last February so much that he agreed to return for his second show with the Laguna Concert Band on Saturday and Sunday at the Laguna Playhouse.
"This is exciting for me," Rocker said.
The Grammy-nominated artist will bring his signature blues and rockabilly sounds to the performance, which will have him join the Laguna Concert Band after intermission. The band will play behind him on a set that includes swing, jazz, big band and Dixieland styles.
Rocker will mix things up this time around by playing a few classics by Buddy Holly and Stray Cat hits including "Stray Cat Strut" and "Rock this Town."
His association with the Laguna Concert Band started as a fluke.
Rocker, who has lived in Laguna Beach for 25 years, was introduced to the band by Lisa Mansour, one of its supporters. Mansour met Rocker in 2011 when he was the keynote speaker at the Laguna Beach Alliance for the Arts' annual Art Star Awards. Mansour, as chair of the event, presented Rocker with the Visionary of the Year award. The introduction resulted in Rocker headlining the two sold-out shows last year at the Playhouse with the concert band.
"It's fun for me, and I love to be a part of the community," Rocker said about his return engagement. "It's a really fun night, and last year was a blast. The playhouse is a great stage, and I know this will be sold out."
The musician, who has sold nearly 10 million albums and garnered 23 gold- and platinum-certified records worldwide for the Stray Cats, will be joined by Buzz Campbell, founder of the San Diego-based rockabilly group Hot Rod Lincoln. Campbell has played with Rocker since 2004 and opened for the Stray Cats European Farewell Tour in 2008.
"Lee is a great act," said Craig Gordon, Laguna Concert Band president. "He's a great guy to work with, and he's just the nicest and genuine person."
The Laguna Concert Band, now in its 15th year, is a volunteer-based nonproft with more than 70 members from Laguna Beach and surrounding communities playing under the leadership of music director Ed Peterson and co-conductor Pete Fournier.
The first portion of the concert program, Gordon said, will feature classic tunes including "The Sinfonians" by Clifton Williams and "Songs from the Catskills" by Johan de Meij. Also on the lineup are pop hits such as Van Morrison's "Crazy Love" and Stealers Wheel's "Stuck in the Middle with You," which will feature vocalist Linda Hughes.
Gordon said a dedication honoring the Yamaha grand piano given to the band by the Balboa Bay Resort will feature Kathie Grasso Schroeder playing "Somewhere in Time/Rhapsody on a Theme of Paganini."
Local banjo player Doug Mattocks will also be featured on selections. Mattocks worked for comedian Jerry Van Dyke for three years and held a permanent music position at Disneyland for 14 years while also performing a solo show on the main-room stages of Holland American Cruise Line for the last 13.
Six musicians from Laguna Beach High School will also perform in the concert. Jason Feddy, who hosts the music radio show "Full English Breakfast" on Laguna Beach's KX 93.5, will be the evening's co-host.
After intermission, Rocker will be joined by his son, Justin Drucker, and Campbell on guitar. The three will perform Stray Cats classics and also "City of New Orleans" and "Good Rockin' Tonight."
"The show is just fun, because it will be heightened with dedications and then Lee with his son and Buzz," Gordon said. "He does a grand entrance kicking it off, and it's just a hoot. They're fanatical people who fill the front-row seats. The response is tremendous."
Gordon, who became president last July, said people who didn't know of the show last year are determined to attend this year, joining returning fans. He's already thinking of 2016. He wants to find musicians in Laguna Beach who would want to broaden the spectrum so the event even more appealing to concertgoers.
"We're like the hidden gem where people don't know the caliber of our musicians," Gordon said. "It's going to be fun."
IF YOU GO
What: Laguna Concert Band featuring Lee Rocker
When: 7 p.m. Saturday and 3 p.m. Sunday
Where: Laguna Playhouse, 606 Laguna Canyon Road, Laguna Beach
Cost: $50 to $75
Information: (949) 497-2787 or lagunaplayhouse.com
---