Set designer gets 'Whipping Man' into shape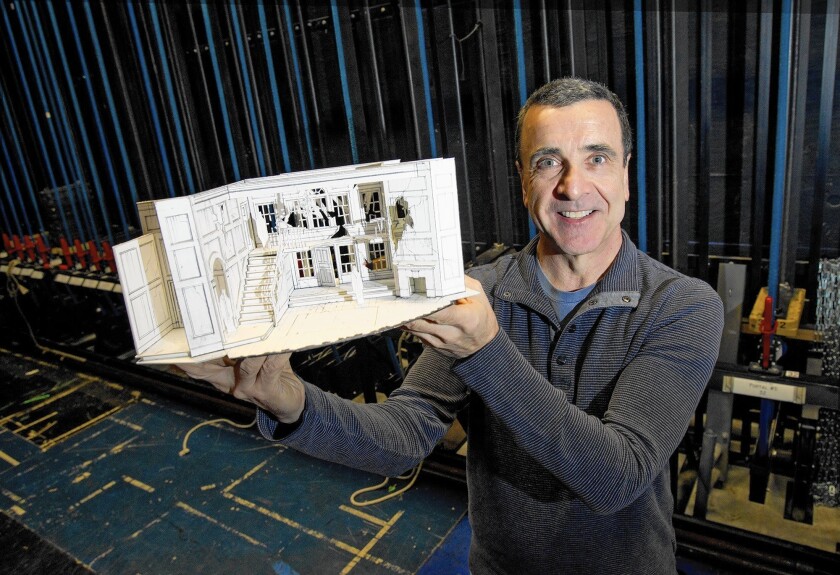 In the course of designing scenery for "The Whipping Man," South Coast Repertory's upcoming play, Tom Buderwitz discovered that "period piece" wasn't quite an adequate term.
That ought to be "periods," plural.
After researching Georgian architecture and classical grand homes, Buderwitz realized that everything in the play's Richmond, Va., home — portrayed circa 1865 — would not be from one time period. He remembered an adage he learned in design school that explained that a house is always older than clothes. A Southern mansion, he estimated, was probably built in the 1700s, and the collected or installed pieces, such as the entryway chandelier, would date to that time. For authenticity, he'd have to recreate a variety of differently aged pieces for the set.
"All the clues are in the playwright's words," Buderwitz said. "I'll dissect the language, and my big thing is, I want the set to feel like it's the right world."
Buderwitz, who has been nominated for three Emmy Awards and an Art Directors Guild Award, has created sets for more than 18 years at South Coast Repertory. Last season, he co-designed "Tartuffe," and for 13 seasons, he produced conceptual ideas for "A Christmas Carol."
Interpreting "The Whipping Man," Buderwitz said, was a giant process that began in June, but he was excited to explore what elements needed to be considered in the drama, which begins at the close of the Civil War.
"The Whipping Man," playing on South Coast Repertory's Julianne Argyros Stage from Sunday through Jan. 25, tells the story of a badly wounded veteran returning to his wealthy family's burned-out home in Richmond. Caleb's family has fled to safer havens, and only two of its recently freed slaves remain.
As a raging storm looms over the once-majestic plantation home, the three Jewish men prepare for Passover and, as they struggle to rebuild their lives, uncover a tangle of secrets that threatens the family and their shared faith.
The play, written by Matthew Lopez, sold out after its debut in New York's Manhattan Theatre Club and ran 101 performances off Broadway. It garnered Obie and Lucille Lortel Awards, which recognize excellence in New York off-Broadway theater.
To get a feel for the script, Buderwitz read it straight through the first time — a process that he compared to a first date. Reading it a second time made him aware of metaphors and motifs he missed earlier. He noted the time of day, location, season, historical period and any set changes called for in the script. The plot revealed the devastation wreaked by four years of war on a once-proud, elegant South.
Buderwitz learned that during the last days of Richmond, owners feared looting and protected their homes by setting fire to their stored ammunition. Once families abandoned their homes, furniture and possessions were stolen, leaving bare and decaying mansions.
After analyzing the play, he talked to Martin Benson, co-founder of SCR and "Whipping Man" director, to discuss the details of the set and Benson's interpretation of the script. Their exchange helped clarify the steps that Buderwitz would need to take in the set-design process. He drew rough sketches and built a miniature three-dimensional model showing how the set would look when finished. He met with the costume designer to ensure that the actors' clothing did not match the paint on the scenery walls.
Once Buderwitz communicated his ideas and showed the general layout and placement of the furniture, a master carpenter off-site took the working drawing and built the set. A week before Christmas, Buderwitz said, he had to stop by the production's paint shop to check on the scenery's status.
Everything, he said, is in support of the actors. Buderwitz always anticipates watching the cast discover and inhabit the designs he created. The cast and crew will hold technical rehearsals this weekend and learn if they are to make any changes.
Buderwitz doesn't have much left to add to the set, but his job of designing physical surroundings continues year-round. Buderwitz shares his 25 years of set design with dramatic-arts students as an adjunct professor at USC — and he teaches them, among other things, that listening to music is a rule for set design.
"Mozart is music for the gods," he said before a pause. "But there's just something in Kurt Cobain and sometimes, just sometimes, you have to listen to Nirvana."
IF YOU GO
What: "The Whipping Man"
When: 7:45 p.m. Tuesdays through Fridays, 2 and 7:45 p.m. Saturdays and Sundays, Jan. 4 through 25
Where: South Coast Repertory, 655 Town Center Drive, Costa Mesa
Cost: Tickets start at $51
Information: (714) 708-5555 or visit scr.org
---