Newport interior designers help teens, young adults in transitional housing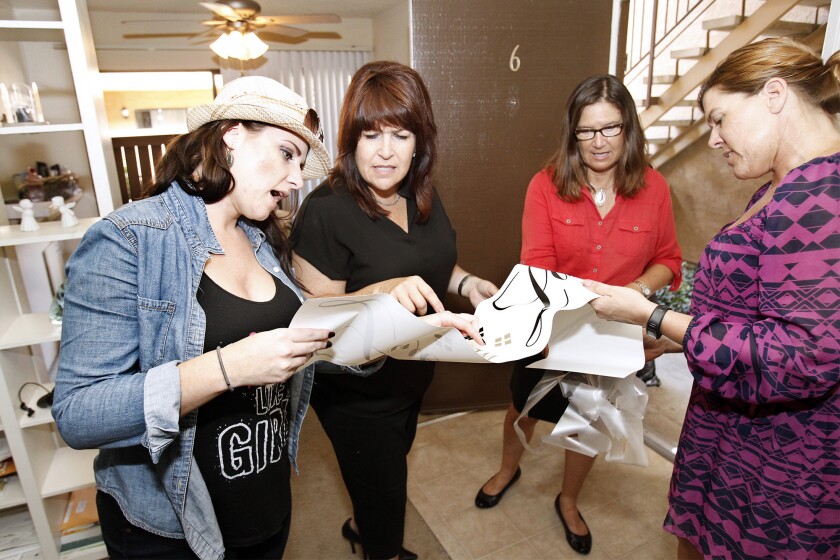 "Hammer and nails?"
"Scissors?"
"Did you cut the tags?"
For the past hour on a Friday morning, two designers from Newport Beach's Interior Designers Institute had chatted as they fluffed pillows, hung drapes and nailed artwork to a bare kitchen wall.
But not at a Newport Beach estate.
Rather, Leslie Deladurantey, director of admissions at IDI, and Kathleen Garito, a professor at IDI and owner of KG Interior Design, have teamed up with human services agency Aspiranet to give home makeovers for former foster youth.
The community project helps at-risk teens and young adults in the agency's transitional housing program.
At 10 a.m., Garito and Deladurantey headed to Westminster to put the finishing touches on the first of 25 apartments they are redesigning.
The recipients are sisters who moved into their apartment last year. Both are enrolled in community college and are working part-time while raising their children, who are both under the age of 1.
"They'll have a beautiful place," Garito said. "I want to come back in five years and see how they're doing."
*
Trash to treasure
The process began six months ago.
Aspiranet and Deladurantey had connected to bring awareness for the older foster youth who outgrew the foster-care system. Since many design professionals are past foster parents, adoptive parents or CASA volunteers, Deladurantey shared the home makeover project with Garito.
"I always wanted to find someone to work with to give back," Garito said. "My daughter is adopted, and once I learned of these foster children, my heart was there."
The first step was a meeting with Tracy Rolfe, the transitional housing program manager of Aspiranet's Orange County office. Rolfe suggested the interior designers first furnish the mothers' apartment because the priority was the children. Once the sisters approved of having the interior designers in their apartment, Deladurantey and Garito visited the site to measure the living space and to learn the sisters' basic needs.
They learned the sisters liked the colors red and brown in furniture and accessories. That things needed to be baby-proofed, since toddlers are crawling around in the apartment. That they'd need storage for toys and a desk to do homework.
With that wish list in hand, Deladurantey and Garito were off to shop.
Many of the household essentials were donated.
Aspiranet donated a beige-colored sofa. Rick Campos, an IDI instructor, reached out to alumnae asking for bedding donations for future projects. Gorman Framing of Costa Mesa gave art to match the bedding colors and themes. Supporters of Aspiranet donated kitchen and bathroom necessities, towels and a microwave.
And Garito, who has run a residential, commercial and home-staging design firm in Aliso Viejo for the past 10 years, said she browsed through her warehouse in Laguna Hills to find pieces she no longer needed for past clients or that Realtors gave her once she told them about the project.
"Things people throw in the trash are our treasures," Garito said as she stood in her warehouse brimming with artwork, couches and plants.
Among the aisles organized in rows overflowing with paintings, plants and chairs, Garito picked out a television stand, pillows, artwork and lamps.
Deladurantey found a clock and kitchen-inspired art canvases.
But some things had to be purchased.
Garito shared the wish list with interior designer Debbi Swerdlow, who helped buy necessities for the children.
She found children's hangers, area rugs, a bookcase that could hold baskets storing toys and a cushioned ottoman.
"We needed something that will look beautiful but functional for little ones," Swerdlow said.
She didn't forget a children's indoor safety gate.
*
'Live well, laugh often'
The women loaded the furnishings and decorations into their cars and went to Westminster, where they unloaded the boxes and bags spilling with home goods.
Deladurantey handed Garito a checkered pattern valance to hang above the kitchen sink.
"Hold on," Garito said before she stepped atop a ladder. "I need to take off my heels."
With a pink hammer in hand, Garito nailed canvases depicting a fork and spoon to a wall.
"You guys are like the gift gods," Rolfe said as she watched the design unfold in the family room.
Rolfe and the sisters' life coach, Jackie Schug, morphed into designers once they hung a decal to the family room wall.
"Move that a little lower," Deladurantey suggested as Schug posted the word "Live" on the wall.
"There we go," the women said in unison once they read the wording: "Live well, laugh often, love much."
"This is so rewarding," Deladurantey said while admiring the finished look. "This is fun for us."
That hammer isn't being set down any time soon.
The team of interior designers has planned to help Aspiranet furnish a total of 25 homes. And Garito's car is showing it.
A client of hers donated four boxes overflowing with accessories.
"If these kids feel good at home," she said, "they'll feel good in school and anywhere they go."
To make a donation in support of purchasing household items for Aspiranet THP youth, visit aspiranettransitions.org.
---