On Theater: A strong, compelling 'Driving Miss Daisy' in Laguna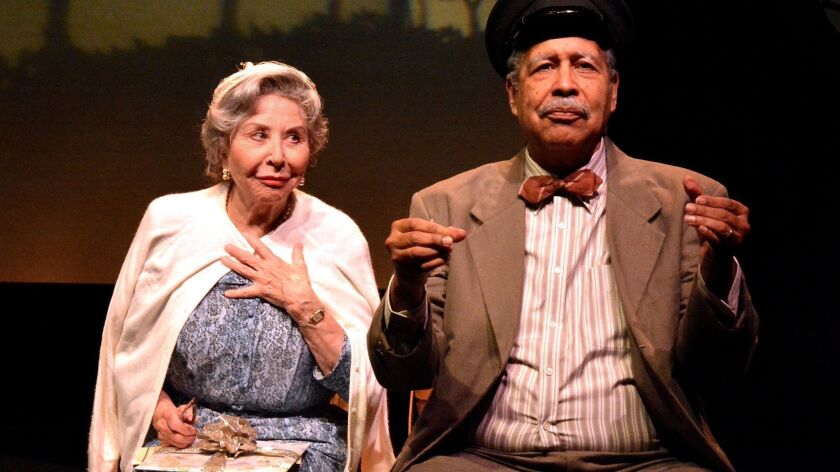 A rich, Jewish widow and an illiterate black chauffeur, both in their 70s, in the Jim Crow South of the 1940s. Sounds like the original odd couple, but playwright Alfred Uhry turned this scenario into the Pulitzer Prize-winning play "Driving Miss Daisy," currently on view at the Laguna Playhouse.
Jessica Tandy and Morgan Freeman, who brought these characters to the screen, comprise a tough act to follow, but Michael Learned — who won three Emmys in the 1970s for her work in "The Waltons" — and Lance E. Nichols, heralded in HBO's "Treme," certainly have done so with their bravura performances. And they receive stellar support from David Nevell as Learned's concerned son.
Director Michael Bloom has established a heartwarming, compelling atmosphere representing a time when public attitudes around Atlanta, where the play is set, were less than cordial. His "Daisy" rightly focuses on the personal relationship between the principals as it grows from frosty to warmly interdependent.
Learned's Daisy, introduced as a strong-willed widow who resents her son hiring a chauffeur for her after she totals her car, grows subtly but markedly under the influence of Nichols' quietly authoritative Hoke. We see the bonds of friendship become tighter until that climactic moment when Daisy declares, "Hoke, you're my best friend."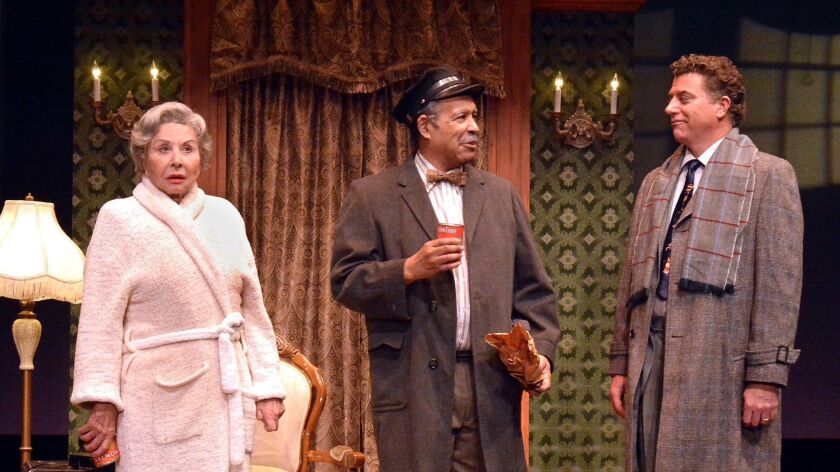 Nevell, whose Boolie serves as an intermediary for both characters, provides a semblance of order and rationale in a time period when both are in short supply. His generation-gap clashes with Learned are especially effective.
Hoke's race and Daisy's stern Jewish pride add layers of potential conflict, but the true thrust of the story is the melting of their steely attitudes, which both Learned and Nichols convey expertly.
Scenic designer James Fouchard has triangulated the setting into three principal areas of action — Daisy's home, Boolie's office and the car where much of the action transpires. This conveyance cleverly consists simply of a bench and a stool — and the audience's imagination.
"Driving Miss Daisy" is enjoying a limited engagement at the Laguna Playhouse and will be gone after Jan. 27. It should not be missed.
Tom Titus reviews local theater.
IF YOU GO
What: "Driving Miss Daisy"
Where: Laguna Playhouse, 606 Laguna Canyon Road, Laguna Beach
When: Tuesdays through Fridays at 7:30 p.m., Saturdays at 2 and 7:30, Sundays at 1 and 5:30 until Jan. 27
Cost: $55 - $85
Call: (949) 497-2787; lagunaplayhouse.com
---
All the latest on Orange County from Orange County.
Get our free TimesOC newsletter.
You may occasionally receive promotional content from the Daily Pilot.