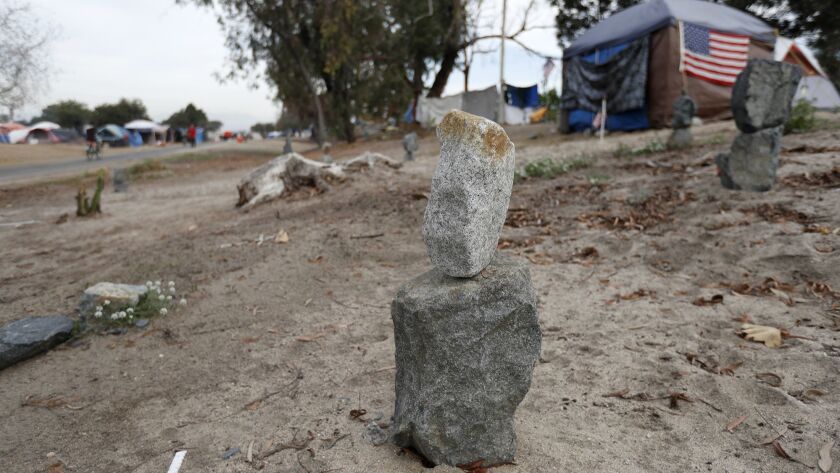 For most of the deceased homeless of Orange County, the only funeral they will ever have is on Dec. 21, when a few dozen people gather together annually on the longest night of the year to commemorate the less fortunate with a modest ceremony.
Homeless Person's Memorial Day will recognize the more than 200 destitute people who died this year. Tim Houchen, organizer of the event, said the number trumps previous years.
They died in myriad ways — hit by cars, stabbings, drug overdoses, hangings by shoelaces — in the streets of one of the country's wealthiest counties.
"Most of these people, after they pass away, will never be claimed," Houchen said.
The ceremony will take place from 4 to 7 p.m. at the Anaheim Cemetery, 1400 East Sycamore St. Various community activists will speak, including a number of homeless people. Los Angeles Times writer Gustavo Arellano is the featured speaker.
Arellano is a former editor at OC Weekly, a publication Houchen said is widely read by the homeless because it's free and "everywhere they are."
Kimberly Sandoval, who's been homeless for 34 years, said the event allows her to pay respects to the family and friends she's lost. She plans to speak at the memorial.
"I have lost so many family members out here," Sandoval said. "I want people to be aware that we are human — we live and die like everyone else."
Homeless Person's Memorial Day, or the Longest Night, is a national event held in more than 175 cities on the winter solstice — the longest and sometimes coldest night of the year — to highlight the suffering of the homeless.
The event is particularly resonant to Houchen because he once lived on the street.
Houchen started the event in 2014 while he was living in a sprawling homeless encampment at the foot of the Santa Ana Civic Center. After years of watching his friends die, Houchen felt the national event could aid with the healing process and shine a light on the suffering.
"It's our job to bring as much of the community together with houses and without houses," Houchen said. "It's an opportunity for the homeless to mourn their friends and loved ones with dignity and respect. But it's also a time where the public can understand a little bit more what homeless people go through. 'Why are people homeless? Who are these people?'"
These are the names of homeless who died this year according to Houchen and the Orange County coroner's office:
Wilber Alexander Merino
Donald Louis Patrick
John Michael Nondorf Jr.
Kalab Miles Hendrix
John Gerald Ordean Birch
Patricia Althea Lee
Frank Lavelle Page
Emeterio Antonio Arevalo
Henry Victor Miranda
Armando Villa
David Katcher
Robert Brian Riley
Joshua Allen Marshall
Kenneth Alan Mims
Juan Alcantar Urciel
Richard Santos Nauta
Robert James Dunham IV
Jan Gerilyn Martinez
Jun Soo Park
Steven Michael Viall
Allan David McCue
Brian Richard Laurent
Jimmie Earl Smith
Henry Wesley Willard
Betty Jane Willis
Emily Nicole Marshall
Brent Victor Lewallen
Anthony Cal Holmes
Max Norman McDaniel
Robert William Flentye
David Joseph Intchauspe
James Daniel Callahan
Daniel Russell Birchard
Roberta Tillie Apodaca
Alfonso Carranza
John Ray Morrow
Steve Kian Eftekhar
Fabrizio Lopez Gonzales
Robert Jon Gilhousen
Michael Anthony Laz Protasio
Juan Carlos Pineda Vigil
Francisco Cornejo-Garcia
Karla Sue McHugh
John Francis Haggerty
Saul Orlando Contreras-Borja
Roy Lee Barrows
Stephen Allan Davis
Trinidad Anguiano Mendoza
Thomas Philip Montes II
Keith John Houk
Steven Rene Walls
Jared Wesley Blacketer
Renee Yvette Fogg
Sobirzhan Mulazimov
Hans Joseph Kolker
Steven Scott Lytal
Barbara W. De Santo
Thomas Charles Huff
Juan Ortega
Ashley Lynn Boulay
Anthony Johnson Shpak
Tanya Sue Anderson
Roseann Frey
Vicente Molina Mendez
Luom Van Le
Gwendolyn Ruth Gipson
Patrick Francisco Paola
Shawn Micheal Pettus
Terrall Magee
Jesse Dean Dowell
Phunyouphone Kanyavong
Michelle Ha
Nikky Ha Kanyavong
Mone Tao Kanyavong
Robert Ira Dorn
Roy Lee Scott West
Larry Dean Eggers
Joseph Daly
Dan Larell Martines
Jesus Mauro Cruz-Ramirez
Gabriel Martin Rios
Pedro Alberto Armendarez
Margaret Ann Boulet
John Henry Uribe
Juan Molina
Patrick Kevin West
Antonio Lopez Salinas
Harvey William Marks
Eduardo Galviz Castaneda
Rodney John Daniels Jr.
Thomas Edward Stewart Jr.
Jeff Michael Dougherty
Lionel Peter Duncan
John Joseph Dolan
Jennifer Marie Lewis
Petrica Muntean
Alicia Fatima Noah
Robert Scott Estle
Ulises Oble Munoz
Gregory Paul Cobb
Jack Thomas Richards
Sonia Veronica Martinez
Allen Charles Hammel
Johnny Negrete
Lauryn Ashley Guthrie
Marnel Jenkins Sr.
Jeffrey A. Jeter
Jeffrey Paul Hakes
Sammy Scott Sanders
Kaung Kyaw Swar
Hanselman
Robert Edward Long
Enrique Briseno
Patrick Anthony Elia
Yuri Angelica Gurrola
Luis David Soto-Velez
Timothy Taylor
Maren Elaine Eriksen
Heather Elizabeth Curtis
Martin Mendoza Lopez
Jeffrey Leo Hoagland
John Wyatt Renfroe
William Harvey Pritchett
Ian Elliot Tompko
Duane Kenneth Erickson
Ricky Wayne Williams
Jeremy Robert Hohensee
John David Borecki
Kirt Louis Storm
Javier TORRES Avila
Donadony Blake Taylor
Tyler Anthony Mellone
Noah James Larson
Alejandro Anchondo
Daniel Xavier Lopez
Matthew Leigh Lamson
Harlan Macyowsky Perez
Wesley Alan Powell
Terry Lee Zielomski
Javier Guadalupe Soriano
Ngoc Dang Nguyen
Mark Steele
Randy Jimenez
Daniel Anthony Alvarado
Ralph Larry Rodriguez Jr.
Rudy Anthony Courrielche
Daniel Robert Wingard
Angel Tony Garcia
Jose Luis Ortiz
Shauna Lynn Holmsen
Melissa Eunice Garrido
Chinh Nguyen
Douglas Eugene Gunter
Dana Susanne Heppner
Christine Heller
Gerard Paul Gosselin
Cirenio Ramirez Velasco
Dale Raymond Jacobs
Tracy Lee Schaad
Curtis Michael Butler
William Francis Dennehy
Richard Michael Burke
Saul Jose Velasquez
Gabriel Norbeto Ocampo
Mottahereh Sadeghi
Ronald George Truett
Eyal Avidror
Patrice Damiani Peters
Damion John Thornburgh
Tracy Frank Hansen
Brianna Demeo
Matthew Henry Macmillan
Norberto Martin Rios
Christine Renee Cunningham
Roberto Brito Segura
David Robert Doan
Danny Leroy Miller
Jesus J. Tovar
Jose Eduardo Ruelas
Vic Steve Disanzo
Chau Van Nguyen
Rita Ann Wilde
Harmony Rose McKinney
Anthony Joel Talbert
Oscar Manuel Martinez
William Bryan Camery
Sergio Diego Velasco
Sarine Marie Accordino
Freddie Lee Brown Jr.
Bradford Arthur Sturtevant
Jose Hernandez Huerta
James Leonard Fox
Paul Bernazzani
Marcella Sheree Ramos
Bryan Venegas Cruz
David Michael Daeberick
Timothy Parrish
Roberto White
Jonathan McKay Crane
Paul Warren Nelson
Jerrold Snyder
Virginia Frances Rangel
Anna Hunt
Robert Richard Wanamaker Jr.
John Edward Billings
Brian Thomas Gregory Jr.
Christopher Neil Evans
Alfred Noel Catanese
Legacy Chamberlain
Archie Tobe
Cristobal Morales
Manuel Ernesto Gomez
Rosa Heredia
Cody Joseph Powell
Robert David Blanchard
Dilip Parshottam Patel
David Alexander Emanuel Jouni
John David Ehman
Rance Gregory Roberts
Loreen Ann Ritze Toupe
Laura Irene Sager
Stacey Romero
Lisa Olivarez Martinez
ChrisEisinger
Raymond William Jaso
Emanuel (Manny) Sanchez
Twitter:@benbrazilpilot
---