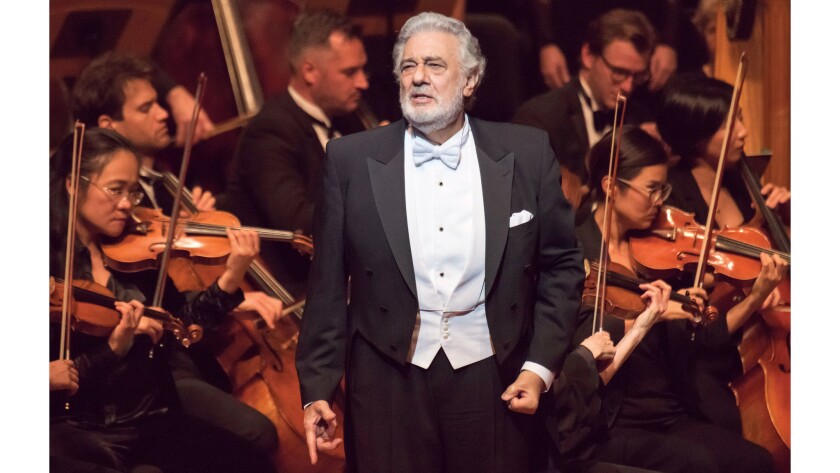 Opera legend Plácido Domingo will return to the stage, country star Rosanne Cash will croon and Tony Award winner Alan Cumming will sing cabaret during the 2018-19 season at the Musco Center for the Arts at Chapman University in Orange.
The newly announced season — the center's third — will kick off with jazz band leader Jon Batiste on Sept. 21. The Louisiana native and Juilliard graduate is the leader of Stay Human, the house band for "The Late Show with Stephen Colbert."
Domingo, general director of the LA Opera, will perform "Don Carlo" by Giuseppe Verdi with the opera's chorus and orchestra at 7:30 p.m. Oct. 1. Domingo will make his fourth appearance at Musco Center; he helped inaugurate the venue by performing at its grand opening concert in 2016.
"The fact that Plácido Domingo is our friend and our advisor, I believe that it accelerated our ascent (in reputation) by several years," said Richard Bryant, executive director of the Musco Center. "We'd be five years in before we'd get to the level we're at if we didn't have Plácido Domingo's imprimatur and his own appearances in the flesh. But just his backing, his endorsement, it's powerful."
Pilobolus, an athlete-illusionist dance company based in New York and Connecticut, will perform at 7:30 p.m. Nov. 14. The company will also stay for a few days to give master classes and workshops for Chapman students.
Onetime child prodigy and internationally acclaimed violinist Sarah Chang will perform at 4 p.m. Nov. 18. Scottish American actor Cumming will bring his show, "Legal Immigrant," to Musco, offering cabaret songs and stories about his life and loves in his adopted homeland. He became a U.S. citizen in 2008.
Bluesmen Elvin Bishop and Charlie Musselwhite will join forces at 4 p.m. Jan. 27, 2019. Rosanne Cash will continue the Cash family legacy with a mixture of country, folk, blues, Americana and jazz at 7:30 p.m. Feb. 2. Husband and songwriting partner John Leventhal will join her onstage.
On Feb. 21 at 7:30 p.m., the Juilliard String Quartet will perform. Contemporary multi-instrumentalist and singer Kishi Bashi will perform his show "String Quartet Live!" at 7:30 p.m. Feb. 28.
For 2018-19, the Musco is collaborating with Chapman's Office of the Provost to support the debut of the Provost Arts and Lecture Series. Emmy-winning journalist Sharyl Attkisson will talk about her latest book, "The Smear," at 7:30 p.m. Oct. 2.
Social psychologist Jonathan Haidt will discuss "three really bad ideas in particular" that are making it harder for young people today to succeed during his lecture at 7:30 p.m. Oct. 18.
And popular physicist and futurist Michio Kaku will discuss findings from his latest book, "The Future of Humanity," at 7:30 p.m. March 1.
Since Musco is a university-based arts center, the highest priority will be on the students, Bryant said. Thus, students from Chapman's College of Performing Arts get top priority on dates and performances, which can be rare for a professional-level collegiate venue.
They will also get the opportunity to perform with and learn from many visiting artists, including the Stan Kenton Legacy Orchestra on Oct. 7; historian Andrew Carroll and director John Benitz, who will present Carroll's play "If All the Sky Were Paper" on Nov. 10; and Gordon Goodwin's Big Phat Band on March 10.
"We want to make sure we get the best that we can get out there, and we have a good staff that does it all for us," said Sebastian Paul Musco, the lead benefactor behind the Musco Center. He and his wife, Marybelle, donated about $39 million toward the art center's $82-million construction costs.
The venue seats 1,044 and was designed by Pfeiffer Partners Architects. Yasuhisa Toyota — who designed the sound for Walt Disney Concert Hall — was the acoustician.
Subscriptions and individual tickets are on sale now. For information, call (844) 626-8726 or visit muscocenter.org.
Richard Chang is a contributor to Times Community News.
---