Festival Ballet Theatre kicks off 2018-19 season with 'Ovation'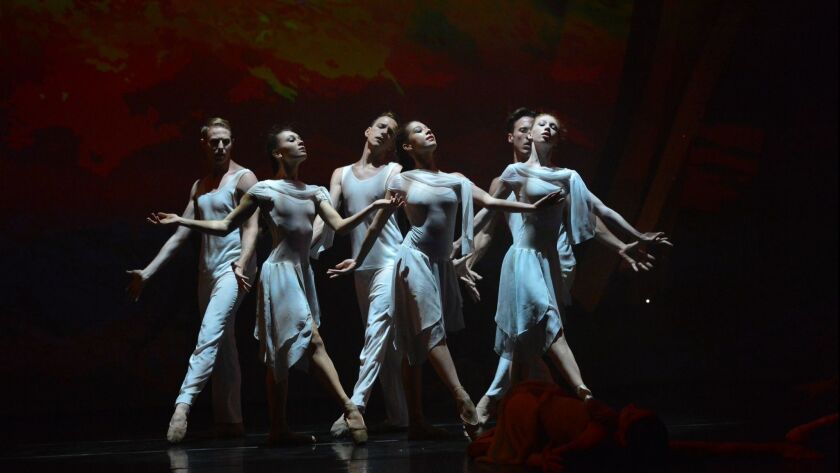 Festival Ballet Theatre — one of Orange County's only and oldest resident professional ballet companies — is celebrating its 30th anniversary with four contemporary and classical works scheduled for its recently announced 2018-19 season. All performances will be at the Irvine Barclay Theatre, unless otherwise noted.
The season kicks off Oct. 13-14 with "Ovation," a collection of three contemporary ballets created by innovative and emerging choreographers. The works are "Texture of Time," choreographed by Josie Walsh; "Oops," choreographed by Viktor Plotnikov; and "Plume," choreographed by Andrea Shermoly.
In December, Festival Ballet Theatre will offer its 29th presentation of the cherished holiday classic, "The Nutcracker." A mixture of accomplished guest artists will perform Dec. 8 to 24 with dancers from FBT's ballet school, the Southland Ballet Academy. Last year, principal dancers from the San Francisco Ballet, New York City Ballet, Joffrey Ballet, American Ballet Theatre and Ballet West joined talented young dancers from Orange County on the Irvine Barclay stage.
On March 23 and 24, FBT is presenting a full-length production of the classical ballet, "The Sleeping Beauty." This production of Tchaikovsky's masterpiece will bring to life fabled storybook favorites and will be choreographed and staged by FBT artistic director Salwa Rizkalla, after Marius Petipa's original classic choreography.
Finally, FBT will culminate its 30th season with its 12th annual Gala of the Stars. The international ballet festival will be an opportunity for Orange County audiences to witness dancers from different companies in a combined program that celebrates the continued art and passion of ballet.
The date and location are yet to be determined. Last season's gala was Aug. 17 at the Renée and Henry Segerstrom Concert Hall.
When Rizkalla — a longtime dancer and choreographer herself — started FBT 30 years ago in Fountain Valley, she wanted to give young residents of Orange County an opportunity to pursue ballet at a high level without leaving home.
"I wanted to have a window for the students to grow up to a professional level and perform as a professional here in Orange County, instead of going away," Rizkalla said. "Being here for 30 years is just amazing. I believe in giving this opportunity for my dancers, and I don't like to quit."
The dancers and choreographers in "Ovation" are going through their final rehearsals and preparations for the Oct. 13 and 14 performances. Schermoly, creator and choreographer of "Plume," says she's been working with about 20 dancers.
The lead dancers are professionals, while the corps de ballet are Rizkalla's students. Schermoly's piece — which will have its world premiere in Irvine — is based on the massive trash and plastic vortexes floating in the Pacific Ocean, along with the birds that feed off them and get poisoned or entangled.
"It's such a morbid subject, but that's exactly who you have to do that for," said Schermoly, a longtime dancer with the Nederlands Dans Theater in Holland. "I am dismayed and shocked with the amount of plastic we use in the world."
Based in Los Angeles, Schermoly has been professionally choreographing for about seven years, and has worked with Rizkalla and her students for the past three to four years.
"Salwa is very maternal and also extremely welcoming and consistent," she said. "She's been very loyal throughout the years, and she really wants the best for her students and for her dancers. She really has their best interest at heart.
"At the same time, she's always allowing choreographers to come in and try out things. It's a nice place to practice my art there."
Also on the "Ovations" program is "Texture of Time," a ballet that explores the essence of time as it changes and morphs from moment to moment. The ballet is set to original music by the group Jealous Angel and includes special effects by Academy Award winner Jim Doyle.
"Oops" is a comical, award-winning piece that was presented on the U.S. tour of Youth America Grand Prix's 2011 gala, "Stars of Today Meet the Stars of Tomorrow." The dancers — all from Southland Ballet Academy — playfully maneuver red pull-on skirts in this innocent and carefree presentation of ballet and modern technique, set to Ponchielli's iconic "Dance of the Hours."
Richard Chang is a contributor to Times Community News.
IF YOU GO
What: "Ovation"
When: 7 p.m. Oct. 13 and 2 p.m. Oct. 14
Where: Irvine Barclay Theatre, 4242 Campus Drive, Irvine
Cost: $39 to $45; a 10% discount will be given to those who purchase the full season in advance
Information: (949) 854-4646 or thebarclay.org
---
All the latest on Orange County from Orange County.
Get our free TimesOC newsletter.
You may occasionally receive promotional content from the Daily Pilot.