Review: On Theater: A compelling story of of women in war at the Attic
On a weekend that most of the world paused to honor the 75th anniversary of a military event that altered history, Santa Ana's Attic Community Theater paid tribute to women who served in a much less-heralded conflict.
The Vietnam War, which blackened the careers of three U.S. presidents and cost thousands of American lives, is the subject of the harrowing drama "A Piece of My Heart." which focuses on the women who supported the troops during that bloody and controversial period.
Playwright Shirley Lauro's engrossing story, culled from actual events, traces the lives of six women who endured the horrors of "the 'Nam" only to find more troubles awaiting them on their return.
These tales are spun with frightening realism at the Attic under the diligent direction of Kathy Paladino, who also staged a previous version at the Costa Mesa Playhouse. All six actresses deliver riveting performances in this extremely challenging production.
Four Army nurses (Mary Price Moore, Sarah McGuire, Katie Mae Porter and Angela D. Watson) are joined by a Red Cross "doughnut dolly" (Mia Anderson) and a singer (Victoria Serra) in this troop of sparsely trained volunteers thrust into combat support assignments. One actor (David Rodriguez) assumes the roles of all the American men they encounter.
Moore excels as Martha, a competent nurse uncomfortable with the burden of authority. McGuire's Sissy strives to avoid becoming emotionally involved with her patients.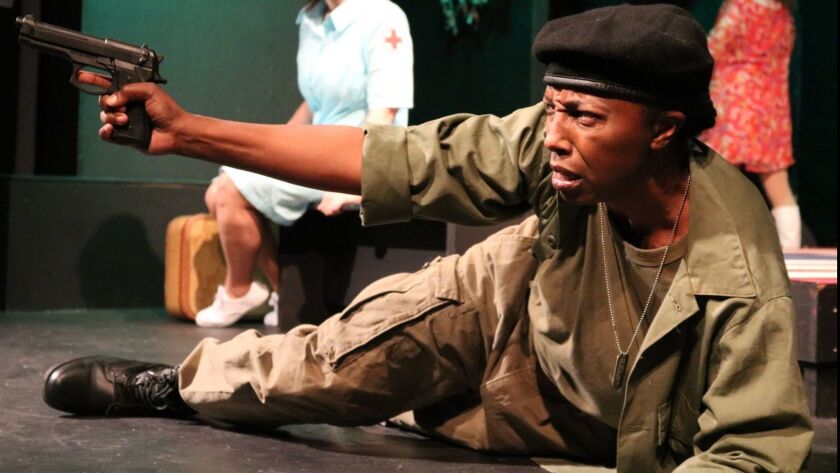 The African American Army careerist Steele, frustrated in her efforts to warn of the coming Tet offensive, is solidly enacted by Watson, a returnee from the Costa Mesa production. Porter shines as Leean, a victim of PTSD upon her return, illustrated in a harrowing sequence.
Anderson impresses as Whitney, the Red Cross worker, while Serra delivers a lively performance as MaryJo, the guitar-strumming vocalist. Rodriguez takes on the various male roles and doubles as a musician in a two-piece combo with Mark Tillman.
Nearly as upsetting as the horrors of war in the first act are the cool and hostile receptions the women encounter when they arrive home in the second. Only when they reunite in a somber moment at the Vietnam War Memorial do they encounter any form of solace.
The action plays out on a stark, multi-use setting designed by Jim Huffman and features 1970s period costumes created by Laurie Martinez. Sound and lighting duties are well handled by John McQuay and Nick Locke, respectively.
"A Piece of My Heart" should capture a piece of yours in this dynamic, riveting exercise at the Attic Community Theater.
IF YOU GO
What: "A Piece of My Heart"
Where: Attic Community Theater, 2834 S. Fairview St., Santa Ana (enter from Segerstrom Avenue)
When: Fridays and Saturdays at 7:30 p.m., Sundays at 2:30 until June 30
Cost: $12.50
Information: (714) 662-2525 or ocact.com
Support our coverage by becoming a digital subscriber.
Tom Titus reviews local theater for TimesOC.
For more news and features about Orange County, visit TimesOC.com or follow us on Twitter @timesocofficial.
---
All the latest on Orange County from Orange County.
Get our free TimesOC newsletter.
You may occasionally receive promotional content from the Daily Pilot.