Review: On Theater: Strong singing propels 'The Color Purple'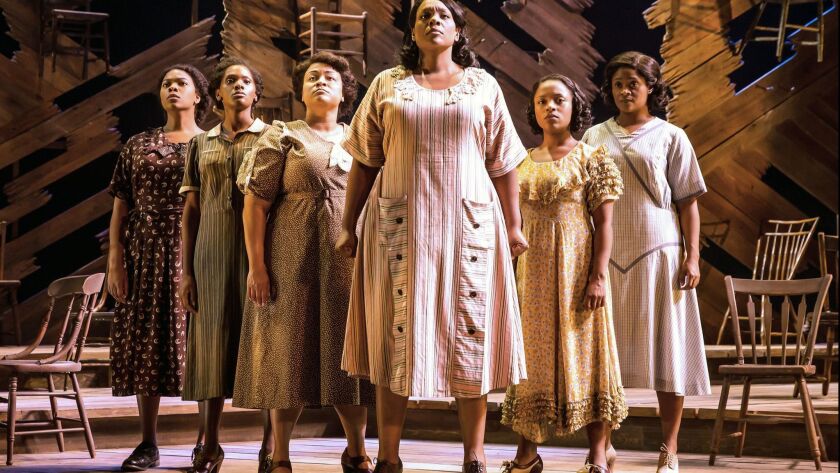 You won't find "The Color Purple" among the most significant cinematic accomplishments of Steven Spielberg, but set the story to music and put it on the stage and you elicit standing ovations.
The Spielberg movie and the Pulitzer Prize-winning novel by Alice Walker are the inspirations for the musical, now closing out a brief encore engagement at the Segerstrom Center for the Arts, where the dramatic moments are augmented by powerful singing voices.

For the record:
12:30 p.m. June 22, 2018An earlier version of this review misspelled the name of the character Celie. In addition, performer Carrie Compere's last name was misspelled.
The show is directed and musically staged by John Doyle, who generates a tornado of emotion but occasionally loses touch when his actors fail to enunciate crisply enough to be understood. Their motives are clear enough, but the words need attention as well.
Upward mobility among poor, Southern African Americans in the early years of the 20th century was virtually nonexistent, but "The Color Purple" offers an optimistic note as it follows Celie, a 14-year-old girl who's had two babies by her abusive father, through her epic struggle.
At Tuesday's opening performance, Celie was played by an understudy, Nikisha Williams, who did the part full justice. Williams pours her heart into her two solo numbers, the poignant "Somebody Gonna Love You" and the defiant "I'm Here."
The strongest voice in the cast belongs to Gavin Gregory, who plays Celie's cruel husband, Mister, and excels midway into the second act as he bemoans "Celie's Curse." Carrie Compere also impresses mightily as Sofia, badly beaten for her perceived impertinence.
The personal magnitude of jazz singer Shug Avery is heralded long before her actual appearance, and Carla R. Stewart fulfills these expectations in a dynamic performance. N'Jameh Camara warmly enacts Celie's long-lost missionary sister, and Erica Durham delights as a would-be singer called Squeak for obvious reasons.
The ensemble, led by music supervisor Catherine Jayes, functions as a gospel chorus and underscores the major singers with ample, if not always understood, authority.
"The Color Purple" is making a swift sweep through Southern California and Sunday's matinee and evening performances complete its local engagement. It's a moving and educational musical experience.
IF YOU GO
What: "The Color Purple"
Where: Segerstrom Center for the Arts, 600 Town Center Drive, Costa Mesa
When: Closing performances at 1 and 6:30 p.m.
Cost: Starts at $72
Call: (714) 556-2787
Tom Titus reviews local theater.
---
All the latest on Orange County from Orange County.
Get our free TimesOC newsletter.
You may occasionally receive promotional content from the Daily Pilot.