Review: On Theater: 'Cats' prowls wonderfully on Costa Mesa stage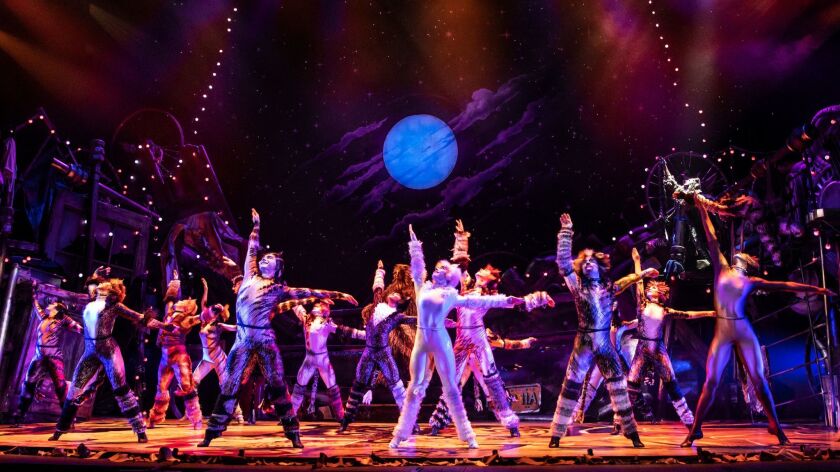 It's been quite a while since Andrew Lloyd Webber's megahit musical "Cats" curled up on the stage of the Segerstrom Center for the Arts, but the show is back now, even if it is for a regrettably brief visit.
Ensemble excellence propels this touring production with its large cast of feline impersonators moving in unison under the superb choreography of Andy Blankenbuehler (based on Gillian Lynne's original stylings). The current incarnation is directed by Trevor Nunn, who helmed the original production in 1981.
Individual moments of glory abound, but "Cats" is most notable for its precise movement, its disparate company functioning as an single unit. Yet when "Memory" is served up late in the show by the haunting vocal tones of Keri René Fuller, the applause is longest and loudest.
Fuller, as Grizabella the glamour cat, slinks across the stage a physical and emotional wreck before claiming her rightful spot at the head of the table. It's hardly a spoiler to note that she's the obvious choice for the climactic "rebirth" moment.
She does have competition, however, primarily from Gus the theatre cat (Timothy Gulan) and Skimbleshanks the railway cat (Ethan Saviet). Both headline rousing adventure yarns in their bids for individual glory.
Solo sojourns are performed impressively by the glittering Mistoffelees (Tion Gaston) and the felonious Macavity (Tyler John Logan). The duet by Mungojerrie (Tony d'Alelio) and Rumpelteazer (Rose Iannaccone), the mischievous kitties, also is a treat.
Worthy of mention is the lead dancer, a glorious white cat named Victoria, played by Caitlin Bond, who's front and center in most ensemble numbers. Bond, who's making her Broadway national touring debut, also deserves a moment in the spotlight.
Webber's soaring musical score, backed by lyrics inspired by T.S. Eliot's writings, again lifts the production skyward. Most visually impressive are John Napier's scenic and costume designs, familiar but still fabulous.
"Cats" may be categorized in the "oldies but goodies" department, but its magical appeal remains evergreen. It's an illustrious encore at the Segerstrom Center for the Arts.
IF YOU GO
What: "Cats"
Where: Segerstrom Center for the Arts, 600 Town Center Drive, Costa Mesa
When: 7:30 p.m. through April 13; 2:30 p.m. on April 13; 1 and 6:30 p.m. on April 14
Cost: Starts at $40
Information: (714) 556-2787; scfta.org
Tom Titus reviews local theater for TimesOC. For more news and features about Orange County, visit TimesOC.com or follow us on Twitter @timesocofficial.
---
All the latest on Orange County from Orange County.
Get our free TimesOC newsletter.
You may occasionally receive promotional content from the Daily Pilot.