Teen crash victim remembered: 'He walks in and everyone started smiling'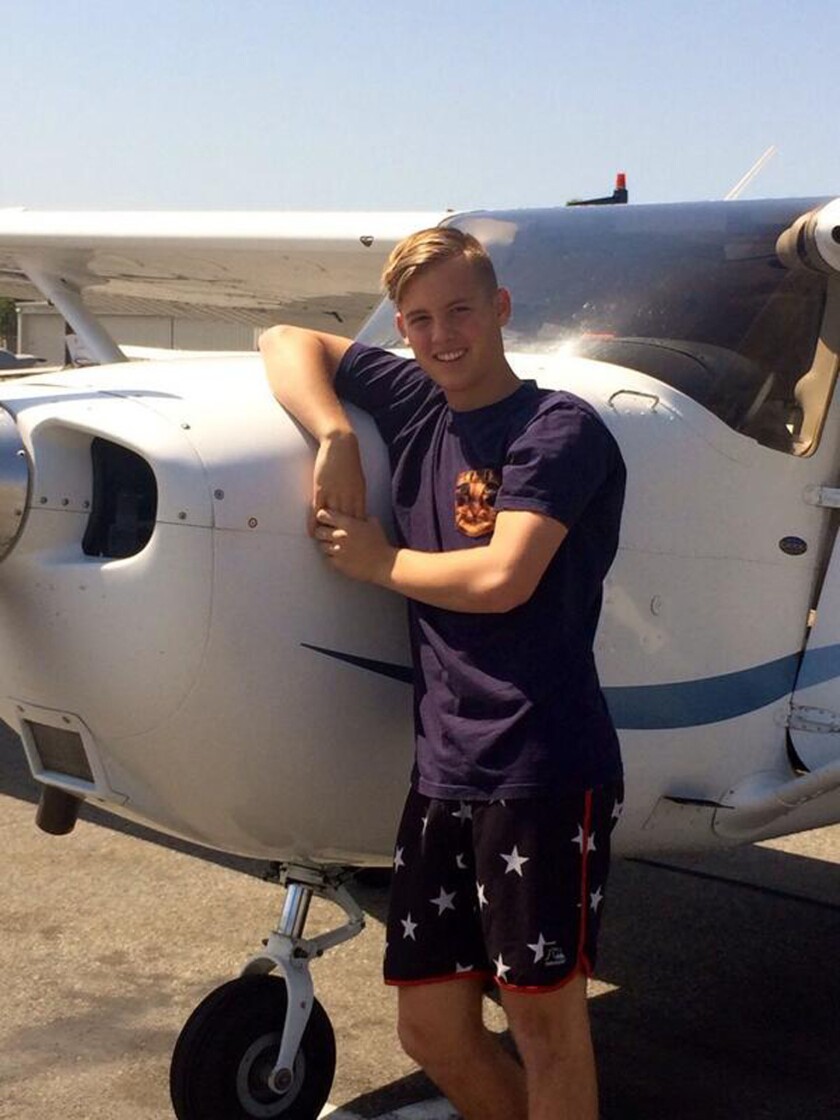 <i>This post has been updated.</i>
A 17-year-old boy who died after a high-speed crash at a Newport Beach intersection Tuesday could fill a room with joy just by walking in the door, according to his friends.
At a crash-scene memorial Wednesday morning, one of Spencer Becker's classmates remembered the first day of English class this past school year at Mater Dei High School.
"He walks in and everyone started smiling," said Elias Deeb, a 17-year-old who, like Spencer, just finished his junior year at the Santa Ana Catholic school.
Elias and other friends went to the corner of Jamboree Road and Bristol Street on Wednesday to write their goodbyes in sidewalk chalk next to a pile of flowers.
A day earlier at that spot, Spencer was thrown from the Chevrolet Suburban he was driving when it collided with a Toyota sedan, police said.
Spencer, who lived in Newport Coast, died hours later at a hospital, according to authorities. No one else was hurt in the crash.
One friend knelt and simply wrote "Miss you" next to a burning candle.
Other messages told Spencer he would never be forgotten.
"I love you, Spencer," one read. "I still have your ruler from 2nd grade."
People described Spencer as a kid who seized life, never missing an opportunity for adventure at the beach or at John Wayne Airport, where he learned to fly small planes.
"I don't think he was ever at home on his couch," classmate Andy Strader said.
Spencer's constant smile was contagious, according to his friends, and he lived to make others laugh.
Spencer, who played varsity volleyball at Mater Dei, had a "goofball" sense of humor, friends said. He often would send his friends humorous photos and videos of himself, and sometimes of his cat Rucca, through Snapchat, a smartphone application. He recently sent a photo of himself jokingly trying to eat soap.
When he was younger and an injury from flag football sidelined him, Spencer turned the wheelchair he was using into something enjoyable by popping wheelies to entertain friends.
"He stood out in a good way," Elias said.
After news of Spencer's death spread on social media Tuesday, mourners gathered at a Newport Beach home with his family for a candlelight ceremony, Andy said.
There, Spencer's father, Nick, provided the most appropriate remembrance, Andy said.
"Spencer lived 80 years in his 17," the student recalled him saying.
More than 50 of Spencer's friends and classmates gathered Wednesday morning at a chapel at Mariners Church in Irvine to pray and share stories.
Some wrote prayers for Spencer and his family while others lit candles in remembrance. The candle flames, a pastor explained, represent God's light breaking through the often-dark world.
Henry Ledis, 17, met Spencer at Our Lady Queen of Angels Catholic School when Henry moved to Newport Beach in the sixth grade.
"He was one of the kids who was open, friendly and really made me feel welcome," he said.
Mater Dei will host a Mass remembering Spencer at 6 p.m. Thursday, according to a post on the school's Facebook page.
All are welcome to attend the service, which will be held in the Grotto on campus, at 1202 W Edinger Ave. in Santa Ana, the post said.
---