Westside makeover continues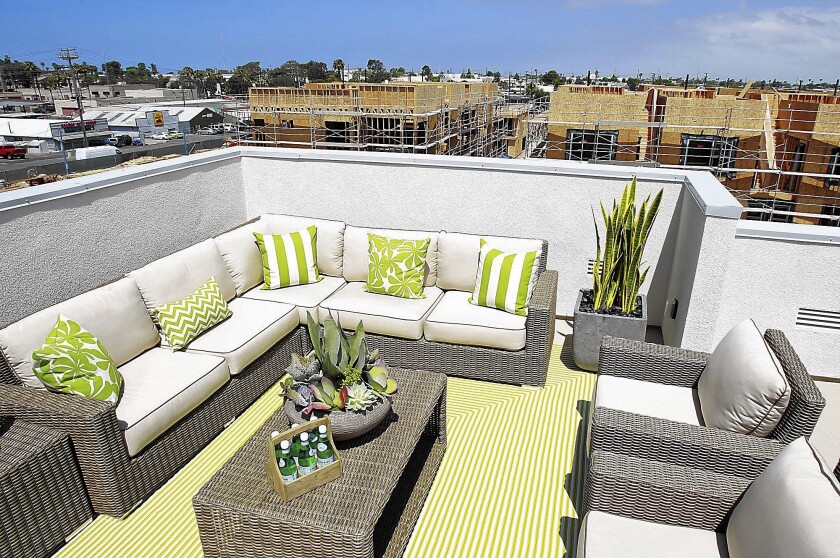 Life at 1527 Newport Blvd., a slice of Costa Mesa up the hill from Hoag Hospital and the Newport Beach border, was once a throwback to a bygone Orange County.
Residents and visitors to the 1940s-era trailer park were greeted by a weather-beaten neon sign and a decorative anchor wedged in a grassy knoll.
Anchor Trailer Port is gone, as are the once-neighboring auto and boat repair facilities, and quickly sprouting at that busy corner is a 60-unit development of modern design, in-home offices, patios, airy living spaces and rooftop decks cooled by ocean breezes.
Level 1 is among the newest developments in Costa Mesa's Westside, where the urban plans approved in 2006 are progressing each month through construction, planning and various city approvals.
The developer, Taylor Morrison, is having a grand opening Saturday for the first 11 of the homes, which start in the mid-$700,000s. Move-ins could begin by September or October, with all construction completed sometime in 2015.
All 60 of the attached single-family homes are three stories high — about 30 feet — and have 3.5 bathrooms. They range from about 1,770 square feet to nearly 2,000 and have either two or three bedrooms.
The homes will have new addresses with street names that take a cue from New York: Tribeca Way and Greenwich Way, among them.
As outlined in the Westside urban plans' "live-work" design, the bottom floor contains a two-car garage, a full bathroom and a room 350 to 380 square feet that is set up for a home office. Most of the homes have patios.
Entrances are on the bottom floor.
The second floor contains the living and dining rooms in an open floor plan and features plenty of windows that bring in lots of natural light, Starre Raketich, Taylor Morrison's vice president of sales and marketing, said during a guided tour Friday.
She noted the large kitchens, storage spaces and walk-in pantries. Some units have a kitchen island.
The second story also has a small deck.
The third floor contains the bedrooms and respective bathrooms.
Raketich said buyers will enjoy the rooftop decks, which are large at about 700 square feet, offering plenty of space for guests, chairs, tables and a barbecue.
Buyers can customize cabinetry, countertops and flooring, she said.
Level 1, which will have its own homeowners association, has 181 parking spaces — 120 garage spaces and 61 guest spots — on the nearly 3-acre site. It will also have a small central park and outdoor fire pit, both of which can be used as gathering spaces, Raketich said.
The project is the second Taylor Morrison development in Costa Mesa. The first was Bungalow 7, a 30-unit project of detached single-family homes along Victoria Street near College Avenue.
Level 1 is the second of the Westside live-work developments to begin selling.
The first, Sea House, is a 33-home tract at 1036 W. 18th St. The homes have a similar live-work design — three stories and ground-floor office spaces.
Other live-work developments are being planned for the Westside.
According to figures provided by the city to the Daily Pilot, 186 live-work units have been approved and 142 of them are under construction; 135 have been screened by the City Council, but formal applications are not yet submitted; and 56 units are under formal review but not yet approved.
---