4 more schools will put on a Disney musical through Segerstrom Center's program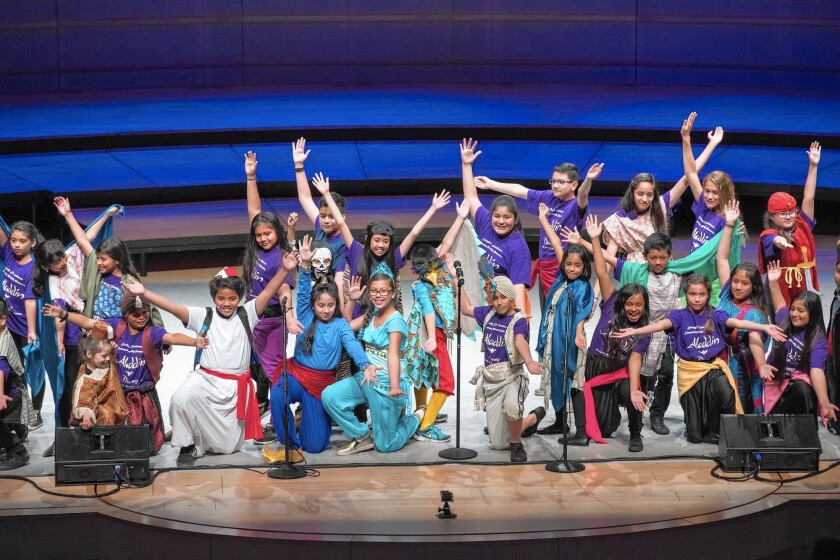 Segerstrom Center for the Arts has selected four Orange County public elementary schools to participate in the second year of Disney Musicals in Schools.
Third- through sixth-grade students at the four schools will take part in this 17-week program.
Within that time, Segerstrom will assign teaching artists to help students rehearse and perform a musical from Disney. The artists will also work with teachers to guide the students during the program.
"The program is designed for public elementary schools who have the desire for a theater program but don't necessarily have the support," said Laurie Barber, assistant of Community Programs at Segerstrom.
By March 2016, each school will host a 30-minute performance of their Disney show.
Segerstrom will then hold a Student Share Celebration, where the four schools will perform highlights from their show on March 22 at the Center.
Segerstrom began accepting applications in February from Orange County schools seeking spots in the program.
According to Barber, the center received completed forms from 18 campuses that were interested in participating in Disney Musicals during the 2015-16 school year.
Segerstrom announced its selection Tuesday of Agnes Ware Stanley Elementary School in Garden Grove, Ethan B. Allen Elementary School in Fountain Valley, San Juan Elementary School in San Juan Capistrano and Westmont Elementary School in Westminster for this year's program.
Under a partnership with Segerstrom and Disney Theatrical Group, the schools will receive licensed rights to perform Disney's shows, along with scripts and musical scores for their rehearsals.
Segerstrom will host a Disney Musicals orientation event on Sept. 22 at the center, where the teaching artists and teachers from each school will meet for the first time.
At orientation, the school teachers will decide which show they will have their students perform. They have a choice between "101 Dalmatians," "Aladdin," "The Aristocats," "Cinderella," "The Jungle Book," "The Lion King," "Sleeping Beauty" and "Winnie the Pooh."
The center first ran its first Disney Musicals program during the 2014-15 school year, for which it also selected four elementary schools to rehearse and perform a musical from Disney. Among these four was Rea Elementary School in Costa Mesa.
Last March, Rea Elementary students held their production of "The Aristocats" on their campus.
Segerstrom received a $100,000 grant from Disney to fund two years of the program.
---