A close encounter in Irvine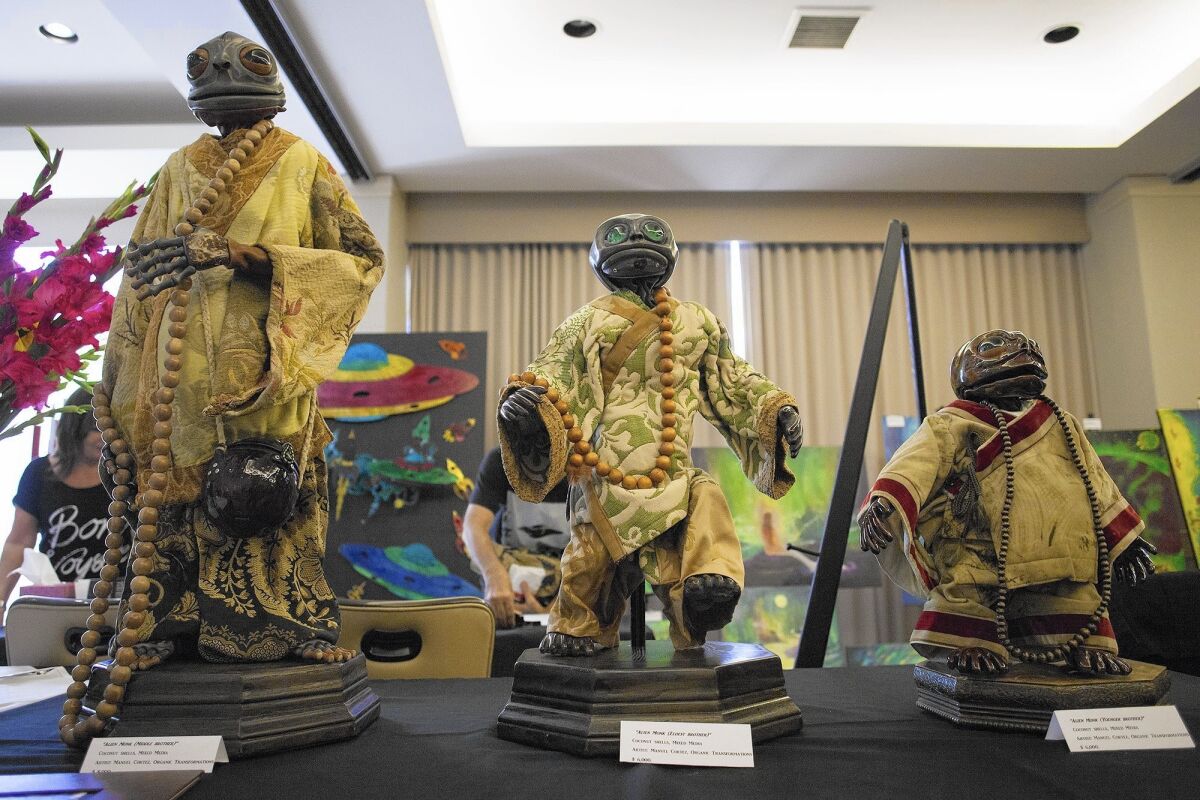 After 1 a.m. on June 19, 2014, in a suburban Denver town, a police officer on patrol noticed an oval-shaped pattern of multicolored lights on the other end of a park.
Thinking it was illegal activity — a curfew violation, perhaps — he drove his car toward them when suddenly the radiance vanished. Upon closer inspection of the area, he saw his breath in the air and discovered a kind of frost left behind: a dry, powdery light coating on the grass and trees, that he observed nowhere else throughout his shift that night.
The officer later reviewed surveillance footage that showed lights steadily traveling down a bike path, moving toward the area where he found the frost.
The story of mysterious snow-like remnant during a Colorado summer — Case 57173 — was one of several highly regarded sightings explored Friday during a small press conference by the Mutual UFO Network, or MUFON, a Newport Beach-based nonprofit billing itself as the world's largest and oldest UFO investigative and research group.
Founded in 1969 in the Midwest, the group moved its headquarters to Newport, to an office on Campus Drive, about two years ago.
Friday's conference was part of MUFON's 46th annual symposium, held over three days at the Hotel Irvine on Jamboree Road. This year's event was themed as expanding ufology — the study of unidentified flying objects — and opening new connections of the study into academia, industry and media.
"This is a real phenomenon," said MUFON Executive Director Jan Harzan. "It's happening every day on our planet. We're receiving reports by the thousands every month."
For all the seriousness of potentially discovering life on other planets and changing the face of humanity, Harzan wasn't above the occasional joke: "Maybe it'll make it on late-night television some night," he said of the conference. "The top 10 UFOs."
MUFON leaders noted that 2014 was a particularly prolific year: 8,678 reported UFO sightings worldwide. The organization has field investigators, with backgrounds in science and law enforcement, throughout the world that examine reports and conduct interviews. Some cases are considered solved when that something in the sky is discovered to be an airplane or meteor.
Others, like Case 57173, remain officially unsolved.
Attendees of the symposium, when not listening to lectures, explored the exhibitor area. Books like "Alien Agenda: The Return of Nephilim," by A.S. Judkins and Michael E. McDaniel, were for sale near DVDs, whose titles included "DNA Analysis of the Eleventh Impact Surgery."
The $9 video was of a lecture by Dr. Roger Leir who discussed an object believed to be implanted by an alien species.
Shirts were for sale too. Printed on the back of a MUFON shirt was "Others talk, we investigate ... "
Nancy du Tertre, a former attorney who now calls herself the "skeptical psychic," was at the conference to talk about exo-linguistics — or how to talk to alien species.
Communication with them, she said, is not limited to audible speech.
"It's quite a bit more open than that," du Tertre said.
Nearby was Cheryll Jones, a former CNN anchor, who contends that media coverage of UFOs and government sources have caused the topic to be taken less than seriously.
It could be "the greatest news story in history," she said, but instead, UFO coverage is often relegated for laughs as "the kicker story at the end of newscasts."
"These things are not mainstream news," Jones said. "The UFO story is not treated with the same type of vetting as other news stories."
Stanton Friedman, a former nuclear physicist and icon in the UFO world for being the first civilian to investigate the 1947 Roswell crash, said ufology is a topic that deserves more respect.
"It's time that we started getting the facts in hand," he said.
In the social media age, Friedman said, he sees people more willing to come forward to report sightings, though "the fear of ridicule is the dominant factor."
"'Don't bother me with the facts; my mind's made up,'" he added. "That's been the past attitude of the nasty naysayers."
Robert Schroeder, a former aerospace engineer who lectures about UFOs' "inertia-defying acrobatics in our atmosphere," said the biggest problem with the study is the lack of good data.
Solving that, though, would be massively expensive.
It needs equipment — X-ray detectors, gamma ray detectors and the like — monitoring the skies to gather data from any passing UFOs, he said.
But, Schroeder noted, "You just can't go into your local hardware store and buy them ... what we need is a Silicon Valley billionaire to help us out."
---