South Coast Plaza's 96-foot tree heralds Christmas season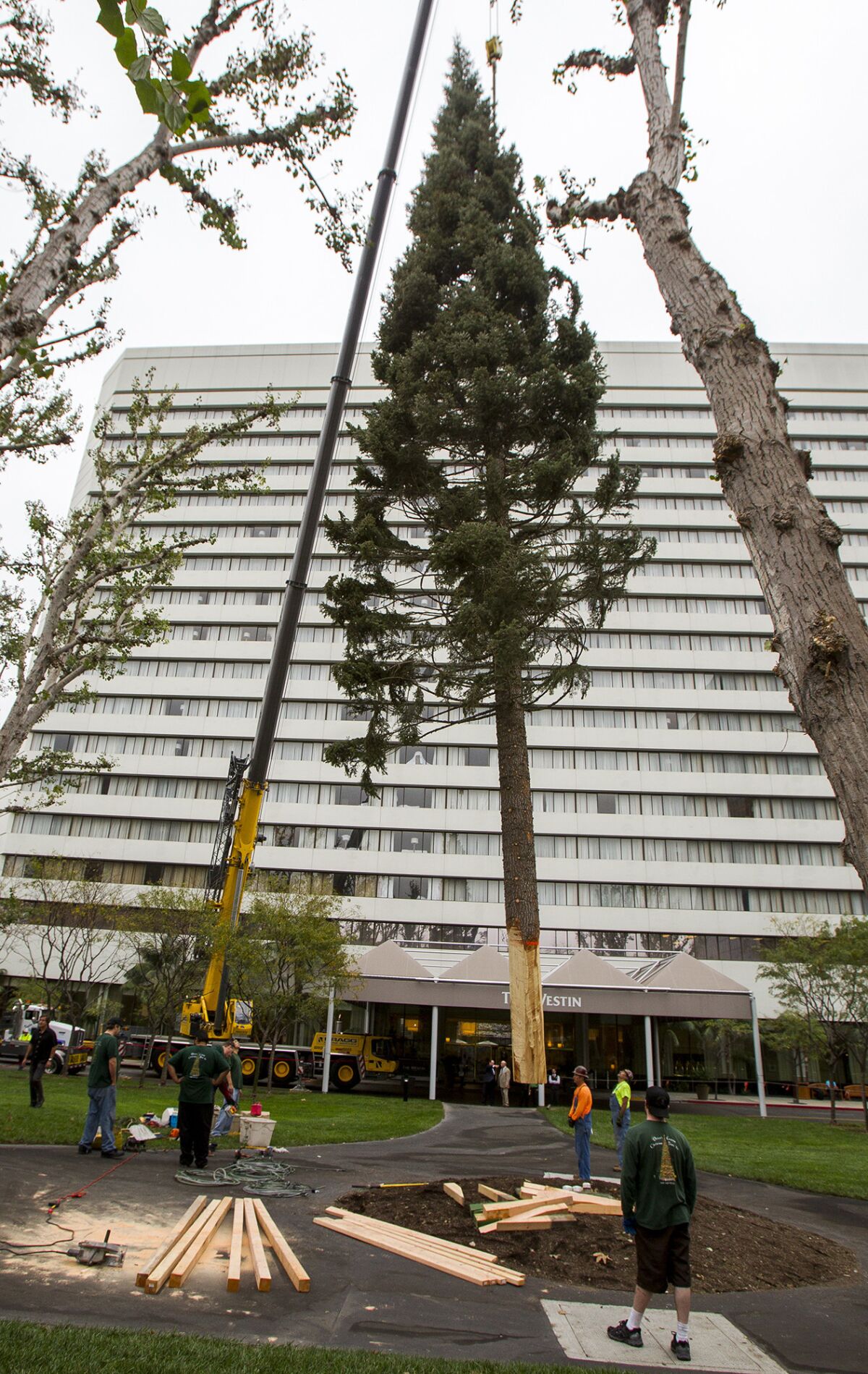 It's not Halloween yet, much less Christmas, but on Tuesday morning Stan Taeger — dressed in a suit and a red Christmas-tree-patterned tie — was ready for the arrival of South Coast Plaza's holiday tree.
For 33 years, Taeger, South Coast Plaza's director of property management, has kept a tradition of wearing festive accessories to the yearly tree delivery.
"I'm a Christmas nut," Taeger said. "The more people put up trees, the happier it makes me."
South Coast's 96-foot-tall tree finished a 650-mile ride from McCloud, Calif., a town on the southern slope of Mount Shasta.
The white fir rolled into Costa Mesa on the largest trailer allowed on the road and was positioned in Town Center Park across from the mall.
The idea of putting a holiday tree near South Coast Plaza came from the shopping center's co-founder, Henry Segerstrom, as a way to thank Orange County for his family's success.
The tree is placed in Town Center Park near the Westin hotel, on the opposite side of Bristol Street from the plaza, because the Segerstrom family didn't want people to view it as commercialization of the holiday.
"We wanted it to be a celebration of the holiday season," Taeger said. "The tree is important because it stimulates people thinking about family and friends."
There's a reason the tree is being prepped more than two months before Christmas. "It's a big process," Taeger said.
Victor's Custom Christmas Trees has several tree orders throughout the United States and in Singapore, Hong Kong and Ireland. Each oversize load must be delivered one at a time.
Once the tree is delivered, crew members fill in bare spots by drilling in fallen branches. In the coming weeks, the tree will be lined with hundreds of yards of power cables for 20,000 multicolored lights.
South Coast will host its 33rd tree-lighting ceremony Nov. 20. The ceremony is always on the Thursday before Thanksgiving.
The tree has measured 95 to 97 feet for the past 13 years. Through the years, management has ordered bigger trees to make them proportionate with surrounding poplars.
---