At comic cons, some jokers get away with harassment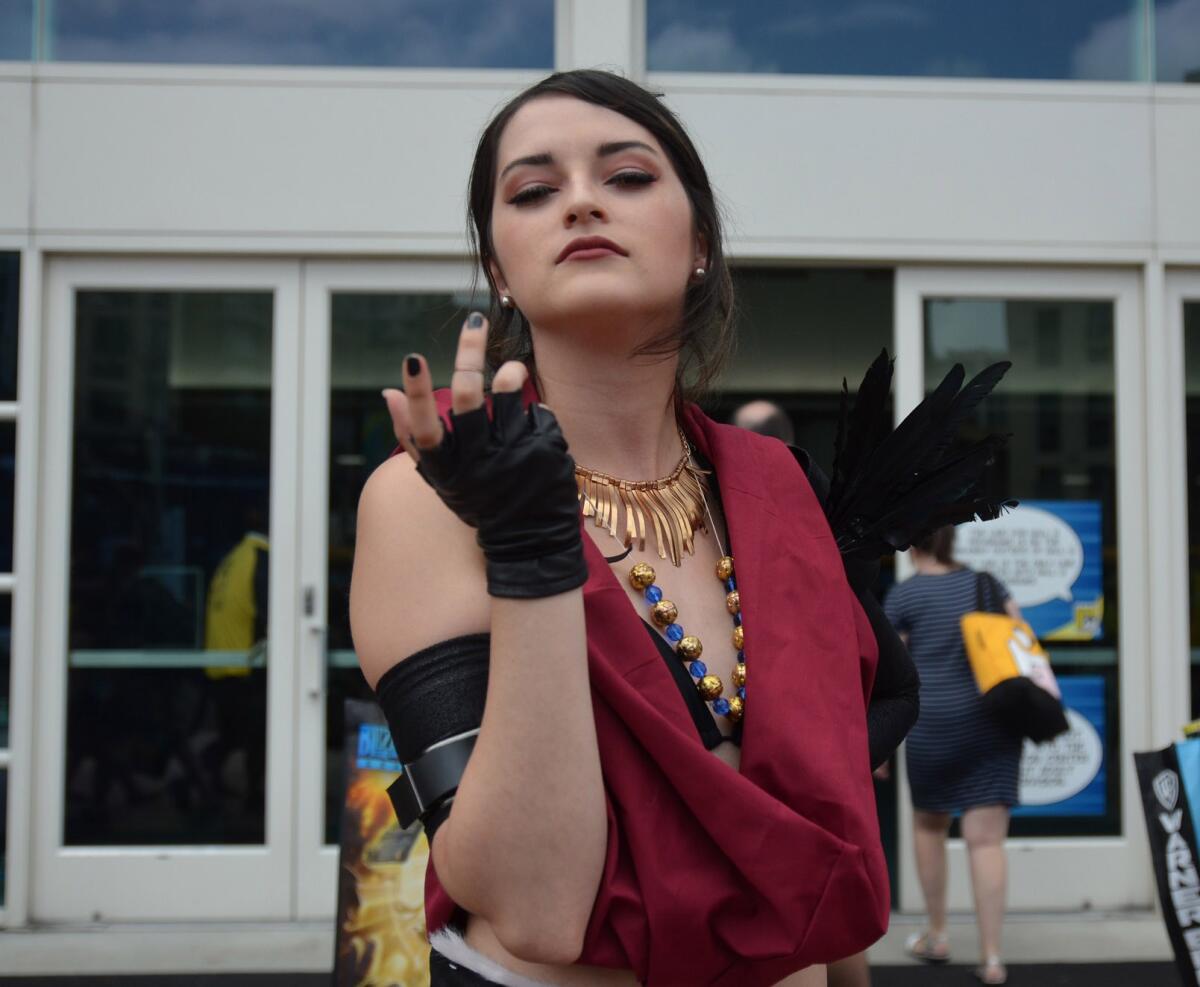 Pop culture fans who dress as superheroes and other characters often face an arch nemesis that can't be defeated by Thor's hammer or Captain America's shield.
Cosplayers — people who dress up for comic and anime conventions — have complained of being harassed by other attendees, to the point where many are fighting back.
Over the last five years, groups like Cosplay is NOT Consent and Geeks for CONsent have raised awareness about harassment at conventions.
"This movement is important because everyone deserves the right to safely navigate public spaces without fear of harassment, physical or sexual violence just because they happen to be a woman or queer person navigating that space," said Rochelle Keyhan, director of Geeks For CONsent. "Especially in a convention setting, we are supposed to be members of multiple fandoms coming together to celebrate our favorite characters and stories. It should be a space of acceptance, not fear."
While signs reading "Cosplay is NOT Consent" have been posted at conventions nationwide, cosplayers say not enough is being done.
Jim C. Hines, a science fiction author with a psychology degree from Michigan State University, blogs about harassment at conventions and worked in a rape crisis center for more than a decade.
He said conventions should be more proactive about enforcing clear rules regarding harassment. Often, the harassers aren't punished.
"We grew up as geeks and nerds who felt excluded, so there's that extra reluctance to exclude anybody else," he said. "The problem is, when you say you're not going to exclude someone who's harassing women, you're actually telling his victims that you'd rather exclude them, because they may not feel safe enough to come back."
*
'I've gotten the roaming hand'
Even when incidents are reported, the event staff may not have the training to handle them.
One cosplayer, who wished to be identified only by her cosplay name, Zilla308, said a man groped her in public at Anime Expo in Los Angeles a few years ago, and security did not immediately know where she could report the situation.
The woman, who grew up in Orange County and now lives in West Hollywood, said she has not paid to go to Anime Expo since. If she does go, she will get in for free through friends or industry connections, but she will not spend her money there.
A 17-year-old Irvine resident who goes by the name Claptrap Cosplay told a similar story.
"I keep encountering this one guy who likes giving me extended, uncomfortable, boob-squishing hugs without my consent," she said. "I've been verbally and sexually harassed on camera in interviews, asked about my boobs, how long it took me to make my 'barely costume' and if I pick 'the most provocative outfit' instead of a character when cosplaying.
"That offends me. I've never cosplayed a character simply because of a skimpy outfit."
Another cosplayer, Nicole Edelmann, 21, of Newport Beach, said that after facing humiliating situations, which included being spat on and groped, she does not feel safe walking around conventions without a male friend.
Women are not the only victims of harassment at conventions.
Leo Camacho, a Los Angeles resident who often cosplays as Prince Eric from Disney's "The Little Mermaid," said he has experienced harassment.
"A catcall here, an overly flirtatious gesture there, and once or twice I've gotten the roaming hand," he said. "I'll be the first to admit that I love attention and that I welcome the compliments, but some people don't know where to draw the line.
"Being a male, I feel that it is not taken as seriously as it is with females. Also, I feel like female fans, although quite bold, are never quite as bold as the male ones. I don't have it as bad in the long run."
*
Short on reports
Victim-blaming is common at conventions, Hines said.
"Part of it is people seeing the costumes as permission," he said. "It's kind of the same mentality as people saying someone was sexually assaulted because of what they were wearing. You see a lot of people saying people dress a certain way for attention. One of the other comments that comes up is people telling women they should be grateful for the attention because they're not very attractive.
"There's a lot of victim-blaming, which takes the responsibility off the people who are choosing to harass."
Bayli Anderson, a 22-year-old from Fountain Valley, said she has not really experienced the level of harassment others have in her six years of cosplaying.
"I've gotten catcalls, but I blow that off," she said. "Almost everyone I've interacted with as a cosplayer has been polite, so I've never had anyone who has just walked up to me and decided it would be great to grab me. I've only had one or two people ask me to do things that I'm not comfortable with, like picking me up, but when I tell them I'm not comfortable, they've been fine with it."
Comic-Con International officials declined to comment about the extent of the complaints from cosplayers.
David Glanzer, a representative of Comic-Con International, which hosts conventions like WonderCon in Anaheim and this weekend's San Diego Comic-Con, said he could not comment on specifics having to do with security or provide any statistics of harassment incidents.
He said the organization "applauds Geeks for CONsent in alerting the public that harassment of any kind at any place is just not acceptable."
The San Diego Police Department denied any reports of harassment at Comic-Con, one of the most popular conventions on the West Coast, in the past few years.
"We have not had any reported incidents of cosplayers being harassed in any way over the past few years at San Diego Comic-Con conventions," said Lt. Paul Connelly in an email. "We have an extremely large turnout at our convention, but for the most part attendees are well-behaved."
*
A model in New York?
Hines said San Diego police may not know the extremity of the situation because victims may not be reporting incidents.
"If the harassment policy is vague, you're going to get a lot of self-doubt and a lot of people wondering if it's worth reporting," he said. "There's a lot of second-guessing and a lot of questioning yourself. There's also a lot of shock, like with rape victims, and sometimes people don't realize what just happened to them until it's too late."
He said conventions can take steps to define what harassment is, make clear that harassment is unacceptable, outline consequences and include instructions for victims on how to respond and report an unwelcome encounter.
Geeks for CONsent launched a petition before Comic-Con in 2014, and more than 3,000 people signed it to encourage the convention to improve anti-harassment efforts.
After the petition results came in, the group released a safety audit report stating that by refusing to take further measures to limit harassment, Comic-Con is violating California state laws, including the Unruh Civil Rights Act, which outlaws discrimination, and the Fair Employment and Housing Act, which protects employees from harassment.
The group suggested that San Diego Comic-Con follow the example of the larger New York Comic-Con, which has a detailed anti-harassment policy posted throughout the convention on large signs. The policy is also available on the convention's smartphone application.
Hines said he believes things will get better thanks to groups like Geeks for CONsent and Cosplay is NOT Consent.
"The fact that people are talking about it and more conventions are recognizing it, it's a good thing," he said. "In some ways, I think it feels worse because more people are talking about it, and so we're hearing about more incidents of harassment. The fact that they're even talking about it at all, I see hope there."
***
Comic-Con International Code of Conduct
Attendees must respect common sense rules for public behavior, personal interaction, common courtesy, and respect for private property. Harassing or offensive behavior will not be tolerated. Comic-Con reserves the right to revoke, without refund, the membership and badge of any attendee not in compliance with this policy. Persons finding themselves in a situation where they feel their safety is at risk or who become aware of an attendee not in compliance with this policy should immediately locate the nearest member of security, or staff member, so that the matter can be handled in an expeditious manner.