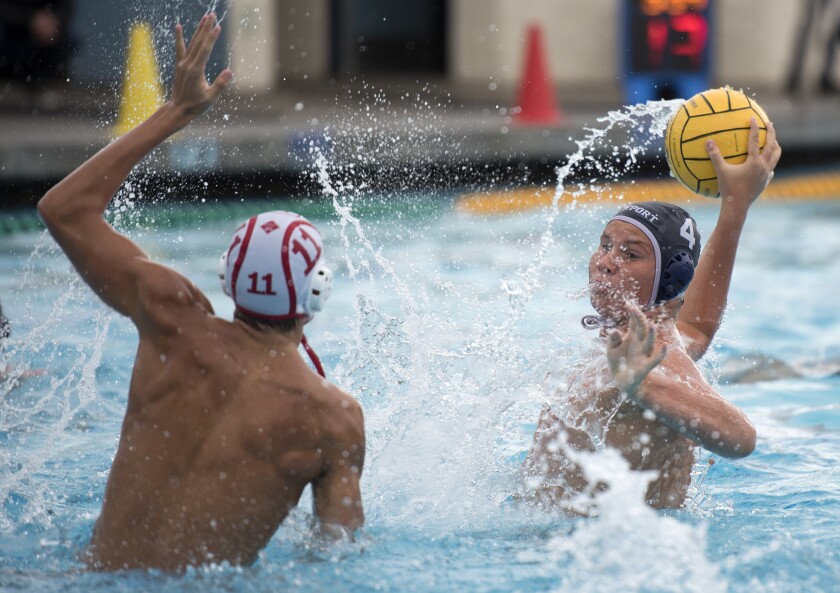 Eli Liechty scored four goals as the Newport Harbor High boys' water polo team beat the Bishop's School of La Jolla 14-7 in the Memorial Cup title match Saturday at Bellarmine Prep in San Jose.
Ike Love and Makoto Kenney each added three goals for the Sailors (22-3), who repeated as tournament champions. Mason Hunt scored twice, while Sam Allen added a goal. Blake Jackson made 13 saves, and Trey Genova had two saves.
Newport Harbor beat Orinda Miramonte 11-9 in the semifinals earlier Saturday. Liechty, Love and Tommy Kennedy led the way with three goals each.
The Sailors, ranked No. 2 in the CIF Southern Section Division 1 and 2 poll, play Laguna Beach in their Surf League finale Wednesday at 6:20 p.m. at Corona del Mar High.
Atherton Sacred Heart Prep 11, Corona del Mar 10 (OT): The Sea Kings finished 10th in the Memorial Cup after dropping the ninth-place match Saturday.
CdM is 18-9.
Oaks Christian 17, Huntington Beach 16 (sudden death OT): The Oilers dropped the nonleague match on the road Saturday.
Huntington Beach fell to 16-8.

GIRLS' VOLLEYBALL
Garden Grove 3, Pacifica Christian Orange County 2: Rebecca Penjoyan had a team-high 17 kills, but a late rally by the host Tritons fell short in a 25-22, 25-22, 22-25, 21-25, 15-13 defeat to the top-seeded Argonauts in the second round of the CIF Southern Section Division 7 playoffs on Saturday night.
Hailey MacKay had 10 kills for the Tritons. Casie Carlson had six service aces, while Grace MacPherson and Logan Bray each had four aces.
Allyson Scharrer distributed 31 assists, and Anna Eddy had 21 digs.
Pacifica Christian, the second-place team from the Academy League, finished the season with a record of 16-11.

GIRLS' CROSS-COUNTRY
Maya Buchwald placed sixth with a time of 19 minutes 55.0 seconds, leading Corona del Mar to a second-place finish in its Division 3 varsity race of the Mt. SAC Invitational on Friday.
Torrance topped the Sea Kings on team points by a scoring total of 49-65.

BOYS' CROSS-COUNTRY
Nico Pence ran 16:58.0 to take ninth place, as Corona del Mar finished fifth (149 points) as a team in its Division 3 varsity race of the Mt. SAC Invitational on Friday.
Sage Hill took fifth in a Division 5 varsity race with 145 points, behind a 14th-place finish from William Alexander (18:11.9).
::
Support our sports coverage by becoming a digital subscriber.
For more sports stories, visit latimes.com/socal/daily-pilot/sports or follow us on Twitter @DailyPilotSport.
---