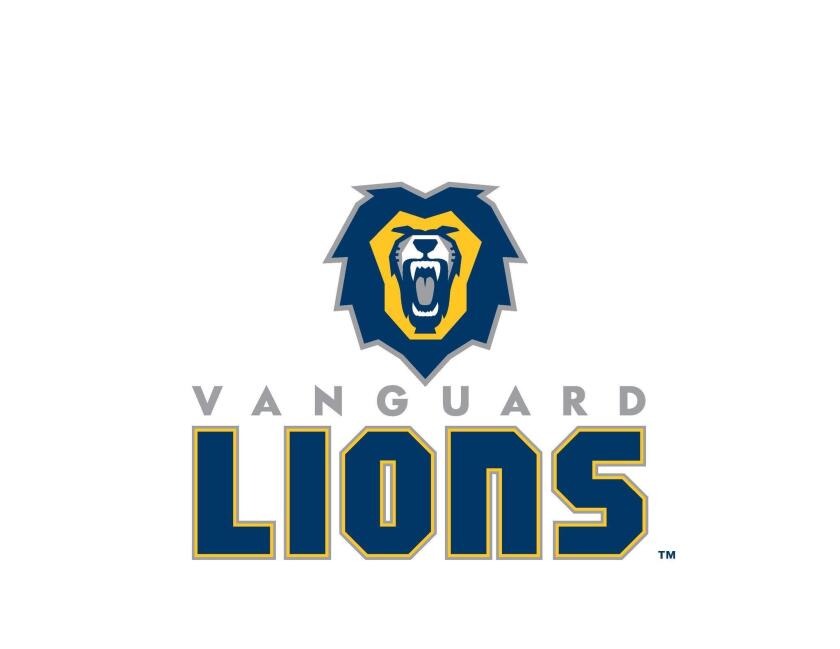 Myranda Baca's header goal in the 49th minute lifted the Vanguard University women's soccer team to a 1-0 win over host Westmont in the Golden State Athletic Conference Tournament title match Saturday in Santa Barbara.
Esmy Burgos had an assist for No. 11 Vanguard (13-2-2). Goalkeeper Haley Magana made seven saves to preserve the shutout.
No. 8 Westmont fell to 14-3-1.
Vanguard competes next on Friday in the opening round of the NAIA Tournament.
FOOTBALL
Golden West 33, Grossmont 7: Devon Jackson had two rushing touchdowns for the Rustlers in Saturday's National Southern League finale at home.
Former Corona del Mar High standout Nathaniel Espinoza threw two touchdown passes for Golden West (5-5, 3-2 in conference), one to former Edison star David Atencio and one to KC Carr. Espinoza finished 18 of 25 passing for 238 yards.
MEN'S BASKETBALL
Vanguard 72, Midway (Ky.) 63 : Aziz Seck had 26 points and eight rebounds for the Lions in Saturday's Georgetown Tournament game in Kentucky.
Michael Magee and Isaiah Gentry each scored nine points for Vanguard (3-2).
WOMEN'S BASKETBALL
UC Irvine 83, Portland State 75: Jordan Sanders had a game-high 18 points to go with nine rebounds and two blocked shots for the Anteaters on Saturday in a consolation game of the Preseason Women's National Invitation Tournament in Kansas City, Mo.
Chloe Webb also had 13 points and six rebounds, and Lauren Saiki added 11 points and eight assists for UCI (2-2).
Orange Coast 53, Imperial Valley 49: Lea Adame had 16 points and 12 rebounds to lead the Pirates to victory on Saturday in the San Diego City College Tournament.
Violet Cisneros added 14 points and 15 rebounds, and Anna Hollister contributed 11 points, six rebounds and three blocks for Orange Coast (1-2).
WOMEN'S VOLLEYBALL
UC Davis 3, UC Irvine 1: Makayla Wolfe had 13 kills for the Anteaters in Saturday's 25-23, 18-25, 25-22, 25-14 Big West Conference loss at home.
Onye Ofoegbu and Abby Marjama each had 10 kills for UC Irvine (5-21, 2-12 in conference).
Westmont 3, Vanguard 2: The Lions lost 25-19, 23-25, 25-12, 16-25, 15-10 in the semifinals of the Golden State Athletic Conference Tournament on Saturday at Menlo College.
Vanguard dropped to 25-8 overall for the season.
MEN'S WATER POLO
Golden West 12, Long Beach 10: The Rustlers won the Southern California Regional Championships title match Saturday at Riverside City College.
Golden West (25-3) also beat L.A. Valley 13-10 in the semifinals earlier Saturday. Bruno Chiappine had a game-high four goals. Riley Pfieffer added two goals, and Jake Huynen had 14 saves for Golden West.
Golden West hosts the CCCAA State Championship Tournament beginning Friday.
Long Beach State 11, UC Irvine 8: Corona del Mar High product Jon Polos scored three goals as the Anteaters dropped their Golden Coast Conference finale Saturday at home.
UC Irvine is 7-14 overall and finished 0-5 in conference.
::
Support our sports coverage by becoming a digital subscriber.
For more sports stories, visit latimes.com/socal/daily-pilot/sports or follow us on Twitter @DailyPilotSport.
---