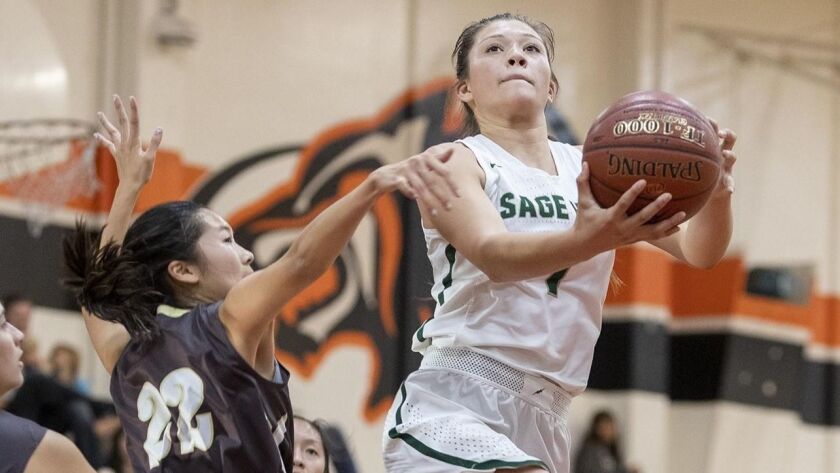 Junior forward Emily Elliott had a game-high 26 points and 17 rebounds to lead the Sage Hill School girls' basketball team to a 66-27 win over rival St. Margaret's on Friday night in a San Joaquin League road game.
Isabel Gomez added 17 points, 13 rebounds and seven assists for Sage Hill (14-5, 2-1 in league). Zoe Mazakas had 19 points and 16 rebounds.
The Lightning play on the road Wednesday against Fairmont Prep at 6 p.m.
Segerstrom 62, Ocean View 39: Bella Caiazzo had 16 points, including four three-pointers, for the visiting Seahawks on Friday in Golden West League play.
Ocean View fell to 7-15 overall and 1-3 in league play.
Loara 27, Los Amigos 21: The visiting Lobos lost their fourth straight game on Friday, falling to 10-11 overall and 0-4 in the Garden Grove League.
BOYS' BASKETBALL
Pacifica Christian Orange County 78, Capistrano Valley Christian 74 (2 OT): Houston Mallette had 24 points, 14 rebounds and five assists for the Tritons in Friday's San Joaquin League game on the road.
Judah Brown had 21 points, 10 rebounds and five blocks for Pacifica Christian (15-4, 3-0 in league). Josh Sims and Riyaan Jiwani both added 13 points.
Edison 67, Los Alamitos 58: Luke Serven had 19 points for the Chargers in Friday's Surf League opener on Friday on the road.
Connor Collins scored 14 points for Edison (14-9).
Laguna Beach 55, Marina 48: Nolan Naess had 15 points for the visiting Breakers in their Wave League opener Friday.
Jackson Sirianni scored 10 points for Laguna Beach (14-7).
Marina fell to 9-14.
Fountain Valley 53, Huntington Beach 50: The Barons earned a close Wave League opening win at Edison High on Friday.
Fountain Valley is now 12-6 overall, while Huntington Beach fell to 5-16.
Estancia 103, Orange 62: Cameron Khoury scored 31 points for the host Eagles in Friday's Orange Coast League game.
Estancia improved to 19-3 overall and 4-0 in the league.
Los Amigos 60, Loara 42: Brian Pacheco had 17 points for the Lobos in Friday's Garden Grove League game on the road.
Christopher Gonzalez scored 13 points for first-place Los Amigos (13-7, 4-0 in league).
St. Margaret's 64, Sage Hill 37: The Lightning fell to 8-14 overall and 3-1 in the Academy League after losing Friday's away game.
BOYS' SOCCER
Marina 1, Laguna Beach 0: Eric Church scored on a goal assisted by Damiond Mendoza for the host Vikings on Friday in a Wave League opener.
Marina (7-6-3) travels to face Huntington Beach on Wednesday at 5 p.m.
Laguna Beach (5-7-2) will visit Fountain Valley on Wednesday at 3 p.m.
Huntington Beach 0, Fountain Valley 0: The Barons and Oilers earned a draw on the road in their opening match of Wave League play on Friday.
Connor Trapp and Jack Nelson combined on the shutout for Fountain Valley (4-6-3), making three saves apiece.
Huntington Beach is now 5-6-4 overall.
Los Alamitos 3, Edison 0: The visiting Chargers suffered a third loss in their last four matches in Friday's Surf League opener.
Edison (11-4-1) will travel to face Corona del Mar on Wednesday in a match at Bonita Creek Park at 4 p.m.
Ocean View 1, Segerstrom 1: Oswaldo Moran scored for the visiting Seahawks on Friday in a Golden West League match.
Ocean View (5-8-5, 2-0-2 in league) will play host to Godinez on Wednesday at 3 p.m.
Estancia 2, Orange 2: Felix Solis and Marcos Arreola each scored a goal for the host Eagles on Friday in an Orange Coast League match.
Ben Nava also had an assist for Estancia (2-10-5, 1-1-2 in league).
Costa Mesa 2, Saddleback 2: The Mustangs extended their unbeaten streak to four matches in Friday's Orange Coast League contest at home.
Ethan Ervey and Marco Castrejon each had a goal for Costa Mesa (3-7-6, 1-0-3 in league). Anthony Avila recorded an assist, and Walter Olmedo made four saves.
Los Amigos 0, Loara 0: Brandon Santos kept a clean sheet with three saves for the visiting Lobos on Friday in a Garden Grove League match.
Los Amigos is now 5-2-4 overall and 2-1-1 in the league.
Lemon Grove Liberty Charter 6, Brethren Christian 0: The host Warriors dropped to 0-6-1 overall following Friday's nonleague match.
::
Support our sports coverage by becoming a digital subscriber.
For more sports stories, visit latimes.com/socal/daily-pilot/sports or follow us on Twitter @DailyPilotSport.
---