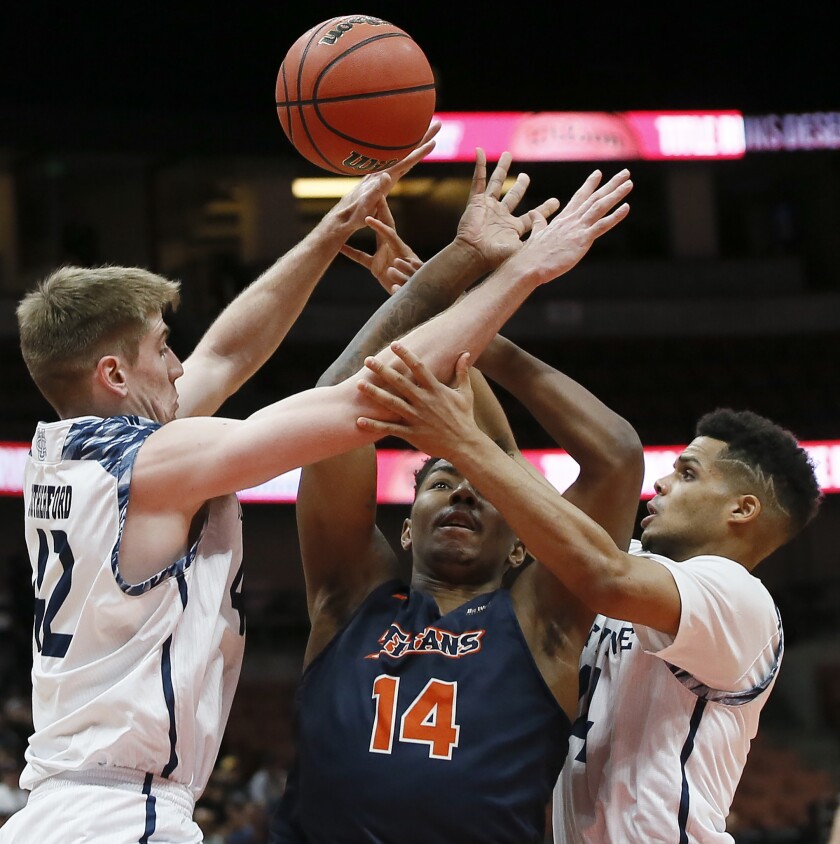 Senior guard Evan Leonard scored 14 points for the UC Irvine men's basketball team in Wednesday night's 63-56 Big West Conference loss at Long Beach State.
Tommy Rutherford and John Edgar Jr. each scored 10 points for the Anteaters (11-9, 3-1 in conference), who fell into a first-place tie with Hawaii for the conference lead.
Colin Slater had a game-high 19 points for Long Beach State (7-14, 2-3).
UCI hosts Cal Poly San Luis Obispo on Saturday at 7 p.m.
Cypress 71, Golden West 40: John Stillgess provided 11 points and six rebounds for the visiting Rustlers on Wednesday in an Orange Empire Conference game.
Justin Kirksey added seven points and seven rebounds for Golden West (3-17, 2-7 in conference).
Kaden Headington, who attended high school at Edison, had 10 points, including a pair of three-pointers, for Cypress.
Santa Ana 75, Orange Coast 47: Jonathan Ileleji had a team-high 18 points and 12 rebounds for the host Pirates on Wednesday in an Orange Empire Conference game.
Andres Ortega added 14 points, seven rebounds and two steals for Orange Coast (3-17, 0-8 in conference). Myles Woods also had 12 points and five rebounds.
MEN'S VOLLEYBALL
Concordia 3, Vanguard 1: Kyle Anema had a team-high 14 kills for the host Lions, who lost Wednesday's nonconference match 25-23, 25-21, 18-25, 25-18.
Cody Watts added 10 kills and two total blocks for Vanguard (2-1). Christian Nowtash also had eight kills and four total blocks.
WOMEN'S BASKETBALL
Santa Ana 78, Golden West 52: Abigail Guerrero had 12 points, five rebounds and three steals for the Rustlers on Wednesday in an Orange Empire Conference game at home.
Roxie Aquino added 11 points and three steals for Golden West (3-13, 0-4 in conference). Anh Nguyen also contributed nine points, five rebounds and two assists.
::
Support our sports coverage by becoming a digital subscriber.
For more sports stories, visit latimes.com/socal/daily-pilot/sports or follow us on Twitter @DailyPilotSport.
---