Vanessa Carrillo is a four-year varsity starter for the Costa Mesa High girls' soccer team.
As much as that means Carrillo can celebrate the team winning back-to-back Orange Coast League titles, it also means that the senior center back can remember the tough times.
Carrillo was thrown into the position as a freshman for the Mustangs. That was a trying campaign, as Costa Mesa went 1-9 in the league.
As the Mustangs began to grow, so did Carrillo. Not physically so much — she stands just 5-foot-1 — but with her game.
"From time to time [as a freshman], I'd get subbed out for a senior," she said. "Then sophomore year, I started showing, 'This is Vanessa.' And then junior year, it was like, 'Oh, that's Vanessa!' And then senior year, obviously, now we're here."
Where the Mustangs are in the league is back on top. Costa Mesa (13-6-2, 8-0-2 in league) clinched its second straight league title, as well as the Battle for the Bell series win, with a 1-1 draw at Estancia on Feb. 6 in the league finale. The Mustangs' back line, led by Carrillo and her sophomore sister, Daisy, at outside back, did not give up a goal in the run of play; the Eagles scored off a corner kick.
Freshman Itzel Ramirez scores as the Mustangs deny the Eagles a share of the Orange Coast League crown with Thursday's 1-1 tie at Jim Scott Stadium.
The defense, which also includes junior goalkeeper Aubrey Hallman, senior Jamilette Chavez and freshman Sophia Yaruda, has been stout for Costa Mesa. Second-year coach Jason Boyce said the Mustangs have also benefited from strong play from freshman defensive center midfielder Isabelle Whittaker.
In two league matches against Estancia and talented UC Irvine-bound senior striker Desiree Mendoza, Costa Mesa gave up just two goals.
"Vanessa has done exceptionally well this year handling everything that offenses have thrown at her," Boyce said. "I'm hoping she can get at least Defensive MVP of the league, because she shut [Mendoza] down twice. Any time you do that, it's pretty exceptional. And it obviously wasn't just her, she's got the support of the other defenders around her."
Last year, the Mustangs' back line scored three straight shutouts in the postseason on the way to the CIF Southern Section Division 5 semifinals. The same unit is a big reason why Costa Mesa, which is undefeated in its last 12 matches, hopes to make a similar run this year in Division 4.
The Mustangs beat Godinez 1-1 (4-2 in penalty kicks) in the first round Thursday. They host Hacienda Heights Wilson in the second round Saturday at 5 p.m.
"All the hard work that we've done, and all of those practices, they paid off," said Carrillo, who plays club for Strikers FC. "It makes me feel proud, knowing that I can help the team in any way I can."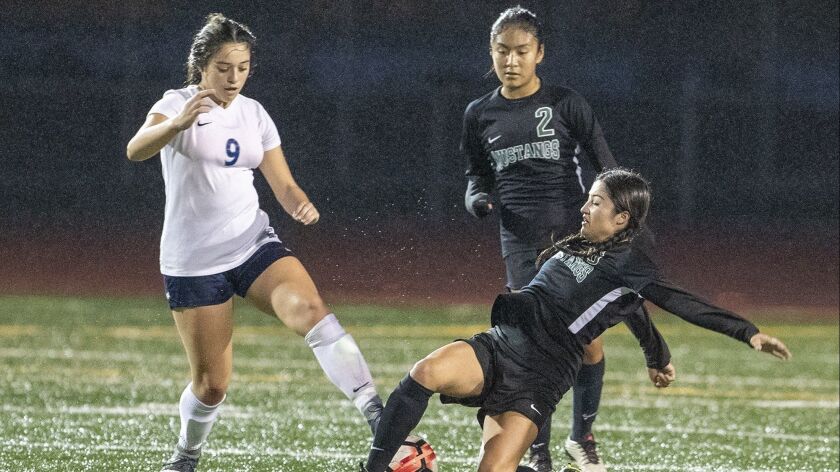 She is in the middle of a big senior year in athletics. Carrillo and her sister also run cross-country and track, and last fall they were part of the Mustangs girls' cross-country team that won league for the first time since 1980, as well as making their first state meet as a team since 1997.
Senior Diane Molina made headlines as she earned her third straight Daily Pilot Girls' Cross-Country Runner of the Year award, but Carrillo also was a valuable contributor.
"She's a good all-around athlete, as you can tell," Costa Mesa cross-country coach Steve Moreno said. "She had a really great season this year in [cross-country]. She got her times down to the low 19s [minutes], and that was a big step for her. She definitely helped us get to the state meet with her increased performance."
Carrillo will be a sprinter for the track team this spring, but first things first. She knows that each match could be her last in a Costa Mesa girls' soccer uniform, and she wants to keep that ride going as long as she can. She said she's enjoyed the journey with other senior leaders like Natalia Guzman, Lani Whittaker and Saharai Aguilar.
Being a defender is sometimes a thankless job for Carrillo, but she takes that in stride, too. Costa Mesa has allowed more than one goal just once in its last 12 matches, a 2-2 draw against Santa Ana on Jan. 21.
"We're always the last option," Carrillo said. "It's like, if we make a mistake, it's over, but if the forwards make a mistake, it's OK. We get a lot of pressure thrown on us, but when we do something good and we know we helped the team, it's a huge thing. We're the last line of defense that you've got to get through, and we're one of the best last lines of defense."
Vanessa Carrillo
Born: Sept. 2, 2002
Hometown: Costa Mesa
Height: 5 feet 1
Sport: Soccer
Year: Senior
Coach: Jason Boyce
Favorite food: Lasagna
Favorite movie: "Saw" franchise
Favorite athletic moment: Winning back-to-back Orange Coast League titles as a junior and senior, and winning the Battle for the Bell against rival Estancia as a senior.
Week in review: Carrillo helped the Mustangs not allow a goal in the run of play in a 1-1 draw at rival Estancia on Feb. 6. Costa Mesa clinched its second straight outright Orange Coast League title.
::
Support our sports coverage by becoming a digital subscriber.
For more sports stories, visit latimes.com/socal/daily-pilot/sports or follow us on Twitter @DailyPilotSport.
---