Huntington Beach skateboarder Sky Brown, 11, eyes 2021 Olympics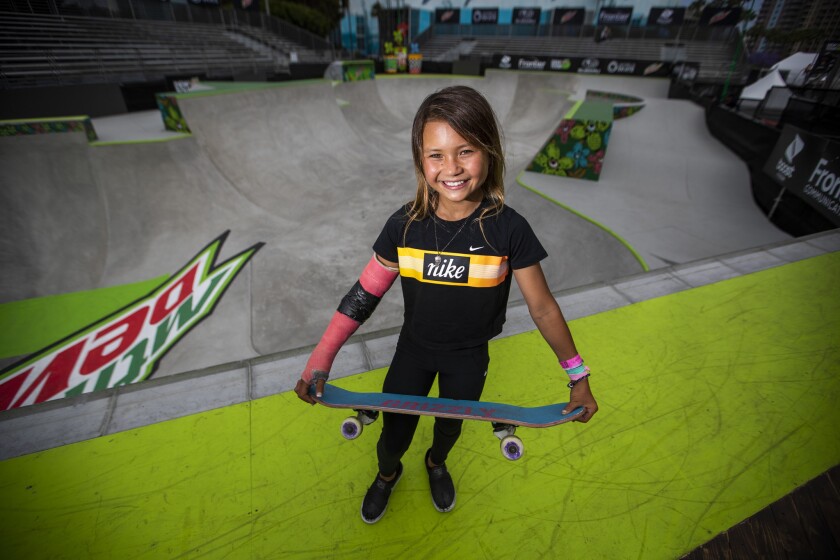 Many kids have dreams of competing in the Olympics.
At 11 years old, Huntington Beach resident Sky Brown is more ready than most to make those dreams a reality.
Brown, the youngest professional skateboarder in the world, hopes to qualify for the 2021 Olympics in Tokyo. Even though the Olympics were delayed by a year due to the novel coronavirus pandemic, the half-pipe prodigy is trying to stay positive and see the glass as half full. Competing in Japan would carry special meaning to Brown, who was born there and lives there part-time.
Skateboarding is set to make its Olympic debut in Tokyo. Brown plans to compete for Great Britain and would be the youngest athlete to compete for that country at the Summer Olympics. She will be 13 years and 11 days old when the Games begin July 23, 2021.
Brown has nearly 500,000 Instagram followers and is sponsored by brands including Nike and Hurley. Her father Stu is from Britain, and her mother Mieko is from Japan. The family includes her younger brother Ocean, 8, who also skates.
Sky Brown recently answered some questions in an email interview.
Question: How does it feel to be 11 years old and trying to get ready for the Olympics? Can you believe it?
Answer: I know it is pretty crazy that I get to be in this situation. It is really cool to meet all the athletes. But I don't really think about my age and my size, I just think about skating. It's all about doing my best and having FUN.
Q: Are you excited to compete on that big stage, especially in Japan and with 2021 being the first year with skating as an Olympic sport?
A: Yes, I am so excited that the Olympics and even more excited that it's being held in Japan since I am from there and a lot of my friends/family live there. On top of that, it's even cooler that it'll be the first time the Olympics has skateboarding and I'm participating!
Q: I understand skateboarding legend Christian Hosoi, who lives in Huntington Beach, has been an influence for you. How do you like living in Huntington Beach and fitting in with that skater and surfer culture?
A: Huntington Beach is awesome. It has really good skate parks and amazing waves. People are really friendly. It's perfect for me. Christian has been a family friend and part of my family since I was very small.
Q: How have you been keeping busy during the coronavirus? Is it tough for you to stay at home?
A: I'm actually quite busy even if I'm just at home. I'm doing a lot of school and having interviews on the phone.
It's hard because I can't really go to skate, but I've been surfing a lot. But we have to think about elderly people or people already sick because it's risky for them. So we've been staying at home and will continue to find things to do at home.
Q: What is your relationship like with your brother?
A: We are really tight. He is my best buddy. We do everything together. And it's nice to have him because he always makes things so fun.
Q: How important is it for you to try to be a good role model for other girls?
A: It's been really important for me ever since I was little. I would be always be the only girl at the skate park or in the ocean.
I always think that girls are sometimes scared to do what they want to do. Girls sometimes think, "He can do it because he is a boy, and I can't do it because I'm a girl." It's my dream to change that! I want it to be, "I'm a girl so I CAN do it."
Q: What is your favorite skateboarding trick that you do?
A: Kick flip indy, because I like to kick flip and I like to air.
Q: If you could describe yourself in one word, what would that word be?
A: Passionate.
::
Support our sports coverage by becoming a digital subscriber.
For more sports stories, visit latimes.com/socal/daily-pilot/sports or follow us on Twitter @DailyPilotSport.
---
All the latest on Orange County from Orange County.
Get our free TimesOC newsletter.
You may occasionally receive promotional content from the Daily Pilot.