Orange County beach cities react to new CIF sports calendar
Athletic directors and coaches will be working overtime to make the 2020-21 CIF Southern Section sports calendar work.
Of course, that's better than the alternative of having no games to schedule during the coronavirus pandemic.
After the CIF State office released an announcement of a modified calendar Monday morning, the section released anticipated season dates. The fall sports season — which contains football, boys' and girls' volleyball, boys' and girls' water polo, boys' and girls' cross-country, field hockey, gymnastics and traditional competitive cheer — would start in December.
The spring sports season would be even more busy, with baseball and softball along with boys' and girls' basketball, tennis, soccer, track and field, swimming and diving, lacrosse, golf and wrestling. Also on the spring sports calendar are badminton and competitive sport cheerleading.
Sunset Conference athletic directors held an online meeting Tuesday afternoon. Soon after, Edison High School athletic director Rich Boyce said he had a big whiteboard out, trying to figure out volleyball schedules.
He said the conference would like to schedule back-to-back matches with girls' and boys' volleyball on the same night, so coaches who guide both programs can coach both matches. With water polo, he said the conference will likely have six straight weeks of league play on Tuesdays for the girls and Thursdays for the boys.
The CIF Southern Section schedule has two seasons, fall and spring. First football games would be played Jan. 8.
"It's a logistics nightmare, but it's better than not having to do anything at all," said Boyce, also the Chargers' boys' basketball coach.
"My first reaction was a little bit of panic, but you know, we'll get it done. I understand why the CIF did what they did, and I like the fact that they're trying to give everybody a full season. That's fantastic. It's just going to make the spring season so tough, because you have two soccer teams and two lacrosse teams vying for that outside space. You also have baseball and softball out there too, and tennis.
"I might have to put a cot in my office, because I'll be here quite a long time, as most any A.D. would be. They're going to have to be here so much, because there's so much going on."
Fountain Valley athletic director Roger Holmes is entering his third year in that position.
"I like [the new calendar] because they're trying to get in full seasons for kids, instead of partials," Holmes said. "I think logistically, it makes it a little tougher, but I think we can figure that out. More than any year, coaches are going to have to work together as far as facilities go, with practices and games.
"Hopefully we get there, and it's something that we can get through. It's great to have a schedule to work off of. Like I said, I think the biggest thing that's going to make this go if all the health things line up is all of our coaches working together to make sure we don't have a soccer game at the same time as a track meet, and on and on and on."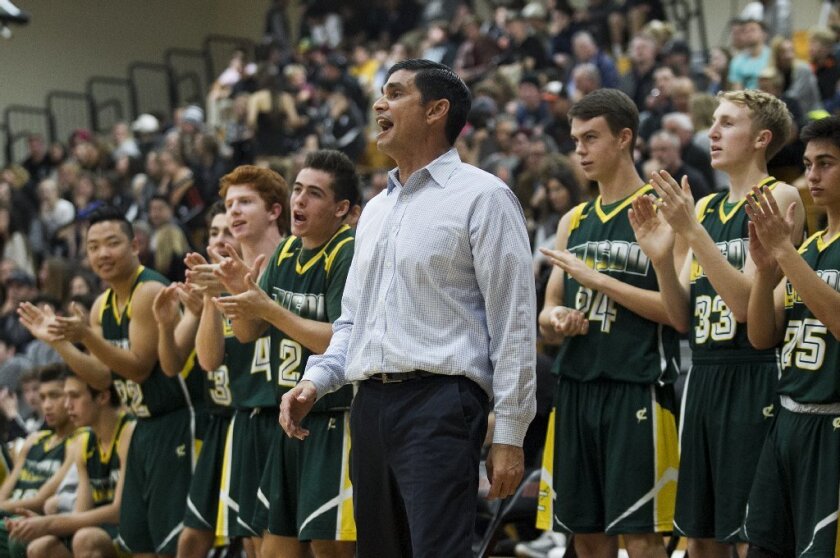 Newport Harbor boys' and girls' water polo coach Ross Sinclair will be tasked with coaching both sports in the same season. The Sailors boys advanced to the CIF Southern Section Division 1 finals each of the last two years.
He said he's just excited for the potential for games, pointing to the fact that many colleges have canceled fall sports.
"I'm excited that we get to still play, that my senior boys and girls are going to have an opportunity to play hopefully," Sinclair said. "We still need to get back into the pool. I'd say that's the next hurdle, and I think we're waiting for more direction from the district on that."
Ocean View football coach Luis Nuñez said his team is looking for a Week 7 game. The Seahawks were scheduled to have Week 7 as a bye week before Pac 4 League play began, but that changed when the schedule changed. Ocean View was forced to drop a Week 0 game against Irvine, since there will be no Week 0 games this season.
"I'm trying to find a similar opponent," Nuñez said with a laugh. "I know like San Clemente and Mission Viejo are all looking for a Week 7 [game], but obviously, that makes no sense for a school like us."
Boyce said the calendar makes sense. He understands the CIF's reasoning behind it, even if it will lead to many more busy days to come for him.
"It's challenging, but I'm a math guy," he said. "I like numbers."
::
Support our sports coverage by becoming a digital subscriber.
For more sports stories, visit latimes.com/socal/daily-pilot/sports or follow us on Twitter @DailyPilotSport.
---
All the latest on Orange County from Orange County.
Get our free TimesOC newsletter, coming in August.
You may occasionally receive promotional content from the Daily Pilot.