Melissa Seidemann to lead Corona del Mar High girls' water polo
The new head coach of the Corona del Mar High School girls' water polo program certainly knows about winning the big match.
The Sea Kings have hired two-time Olympic women's water polo gold medalist Melissa Seidemann to guide them, CdM athletic director Dennis Wilbanks confirmed Wednesday.
Seidemann takes over for Justin Papa, who resigned in March after three seasons.
"I'm really excited to take over the program," Seidemann said. "I know there's a rich history with CdM water polo, and I know it's seen some coaching changes in the past. This is something I intend to do for a while, so I'm really excited to have the program."
This is the first high school head coaching position for Seidemann, 30, who previously coached club water polo at SOCAL for three years and was an assistant coach for UC Irvine women's water polo for two years. She has a busy schedule ahead, as her playing career isn't over.
School districts in more affluent areas of Orange County are planning to welcome students back for in-person learning this month, sooner than in districts serving low-income Latino households like Santa Ana.
Seidemann, a Seal Beach resident, is training with the U.S. national team for the Tokyo Olympics next summer. Team USA will be trying for its third straight gold medal and Seidemann, a defender, is one of the team's veterans.
She said her friend and former national team teammate, Kelly Rulon, who served as interim coach for CdM following Papa's resignation, encouraged her to apply to lead the Sea Kings. Seidemann, whose younger sister, Natalie, is the head coach of JSerra girls' water polo, has met with the CdM players as they came together as a club program over the last couple of weeks.
Seidemann will be a walk-on coach for now, though she said she currently holds a multiple subject teaching credential and is working toward a master's degree in educational technology.
"I think it'll be really cool to have her perspective, as someone who's played so far in women's water polo," CdM senior center Kaity Greenwald said. "I think she's just going to bring something different from a coaching standpoint, so I'm pretty excited for that."
CdM senior attacker Grace Myers, a two-time Daily Pilot Dream Team selection headed for UCLA, said she is also excited to have Seidemann in charge. CdM finished 12-16 last winter, failing to advance to the CIF Southern Section playoffs a year after making the Division 1 championship match.
Previously a teacher on campus and longtime offensive line coach for the Sea Kings football team, Dennis Wilbanks replaces the retired Don Grable.
"I think it's very fitting to have a new coach, because our last season didn't go as well as expected, not making it to CIF and stuff," Myers said. "Hopefully we'll have a better season this year."
Seidemann, originally from the San Francisco Bay Area, helped lead Stanford women's water polo to the 2011 NCAA Division I title. In 2013, she earned the Peter J. Cutino award as the top collegiate women's water polo player in the country.
She helped Team USA win 69 straight matches, a streak that ended last January, and capture FINA World Championships titles in 2015, 2017 and 2019.
Seidemann said she also has talked about her current Team USA teammate, Maddie Musselman, about her new position. Musselman, now at UCLA, starred for CdM for three years before leaving to train full-time with the national team in 2015.
"Their family has been hugely supportive in me pursuing this opportunity," Seidemann said. "Her dad, Jeff, has kind of walked me through a lot of the little pieces and given me some background, so that's been really cool. If you know Maddie, she's always supportive. She was just excited that I was interested at all. I did request her help in some of the traditions and the culture, so that I can keep it consistent with what it has been in the past. She's working on a little list of things I need to do as the new head coach."
One thing Seidemann understands is winning.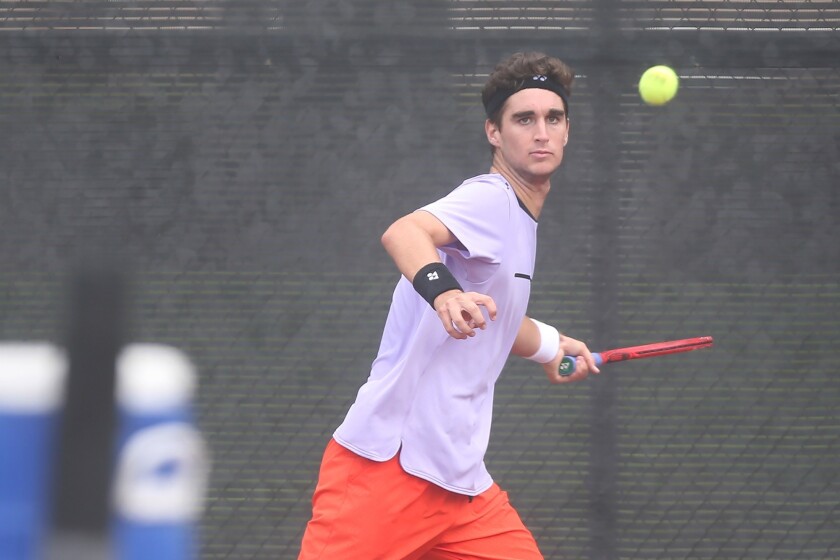 Max McKennon will play in the boys' singles main draw at the French Open. The 18-year-old will be competing in a Grand Slam tournament for the first time.
Support our sports coverage by becoming a digital subscriber.
For more sports stories, visit latimes.com/socal/daily-pilot/sports or follow us on Twitter @DailyPilotSport.
---
All the latest on Orange County from Orange County.
Get our free TimesOC newsletter.
You may occasionally receive promotional content from the Daily Pilot.