Ethan Damato steps down as water polo coach at Laguna Beach High
Ethan Damato, who built the Laguna Beach High girls' water polo team into the top program in the CIF Southern Section over the past decade, confirmed Friday he is resigning as the Breakers boys' and girls' water polo coach.
Damato said he will be taking a full-time position with USA Water Polo, effective May 1, working with the women's national pipeline teams. Additionally, he plans to go back to school.
"Ultimately, this was a really exciting opportunity for me to be able to do something different for a while," he said. "I've been on the grind of girls' high school season and club. It's been amazing and I've loved it, but I saw this as an opportunity to do something different for a while and change some of my personal goals. It was a really hard decision to make, to be completely honest, and all of that is so rooted in the Laguna Beach community. I've spend my entire adult life there coaching and playing. It's a hard decision, but one that I'm really excited about moving forward."
Damato, 39, has been coaching at his alma mater since 2008. He won nine CIF titles overall, six with the girls and three with the boys.
He said he spoke with players from the boys' water polo team and girls' water polo team in separate meetings Thursday to break the news to them.
A few girls were crying, junior center Charlotte Riches said, but the mood was one of support for their coach.
"I think I can speak for all of us girls that we're all really happy for him," Riches said. "It's kind of a bittersweet thing because we all love Ethan and think he's a great coach, but we're all happy for him. We're happy that he has found a future that he wants to work toward, and goals that he wants to accomplish … We all heard him and understood him and let him explain fully why he was leaving. We all have really personal relationships with him that we've built, but I think that we're all really proud of him."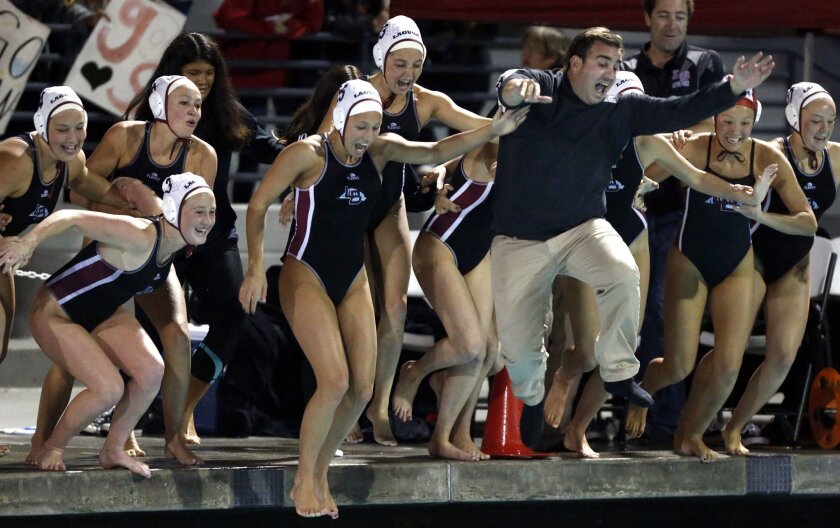 The Laguna girls also play club for SET, which has also been highly successful and featured Damato as its 18-and-under girls head coach. Damato said he plans to coach at SET through the summer and will also help the Laguna Beach High administration in finding the Breakers' new coach.
Under Damato, the Laguna Beach girls' water polo program won CIF Southern Section titles in 2009, 2014, 2015, 2017, 2019 and 2020. In that time, it has produced three Olympians — Annika Dries, Makenzie Fischer and Aria Fischer.
Damato's total record in 14 seasons coaching the Laguna Beach girls was 361-56, while he was 173-105 in 11 seasons guiding the boys.
"It's always great to have a chance to play for a CIF championship every year," he said. "It's always something worth chasing and exciting, but I'm really a lot more proud of the culture that our program has taken on over the years. I credit that to guys like Bill Barnett [at Newport Harbor] and Aaron Chaney [at Corona del Mar]. Those were the guys that I was looking up to, trying to do everything at Laguna so that we could stay on par with Newport, CdM and Foothill over the years. In chasing those guys, I think we found our identity and focused a lot more on doing things the right way. We built great relationships with each other in our program and had a team that it was special to be a part of.
"When you put time and effort into something, it should be special and elite and not for everyone. To be a part of our team, you had to work really hard, you had to be a great teammate and selfless and part of something bigger. I'm really proud of those things."
Damato also credited the Laguna Beach age group program, which has been elite during his tenure and featured coaches like Chad Beeler, Albie Beeler, Erich Fischer, Scott Baldridge, Matt Tingler and Rob Carver.
"The great thing about Laguna over the years has been that the family environment has started at a really young age," Damato said. "It made it easy for me to try to sell them on our program, and what we were trying to do at the high school level."
This past winter the Breakers girls had no returning starters in the field, but still advanced to the inaugural CIF Southern Section Open Division title match and the CIF Southern California Regional Division I title match, losing to Newport Harbor each time.
::
Support our sports coverage by becoming a digital subscriber.
For more sports stories, visit latimes.com/socal/daily-pilot/sports or follow us on Twitter @DailyPilotSport.
---
All the latest on Orange County from Orange County.
Get our free TimesOC newsletter.
You may occasionally receive promotional content from the Daily Pilot.