Ty Harper overcomes loss, works hard to maintain Estancia's 'field of dreams'
A baseball diamond provides symmetry, even when life gets messy, uneven and just plain hard to take.
Estancia High baseball assistant coach and groundskeeper Ty Harper has always found that to be true.
"When you've got the field looking right, and have everyone pumped up to come out to the field, it makes everything better," he said. "It's that awe factor, and that motivates people, especially the kids. Every kid deserves a good field."
Harper, 41, is well-known in the local baseball community as one of the best hitters to come from Newport-Mesa. He was CIF Southern Section Division 4 Co-Player of the Year as a senior at Corona del Mar High in 1999. That was the year when he helped the Sea Kings win their second CIF title, rallying for a 9-8 win against El Segundo.
Five years later, Harper's younger brother Aaron was on the team. Ty served as hitting coach on that squad, CdM's most recent title-winner and arguably the best in program history, which earned the 2004 Division 4 crown with a 3-1 win over Tesoro at Dodger Stadium.
Getting local high school and youth fields to look like those big-league ballparks was always the goal of Ty and his father, Walt, who served as the groundskeepers of the CdM field and others in the area. They had a contract with the city of Newport Beach.
Ty, who played college baseball at Pepperdine, eventually stopped coaching. Even so, the losses have piled up recently.
Walt died of a heart attack at age 65 on Aug. 12, 2018. A year later — to the day — Aaron died far too young after suffering an aortic aneurysm.
In the following year, 2020, Ty lost his mother Marilee, who had been suffering from esophageal cancer.
"I needed to get back into baseball and get myself going the right way," Ty Harper said.
Nate Goellrich was coming back to coach at Estancia. Goellrich said he got a call from former longtime CdM baseball coach John Emme, who had coached both Ty and Aaron with the Sea Kings.
Goellrich said that Emme encouraged him to hire Harper as part of his coaching staff. Soon after that, Emme himself died following a biking accident.
Perhaps looking for a spark, Ty Harper said yes to Estancia. Dan Huber, who had continued keeping up the Eagles' baseball field even after his son Troy graduated in 2019, was glad to hear that he could leave it in good hands.
Huber had learned his tricks of the trade largely from Walt Harper.
"This past fall, Ty and I built the field up and we overseeded it," Huber said. "I had to pass the baton completely over to him at the beginning of the year, because it got so crazy for me at work with everything opening back up. For Ty, it's really cool that he's bringing what he brought to CdM over to little Estancia … It's looking great. It's a passion of his; the guy has a knack, obviously."
Harper has also served as the Estancia hitting coach this season. He played an integral role as the Eagles won their first title in program history, beating Anaheim 2-1 in 11 innings on May 21 at Cal State Fullerton to claim the CIF Southern Section Division 6 crown.
It was the first CIF title that any Estancia team has won since boys' volleyball in 2004, before most of the current Eagles' players were even born.
Harper, unapologetically emotional about his journey, praises the players for their performance.
"What's really amazing is how much these kids bought in," he said. "Not right away, of course, because I'm the new coach coming in. But they understood that I was here every day, I worked hard every day. I never let the kids know anything that was going on in my life, because I was kind of out here to escape from all of that."
The baseball diamond is its own world, one that Harper has been more than happy to inhabit this spring. Estancia has defended it well; the Eagles have lost just once at home all season.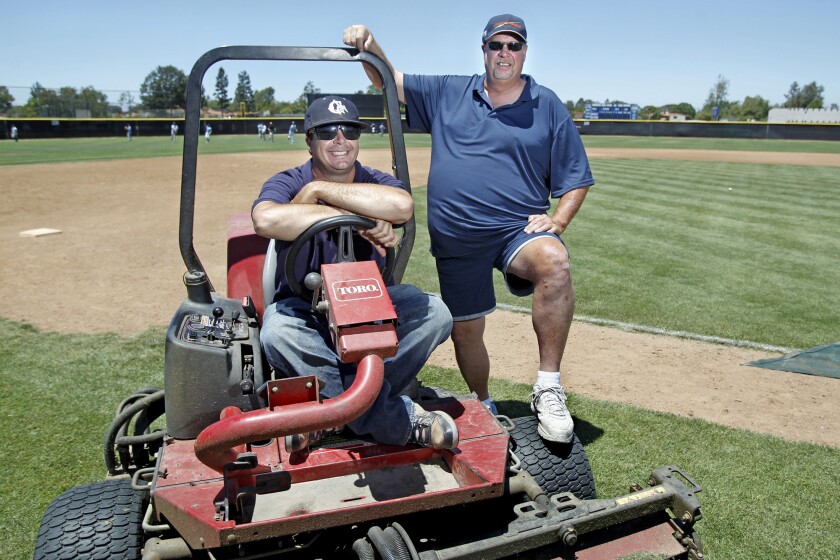 "Our field has never looked better," Goellrich said in an email. "All season I have gotten compliments on how nice our facility is."
Harper has many people to thank — the school district, the boosters, Costa Mesa United, the other coaches. He said they have bought in to getting the field looking the right way, just like the players bought in to winning a championship this year.
There are always improvements to be made, of course, as the labor of love continues. Huber said the program is now trying to raise enough money — about $24,000 — for a new infield groomer.
Estancia gets to show off its field one more time this season. The Eagles play at home for the third time this week on Saturday, when they host Baldwin Park in the CIF Southern California Regional Division V title game.
It's another unfamiliar place in a season filled with firsts. When Ty Harper gets to the ballpark, though, everything will be as it should.
Symmetry will reign again, both for Harper and an Eagles team that won just seven games last season yet has somehow turned into world-beaters.
"There's been a lot of angels, or whatever you want to call it, that helped me through this year," Harper said. "This team, the field and everything has been such a blessing."
::
Support our sports coverage by becoming a digital subscriber.
For more sports stories, visit latimes.com/socal/daily-pilot/sports or follow us on Twitter @DailyPilotSport.
---
All the latest on Orange County from Orange County.
Get our free TimesOC newsletter.
You may occasionally receive promotional content from the Daily Pilot.