Daily Pilot Girls' Water Polo Dream Team: Anna Reed spent four years as Newport Harbor's wall
Like many high school girls' water polo players, Anna Reed treasured trips up north to the Santa Barbara Tournament of Champions.
The four-year varsity starter at goalkeeper for Newport Harbor High went twice, as a freshman and a senior, the middle two years canceled due to the pandemic.
When she was a freshman, the young Sailors made a surprise trip to the tournament championship game. This year as a senior, the No. 7-seeded Sailors again surprised, rallying to beat rival Laguna Beach in the final to win the prestigious tournament for the first time in program history.
Reed earned tournament MVP.
"It was cool to go back and win it, kind of a start and finish," she said. "We didn't have Santa Barbara for two years, so it was cool. And it was a great experience for these girls, too — this new team."
Yes, Reed capped her four years in the program in style, as a great senior leader for a very young Sailors squad. For her efforts in and out of the water, she is the 2022-23 Daily Pilot Dream Team Player of the Year.
Newport Harbor coach Ross Sinclair said he never saw Reed, bound for USC, have a bad game in four years.
"She's obviously a great kid, a CIF champ, and I think she had a really big impact on this program for four years," Sinclair said. "This year alone, I think she grew a lot as a leader. I think that's going to bode well for her in the future, not just as a player but as a person, which is what matters."
The Sailors (20-8) needed Reed to lead, especially with Stanford-bound senior left-hander Avery Montiel missing most of the season with a shoulder injury. Chiara Amoroso, bound for Long Beach State, was the only other senior on the team.
It was a much different role than Reed's junior year, when a senior-laden Newport Harbor squad lost just one time and won both CIF Southern Section Open Division and CIF State SoCal Regional Division I titles. Reed said she wanted to be a good example this year, like Skylar Sepulveda was to her when she was a freshman.
And she was. She's always worked hard, especially at 5-foot-7, not super-tall for a goalkeeper.
"I've had to up my IQ and really work hard with my legs so that I can be more explosive," Reed said. "When you have long arms, you don't have to lunge as far. You still have to work really hard, it's just a little bit easier."
The Sailors had an up-and-down season, but never backed down. Despite finishing third in the Surf League, they beat league champion Los Alamitos once, nearly winning the other league match before losing in sudden-death overtime. Newport Harbor again qualified for the Open Division playoffs before losing at Los Alamitos in the quarterfinals.
Reed earned first-team All-Surf League and first-team All-CIF honors. Now she's excited to head to USC, where her former Newport teammate Morgan Netherton currently plays.
Netherton was last year's Dream Team Player of the Year.
"I haven't totally wrapped my head around it that [my high school career] is over, but I'm proud of what I've been able to do, with the help of so many amazing coaches and teammates along the way," Reed said. "I wouldn't change anything for the world. This program means so much to me, and I couldn't be more thankful for what it's given me."
Here's a look at the Coach of the Year and the first-team and second-team Dream Team selections:
COACH OF THE YEAR
Ross Sinclair
Newport Harbor
The Sailors were three wins away from repeating as Open Division champions, losing in the quarterfinals to Los Alamitos. But under Sinclair's leadership, they may have overachieved. With just two seniors in the water for much of the season, Newport Harbor still won its first Santa Barbara Tournament of Champions title and nearly beat the Surf League champion Griffins twice in league play. Credit Sinclair for having the Sailors ready to always put up a fight, no matter the opponent.
FIRST TEAM
Charlotte Riches
2M | Laguna Beach | Sr.
A second-team Dream Team selection last year, Riches stepped up even more as a senior for first-year coach Claire Sonne. She finished with 57 goals, second on the Breakers, and worked hard at center to lead the team with 51 ejections and penalties drawn. Riches was an all-tournament team selection at the Santa Barbara Tournament of Champions, first-team All-Surf League and first-team All-CIF Open Division, helping the Breakers (19-10) make the playoff semifinals and nearly rally to beat Foothill. She is bound for Princeton.
Ryan Chalupnik
2M | Newport Harbor| Jr.
Chalupnik made a big leap as a junior, turning into a dominant center worthy of the Sailors' recent tradition of them with players like Olivia Giolas and Bia Mantellato. On a young team, she was able to not only draw exclusions but finish, and should enter her senior season as one of the top players in Southern California. Chalupnik was an all-tournament team selection at the Santa Barbara Tournament of Champions after helping the Sailors win the title, and also earned second-team All-Surf League accolades.
Aubrie Anderson
ATT | Corona del Mar | Sr.
Anderson, bound for Brown, was one of the most versatile players in the area. She helped the senior-heavy Sea Kings (19-9) have another successful season a year after winning the Division 1 title. Anderson had 30 goals and team-best totals of 39 assists and 78 steals, as CdM won the Wave League and pushed top-seeded Foothill in the Open Division quarterfinals. She was the Wave League MVP.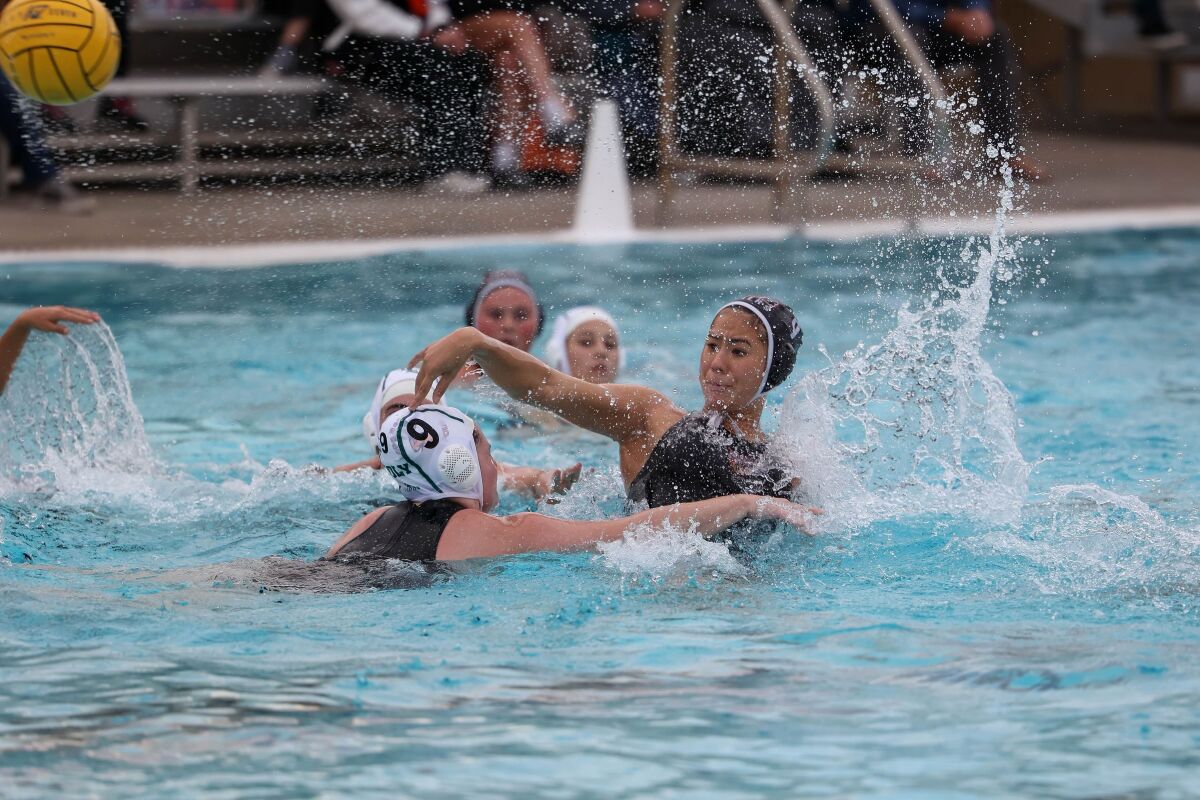 Maddy Scarth
UTIL | Huntington Beach | Sr.
She moved to Orange County from British Columbia, Canada as a senior, and ended up being a big-time leader for first-year coach Beth Bailey. Able to play any field position in the pool, Scarth led the Oilers (14-14) in scoring. Though Huntington Beach moved up to the Surf League and was winless there, Scarth led the team to the Division 1 playoffs after it won its final regular-season game at Mira Costa to achieve the .500 record necessary to qualify as an at-large team. Scarth is bound for Michigan.
Addie Juelfs
ATT | Costa Mesa | Jr.
Juelfs was a first-team Dream Team selection last year as a sophomore, and backed that up this year with yet-another 100 goal season. The talented and speedy junior finished with a team-best 103 goals, and repeated as Orange Coast League MVP. A team with plenty of key senior scorers as well, Costa Mesa (16-9) won another league title and earned a CIF victory for the second straight year, too. The Mustangs edged Fullerton 9-8 at home in the first round of the Division 3 playoffs before losing on the road at No. 3-seeded El Toro in the second round.
Justine Chomchavalit
ATT | Edison | Jr.
Chomchavalit had a good outside shot for the Chargers but could also post up and play center, or guard center as well. A year after contributing to Edison's first CIF final in program history, the team MVP finished as a first-team All-Wave League selection. She helped Edison (7-16) finish second in league and advance to the postseason, losing at Riverside King 16-3 in the first round. The Chargers recently hired alumnus Jarrett Tossey as their new head coach, and he's lucky to have a versatile player like Chomchavalit ready to contribute as a senior next year.
Ava Knepper
ATT | Laguna Beach | Jr.
Coming from an off-season where Knepper started shining for Team USA, she had some bad luck with injuries as a junior. Still, she remained one of the most dangerous players in the pool at all times. Knepper led Laguna Beach with 69 goals scored, including 19 penalty shots, and tied for second on the Breakers with 28 steals. She was a second-team All-Surf League selection and has committed to USC.
Lauren Schneider
GK | Laguna Beach| Sr.
Like Reed, Schneider was a four-year varsity goalie, and both are going to USC. Schneider continued anchoring the Laguna Beach defense as a senior, and finished with 227 saves and 28 assists. She was a first-team All-Surf League and first-team All-CIF selection. For her sparkling career, she had 741 saves, which ranks just two saves behind Breakers assistant coach Thea Walsh in the school record book.
SECOND TEAM
Position, Name, School, Year
ATT Lily Ensley, Marina, Sr.
ATT Cleo Washer, Laguna Beach, Sr.
ATT Dharma Andreas, Costa Mesa, Sr.
UTIL Janely Amador, Los Amigos, Sr.
ATT Presley Jones, Laguna Beach, So.
2M Reagan Weir, Corona del Mar, So.
ATT Caitlin Stayt, Newport Harbor, So.
ATT Kalia Wesley, Fountain Valley, So.
GK Sarah Decker, Corona del Mar, Sr.
::
Support our sports coverage by becoming a digital subscriber.
For more sports stories, visit latimes.com/socal/daily-pilot/sports or follow us on Twitter @DailyPilotSport.
All the latest on Orange County from Orange County.
Get our free TimesOC newsletter.
You may occasionally receive promotional content from the Daily Pilot.