McKayla Maroney vaults onto world gymnastics scene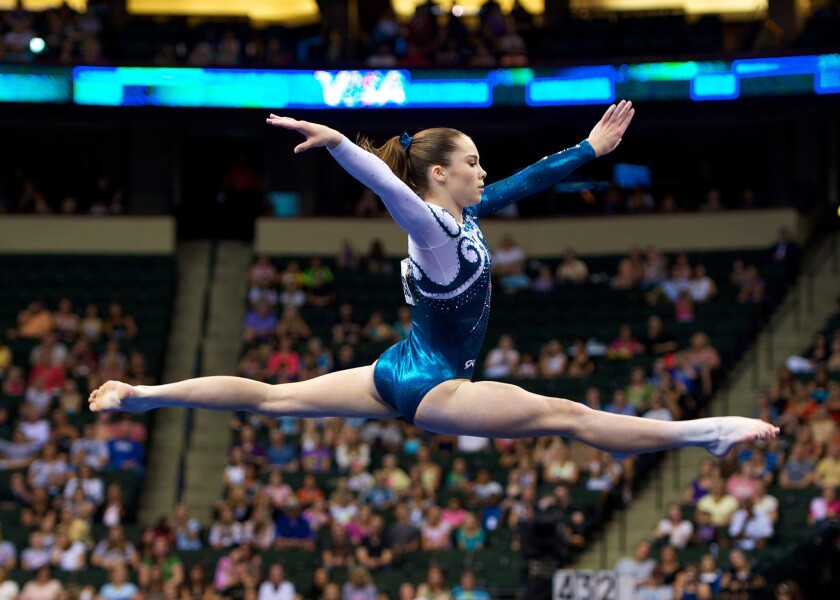 McKayla Maroney is the daughter of a former Purdue quarterback, Michael Maroney. She is 5 feet 2 and gets her size from her mother, Erin, not her 6-foot-2 dad.
But McKayla has some athletic talent from her father.
The 15-year-old from Laguna Niguel will compete for the U.S. at the 2011 world gymnastics championships in Tokyo from Friday to Oct. 16. It is the competition where the top eight teams will earn spots at the 2012 London Olympics and where international judges will get a sense of who will be most competitive for the Games next summer.
"McKayla, a year ago she was almost nowhere," said Martha Karolyi, the U.S. women's program director. "Right now you have a girl who very probably has one of the best vaults in the whole world, has upgraded on other events … has the artistical look of what the international judges are demanding lately. I think she has a good chance to make a good impression."
It is a circumstance that has happened without a grand plan from the Maroney family.
McKayla saw a Tarzan movie when she was 2, her mother said, and from that day McKayla began hopping around on her hands and legs to the point where, Erin Maroney said, "We'd be in the grocery store and I'd be asking her to walk upright, please."
But the bouncing on her hands and feet led McKayla to gymnastics classes, where she first exhibited exceptional skills on the vault but also had the determination to learn every apparatus.
"She didn't care about going to the Olympics or world championships," Erin Maroney said. "She wanted to just do all the gymnastics."
McKayla has made big improvements in the past two years, after she began training in Los Angeles at the All Olympia Gymnastics Center under Galina Marinova and Artur Akopyan.
Akopyan said that he can't believe how quickly McKayla has become a gymnast worthy of national attention.
"She's a quick learner," he said. "She has a natural strength and ability and most importantly, she really wants to do this. She doesn't say, 'I want to go to the Olympics.' She says, 'I want to learn how to do this the correct way.'"
McKayla finished second this year at the national championships in her first season as an age-eligible senior. She won the gold medal on vault, where she beat 2010 world gold medalist Alicia Sacramone with the help of a textbook amanar, a vault that has 2 1/2 twists, with form Karolyi called "exquisite."
As she prepared to head to Tokyo, McKayla seemed both excited and calm. She hopes to be one of the gymnasts Karolyi decides to use on all four events in preliminary competition so she might be eligible for the all-around medal. But not so she can earn the medal.
"I really do my best on each event when I do all four events," she said. "I'm in my head better."
McKayla joins national all-around champion Jordyn Wieber and Sacramone on the world team while 2008 Olympic medalist Shawn Johnson was relegated to the Pan-American Games team this year, her first year of competing after coming out of retirement.
McKayla's mother said it still feels unreal to hear her daughter referred to as a world team member.
"It's a weird thing," Erin Maroney said. "It's like I'm standing next to a wind tunnel. Whoosh, it just happens. Now I'm trying to find a ticket to Tokyo."
---